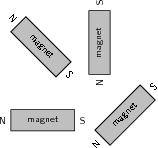 As the activity shows, one can map the magnetic field of a magnet by placing it underneath a piece of paper and sprinklingiron filings on top. The iron filings line themselves up parallel to the magnetic field.
Investigation : field around a pair of bar magnets
Take two bar magnets and place them a short distance apart such that they are repellingeach other. Place a sheet of white paper over the bar magnets and sprinkle some iron filings onto the paper. Give the paper a shaketo evenly distribute the iron filings. In your workbook, draw both the bar magnets and the pattern formed by the iron filings. Repeatthe procedure for two bar magnets attracting each other and draw what the pattern looks like for this situation. Make a note of theshape of the lines formed by the iron filings, as well as their size and their direction for both arrangements of the bar magnet.What does the pattern look like when you place both bar magnets side by side?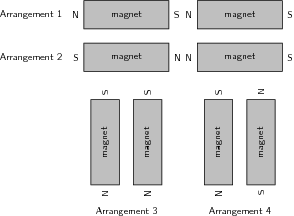 As already said, opposite poles of a magnet attract each other and bringing them together causes their magnetic field lines to converge (come together). Like poles of a magnet repel each other and bringing them together causes their magnetic field lines to diverge (bend out from each other).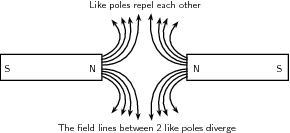 Ferromagnetism and retentivity
Ferromagnetism is a phenomenon shown by materials like iron, nickel or cobalt.These materials can form permanent magnets. They always magnetise so as to be attracted to a magnet, no matter whichmagnetic pole is brought toward the unmagnetised iron/nickel/cobalt.
The ability of a ferromagnetic material to retain its magnetisation after an external field is removed is called its retentivity .
Paramagnetic materials are materials like aluminium or platinum, which become magnetised in an externalmagnetic field in a similar way to ferromagnetic materials. However, they lose their magnetism when the external magnetic field is removed.
Diamagnetism is shown by materials like copper or bismuth, which become magnetised in a magnetic field with a polarity opposite to the external magnetic field. Unlike iron, they are slightly repelled by a magnet.
The compass and the earth's magnetic field
A compass is an instrument which is used to find the direction of a magneticfield. A compass consists of a small metal needle which is magnetised itself and which is free to turn in any direction.Therefore, when in the presence of a magnetic field, the needle is able to line up in the same direction as the field.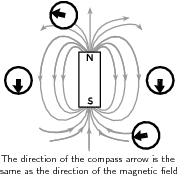 Interesting fact
Lodestone, a magnetised form of iron-oxide, was found to orientate itself in a north-south direction if left free to rotate by suspensionon a string or on a float in water. Lodestone was therefore used as an early navigational compass.
Compasses are mainly used in navigation to find direction on the earth. This works becausethe earth itself has a magnetic field which is similar to that of a bar magnet (see the picture below). The compass needle aligns with the earth's magnetic fielddirection and points north-south. Once you know where north is, you can figure out any other direction. A picture of a compass is shown below: