Suggested Time: 60 minutes. Science TEKS: 3.11, 5.3, 5.4, 5.5. Math TEKS: 5.11, 5.14, 5.15.
Objective
The atmosphere, air pollution, and meteorology may be fairly new topics for the students, so the first day's discussions and brief demonstrations provide an opportunity to gauge their incoming knowledge. This will help teachers identify any common misconceptions to address by the end of the curriculum.
A demonstration with ice water and associated discussion will help students review three states of matter—solid, liquid, and gas—and examples of how the transfer of heat energy can cause transitions between these states. Students should then begin to think of the atmosphere around them as a mixture of gases. How do we know that air actually exists—that what surrounds us is not just empty space? Inflating a balloon and discussing how they perceive the air with their senses will help students explore this question. Teachers will also introduce the various measuring tools to the class, explain how they work, and organize students into teams for the measurements.
Students should leave with a sense of wonder about the atmosphere around them and motivated to learn more about its importance. Interesting facts in the "Background Information" section can help the teacher achieve this goal.
Background information
Matter is anything that takes up space, and is what makes up everything that we see. Solids, liquids and gases are three states of matter. A solid has both a fixed volume and fixed shape. A liquid takes the shape of whatever container that it is in, but has a fixed volume. Gases , however, do not have a fixed volume—they spread out to take up space, like in a balloon.
Students should recognize examples of transitions between states of matter and the role of heat energy in causing them. Adding heat energy can convert a solid to a liquid, or a liquid to a gas. Removing heat energy can turn a gas to a liquid, or a liquid to a solid. The condensation in the ice water demonstration provides a visual example, as the cold glass condenses water vapor (gas) from the air to form liquid water on the outside of the glass.
Air is a fascinating gas. Every breath we take (~1 liter) has 10 22 molecules of air ! That is about as many stars as exist in the universe. Interestingly, if you could make a box with sides the width of a human hair, it could still have trillions of air molecules inside. However, these air molecules are so small that air appears "invisible" to the naked eye. Air molecules do scatter light, especially at blue wavelengths, which gives the sky its color. Particles suspended in the air can both scatter and absorb light, creating a hazy appearance when the air is polluted (Figure 1).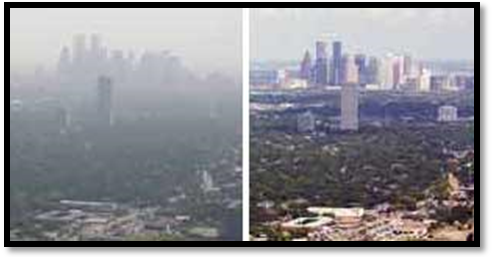 Credit: http://www.jpl.nasa.gov/news/features.cfm?feature=423
The air around the Earth is called the atmosphere . Viewed from space (Figure 2), we see that the atmosphere is very thin compared to the Earth overall. However, the atmosphere is vitally important to life on Earth. It contains the air that animals breathe and that plants use for photosynthesis; absorbs UV radiation; regulates the planet's temperature; blocks meteors from crashing onto our surface; and is where weather occurs.