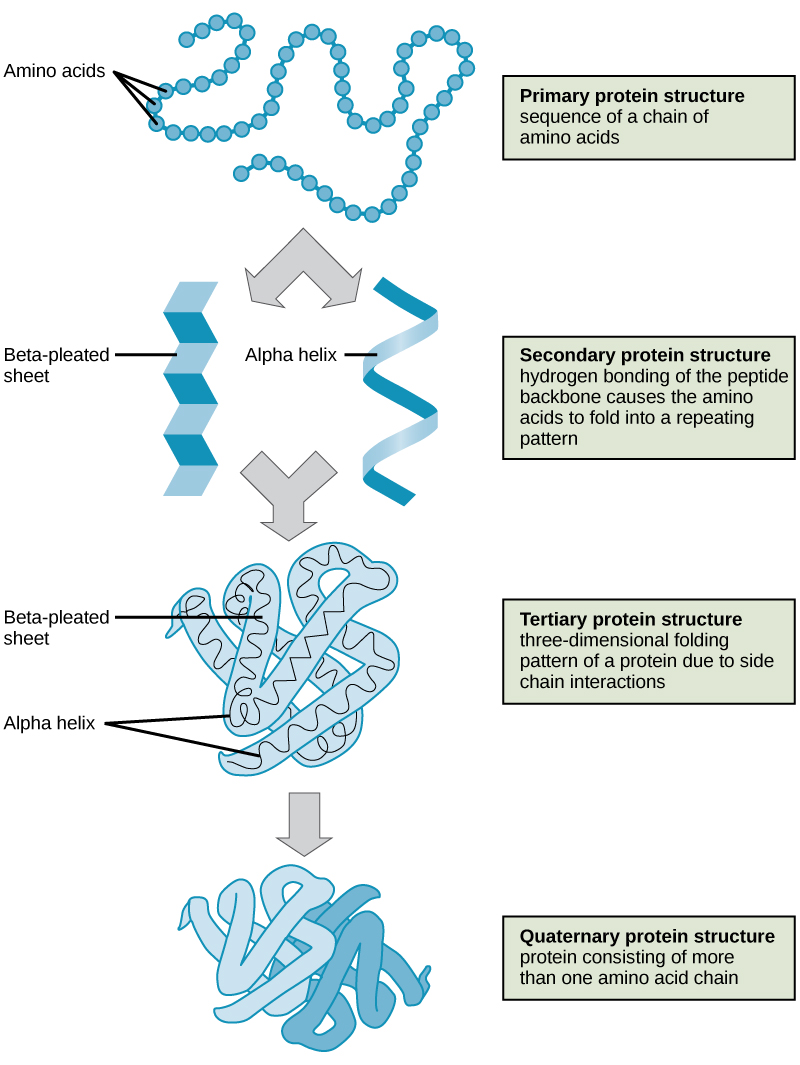 Each protein has its own unique sequence and shape held together by chemical interactions. If the protein is subject to changes in temperature, pH, or exposure to chemicals, the protein structure may change, losing its shape in what is known as denaturation as discussed earlier. Denaturation is often reversible because the primary structure is preserved if the denaturing agent is removed, allowing the protein to resume its function. Sometimes denaturation is irreversible, leading to a loss of function. One example of protein denaturation can be seen when an egg is fried or boiled. The albumin protein in the liquid egg white is denatured when placed in a hot pan, changing from a clear substance to an opaque white substance. Not all proteins are denatured at high temperatures; for instance, bacteria that survive in hot springs have proteins that are adapted to function at those temperatures.
Concept in action
For an additional perspective on proteins, explore "Biomolecules: The Proteins" through this interactive animation .
Nucleic acids
Nucleic acids are key macromolecules in the continuity of life. They carry the genetic blueprint of a cell and carry instructions for the functioning of the cell.
The two main types of nucleic acids are deoxyribonucleic acid (DNA) and ribonucleic acid (RNA) . DNA is the genetic material found in all living organisms, ranging from single-celled bacteria to multicellular mammals.
The other type of nucleic acid, RNA, is mostly involved in protein synthesis. The DNA molecules never leave the nucleus, but instead use an RNA intermediary to communicate with the rest of the cell. Other types of RNA are also involved in protein synthesis and its regulation.
DNA and RNA are made up of monomers known as nucleotides . The nucleotides combine with each other to form a polynucleotide, DNA or RNA. Each nucleotide is made up of three components: a nitrogenous base, a pentose (five-carbon) sugar, and a phosphate group ( [link] ). Each nitrogenous base in a nucleotide is attached to a sugar molecule, which is attached to a phosphate group.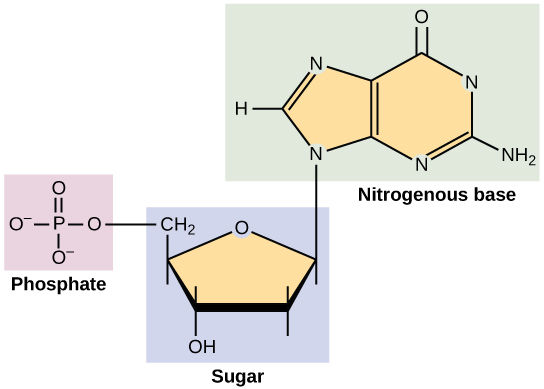 Dna double-helical structure
DNA has a double-helical structure ( [link] ). It is composed of two strands, or polymers, of nucleotides. The strands are formed with bonds between phosphate and sugar groups of adjacent nucleotides. The strands are bonded to each other at their bases with hydrogen bonds, and the strands coil about each other along their length, hence the "double helix" description, which means a double spiral.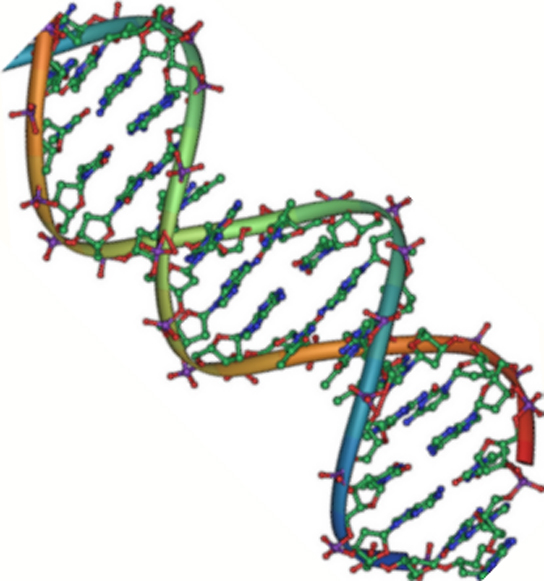 The alternating sugar and phosphate groups lie on the outside of each strand, forming the backbone of the DNA. The nitrogenous bases are stacked in the interior, like the steps of a staircase, and these bases pair; the pairs are bound to each other by hydrogen bonds. The bases pair in such a way that the distance between the backbones of the two strands is the same all along the molecule.
Section summary
Living things are carbon-based because carbon plays such a prominent role in the chemistry of living things. The four covalent bonding positions of the carbon atom can give rise to a wide diversity of compounds with many functions, accounting for the importance of carbon in living things. Carbohydrates are a group of macromolecules that are a vital energy source for the cell, provide structural support to many organisms, and can be found on the surface of the cell as receptors or for cell recognition. Carbohydrates are classified as monosaccharides, disaccharides, and polysaccharides, depending on the number of monomers in the molecule.
Lipids are a class of macromolecules that are nonpolar and hydrophobic in nature. Major types include fats and oils, waxes, phospholipids, and steroids. Fats and oils are a stored form of energy and can include triglycerides. Fats and oils are usually made up of fatty acids and glycerol.
Proteins are a class of macromolecules that can perform a diverse range of functions for the cell. They help in metabolism by providing structural support and by acting as enzymes, carriers or as hormones. The building blocks of proteins are amino acids. Proteins are organized at four levels: primary, secondary, tertiary, and quaternary. Protein shape and function are intricately linked; any change in shape caused by changes in temperature, pH, or chemical exposure may lead to protein denaturation and a loss of function.
Nucleic acids are molecules made up of repeating units of nucleotides that direct cellular activities such as cell division and protein synthesis. Each nucleotide is made up of a pentose sugar, a nitrogenous base, and a phosphate group. There are two types of nucleic acids: DNA and RNA.