Carbohydrates can be represented by the formula (CH 2 O) n , where n is the number of carbon atoms in the molecule. In other words, the ratio of carbon to hydrogen to oxygen is 1:2:1 in carbohydrate molecules. Carbohydrates are classified into three subtypes: monosaccharides, disaccharides, and polysaccharides.
Monosaccharides (mono- = "one"; sacchar- = "sweet") are simple sugars, the most common of which is glucose. In monosaccharides, the number of carbon atoms usually ranges from three to six. Most monosaccharide names end with the suffix -ose. Depending on the number of carbon atoms in the sugar, they may be known as trioses (three carbon atoms), pentoses (five carbon atoms), and hexoses (six carbon atoms).
Monosaccharides may exist as a linear chain or as ring-shaped molecules; in aqueous solutions, they are usually found in the ring form.
The chemical formula for glucose is C 6 H 12 O 6 . In most living species, glucose is an important source of energy. During cellular respiration, energy is released from glucose, and that energy is used to help make adenosine triphosphate (ATP). Plants synthesize glucose using carbon dioxide and water by the process of photosynthesis, and the glucose, in turn, is used for the energy requirements of the plant. The excess synthesized glucose is often stored as starch that is broken down by other organisms that feed on plants.
Galactose (part of lactose, or milk sugar) and fructose (found in fruit) are other common monosaccharides. Although glucose, galactose, and fructose all have the same chemical formula (C 6 H 12 O 6 ), they differ structurally and chemically (and are known as isomers) because of differing arrangements of atoms in the carbon chain ( [link] ).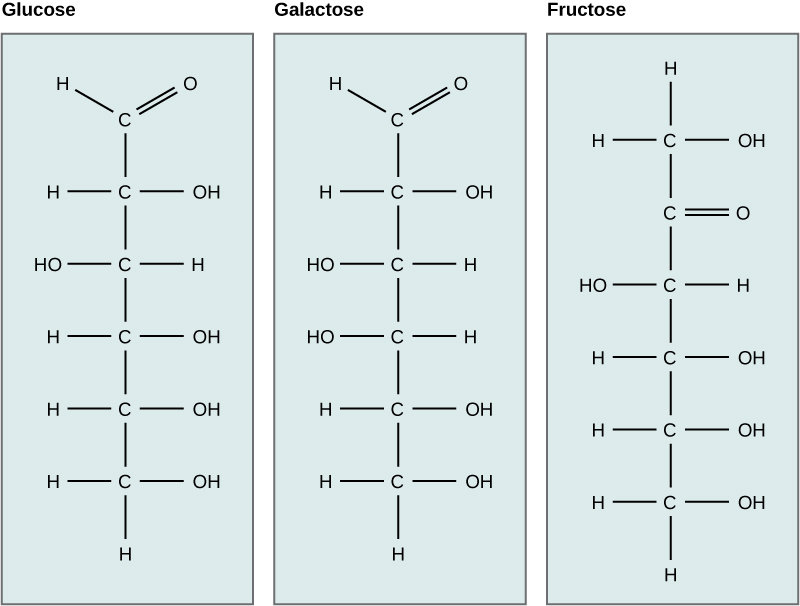 Disaccharides (di- = "two") form when two monosaccharides undergo a dehydration reaction (a reaction in which the removal of a water molecule occurs). During this process, the hydroxyl group (–OH) of one monosaccharide combines with a hydrogen atom of another monosaccharide, releasing a molecule of water (H 2 O) and forming a covalent bond between atoms in the two sugar molecules.
Common disaccharides include lactose, maltose, and sucrose. Lactose is a disaccharide consisting of the monomers glucose and galactose. It is found naturally in milk. Maltose, or malt sugar, is a disaccharide formed from a dehydration reaction between two glucose molecules. The most common disaccharide is sucrose, or table sugar, which is composed of the monomers glucose and fructose.
A long chain of monosaccharides linked by covalent bonds is known as a polysaccharide (poly- = "many"). The chain may be branched or unbranched, and it may contain different types of monosaccharides. Polysaccharides may be very large molecules. Starch, glycogen, cellulose, and chitin are examples of polysaccharides.
Starch is the stored form of sugars in plants and is made up of amylose and amylopectin (both polymers of glucose). Plants are able to synthesize glucose, and the excess glucose is stored as starch in different plant parts, including roots and seeds. The starch that is consumed by animals is broken down into smaller molecules, such as glucose. The cells can then absorb the glucose.