By the end of this section, you will be able to:
Explain the function of cartilage
List the steps of intramembranous ossification
List the steps of endochondral ossification
Explain the growth activity at the epiphyseal plate
Compare and contrast the processes of modeling and remodeling
In the early stages of embryonic development, the embryo's skeleton consists of membranes hyaline cartilage. By the sixth or seventh week of embryonic life, the actual process of bone development, ossification , begins. There are two ways that bones undergo ossification— intramembranous ossification and endochondral ossification —but bone is the same regardless of the pathway that produces it.
Cartilage templates
Throughout fetal development and into childhood growth and development, bone forms on the cartilaginous matrix. By the time a fetus is born, most of the cartilage has been replaced with bone. Some additional cartilage will be replaced throughout childhood, and some cartilage remains in the adult skeleton.
Intramembranous ossification
During intramembranous ossification , compact and spongy bone develops directly from sheets of connective tissue. The flat bones of the face, most of the cranial bones, and the clavicles (collarbones) are formed via intramembranous ossification.
The process begins when cells in the embryonic skeleton gather together and begin to differentiate into specialized cells ( [link] a ). Some of these cells will differentiate into capillaries, while others will become osteogenic cells and then osteoblasts. Although they will ultimately be spread out by the formation of bone tissue, early osteoblasts appear in a cluster called an ossification center .
The osteoblasts secrete osteoid , uncalcified matrix, which calcifies (hardens) within a few days as mineral salts are deposited on it, thereby entrapping the osteoblasts within. Once entrapped, the osteoblasts become osteocytes ( [link] b ). As osteoblasts transform into osteocytes, osteogenic cells in the surrounding connective tissue differentiate into new osteoblasts.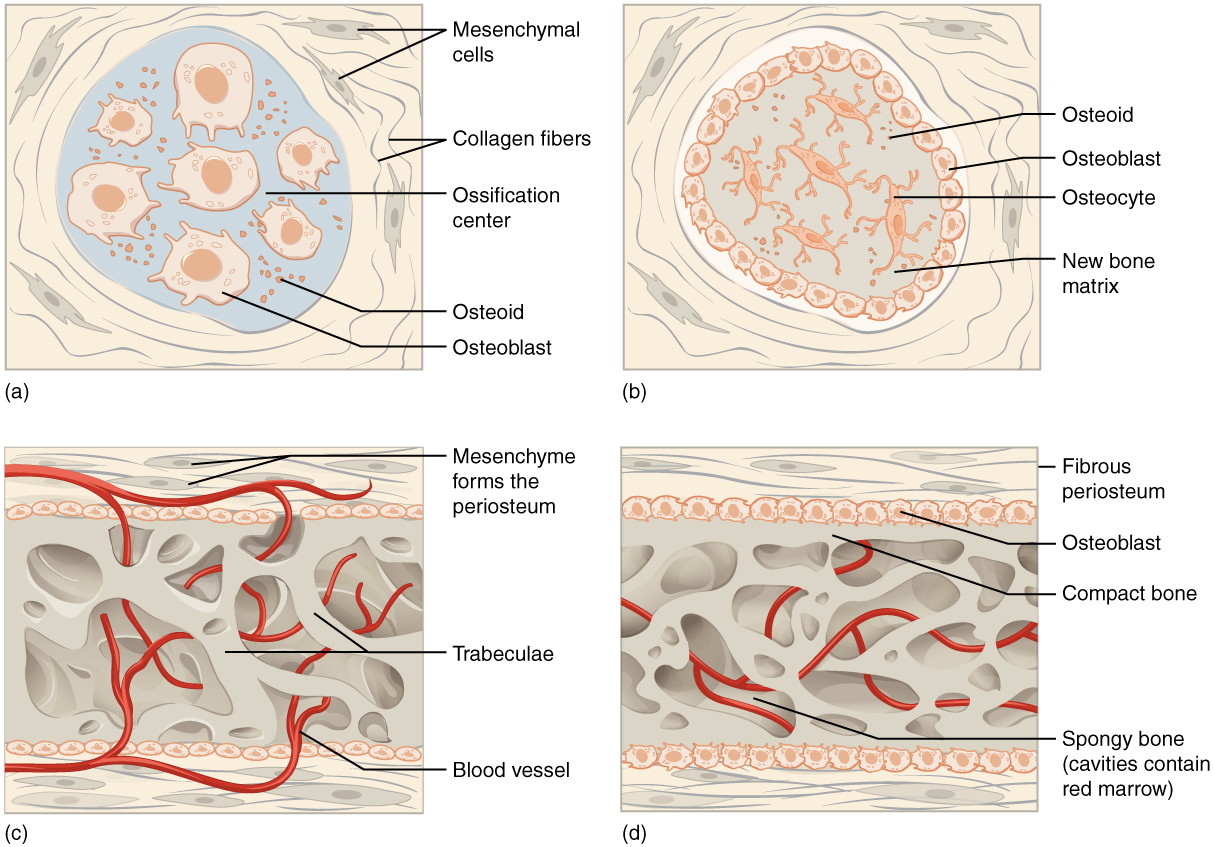 Intramembranous ossification begins during fetal development and continues on into adolescence. At birth, the skull and clavicles are not fully ossified nor are the sutures of the skull closed. This allows the skull and shoulders to deform during passage through the birth canal. The last bones to ossify via intramembranous ossification are the flat bones of the face, which reach their adult size at the end of the adolescent growth spurt.
Endochondral ossification
In endochondral ossification , bone develops by replacing hyaline cartilage. Cartilage does not become bone. Instead, cartilage serves as a template or blueprint to be completely replaced by new bone. Endochondral ossification takes much longer than intramembranous ossification. Bones at the base of the skull and long bones form via endochondral ossification.