Este módulo usa un diario de viajes y dibujos de misiones católicas en el sur de Texas para investigar la religión y colonialismo en las Américas.
Misiones católicas españolas y la historia de la frontera
Éste módulo puede ser usado para enseñar lecciones sobre encuentros transatlánticos y los comienzos coloniales. Temas del módulo incluyen: la religión, la cultura de la frontera, y el colonialismo. Profesores pueden empezar con la introducción de la historia del establecimiento de las misiones como un aspecto esencial del imperialismo español y la historia de la frontera, haciendo que los estudiantes consideran cómo instituciones religiosas funcionaron como agentes del colonialismo. La historia de las misiones de Texas da un ejemplo accesible para la clase, y se destaca en un documento del archivo digital Our Americas Archive Partnership (OAAP). Personal narrative of explorations&incidents in Texas, New Mexico, California, Sonora, and Chihuahua, volume 1 ("Relato personal de exploraciones e incidentes en Texas, Nuevo México, California, Sonora y Chihuahua") de John Russell Bartlett, contiene una serie de dibujos y descripciones de las misiones que vio durante sus viajes durante los años 1850 a1853. Este documento les permite a los estudiantes visualizar y trazar el crecimiento del imperio español a través del sur de los EEUU.

Al destacar los orígenes transatlánticos del imperialismo y de los movimientos del colonialismo español, estudiantes pueden entender las implicaciones transnacionales y nacionales del imperialismo temprano. Profesores podrían empezar con una discusión sobre el significado del término "transatlántico" y su función en la historia del colonialismo, la migración y el movimiento. El colonialismo español y la Reconquista son ejemplos más específico. Las expediciones y misiones españolas en Norteamérica eran una consecuencia de la Reconquista española (718-1492). La energía detrás de este movimiento político-religioso, que propugnó una forma más militante del catolicismo, fue dirigido hacia la conquista del Nuevo Mundo y la conversión de los nativos. Aunque el poder político español fue fuertemente afiliado con el catolicismo, la religión y el imperialismo se ayudaban y dañaban mutuamente. A menudo, los colonos españoles, los soldados, y los misioneros católicos no estaban de acuerdo en cuanto a cómo interactuar con y someter a los indios; sin embargo, ambos funcionaron como formas influyentes del poder colonial. El historiador Herbert E. Bolton escribió: "[Los misioneros] eran, en parte a propósito y en parte por casualidad, políticos y civilizadores […]y como tal, constituían una característica vital del sistema pionero de España" (46).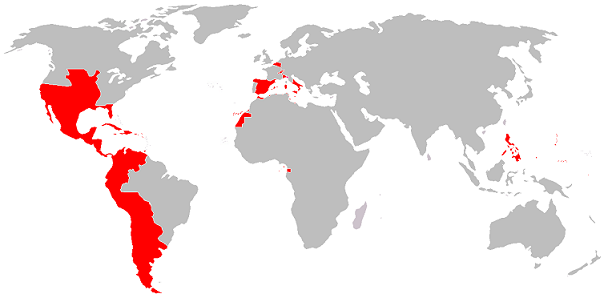 Misiones de texas y la historia de la frontera
Profesores pueden destacar la manera en que los misioneros españoles gradualmente construyeron una serie de misiones que se extiende a través de las fronteras nacionales actuales. Al enseñarles un mapa de las misiones de Texas (como el de abajo o uno de los varios mapas que se encuentran en el libro Spanish Texas por Chipman), los estudiantes podrán trazar el desarrollo del imperio español y sus misiones religiosas. Amenazados por el establecimiento de poblaciones francesas en Texas, los misioneros españoles se mudaron desde el suroeste de los EEUU a Texas y establecieron su primera misión, San Francisco de los Tejas en 1690, cerca de la ciudad actual de Nacogdoches. Por causa de enfermedad e inundación, los indios se empezaron a inquietar y amenazaron a los misioneros, y por consiguiente, éstos abandonaran el área. El fracaso inicial de San Francisco de los Tejas fue el comienzo de un patrón del establecimiento de misiones, inquietudes de parte de los indios y la retirada. Después del fracaso de la misión, los misioneros españoles se dirigieron más al sur, donde empezaron a establecer misiones a lo largo del Río Bravo y más cerca de las poblaciones españolas católicas activas por todo México.San Juan Bautista del Río Grande fue fundado en 1700 y se transformó en la puerta al Texas español (Chipman 107). Profesores les podrían preguntar a sus estudiantes: ¿cuáles factores piensan que contribuyeron a este patrón recurrente entre los indios, colonos y misioneros? ¿Cuáles dificultades tuvieron que enfrentar los misioneros y los amerindios cuando se encontraron? Esto provee una oportunidad para discutir el colonialismo como un encuentro de culturas, lenguajes, religiones y razas diferentes.