This module uses historical maps (vicinity and battle maps) from the Mexican American War as a way to study the war and many of its individual battles. It provides background information on the Battle of Monterrey, the Battle of Cerro Gordo, the Battle of El Molino del Rey, and the Battle of Chapultepec.
Using historical maps in the classroom
These maps can be combined with lessons on the Mexican American War as visual aids that drill down and show authentic battle plans, troop positions, and the resulting U.S.-Mexico border. They can also be combined with photographs of the cities or areas, text book readings, and Mexican American War documents, such as the Treaty of Guadalupe Hidalgo .
This module provides background information on the following significant battles and a list of links to related maps (in the links sidebar):
Battle of Monterrey
Battle of Cerro Gordo
Battle of El Molino del Rey
Battle of Chapultepec
Battle of monterrey (sept. 25, 1846)
Santa Anna had ordered General Pedro de Ampudia to retreat to Saltillo, yet, Ampudia disobeyed the order and went to the Mexican city of Monterrey, Nuevo León instead.
General Zachary Taylor positioned his troops north of Monterrey on Sept. 19 and captured the road leading to Saltillo on Sept. 20, effectively cutting General Ampudia's troops off from reinforcements. The U.S. troops attacked the Mexican troops from two directions– General Taylor's division attacked from the east, while General William Jenkins Worth's division attacked from the west.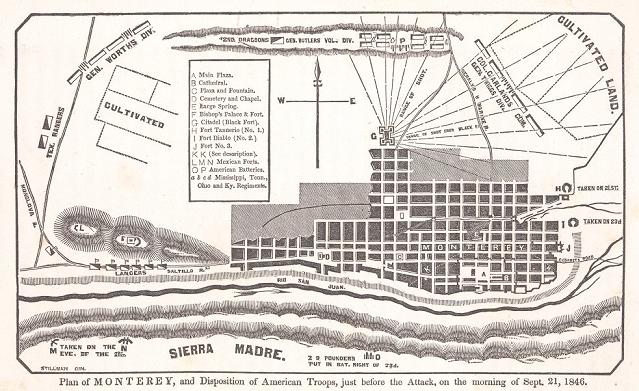 The battle culminated with the bombardment of the city by U.S. howitzers (cannons) on Sept. 25. Monterrey was captured after a week of brutal battles. General Ampudia and General Taylor negotiated an 8-week armistice in exchange for the Mexican surrender of Monterrey. This armistice, in turn, earned General Taylor much criticism from President James K. Polk and the federal government, who did not think that the army had the power to negotiate such truces.
Battle of cerro gordo (april 17-18, 1847)
After U.S. forces captured the Mexican Port City of Veracruz, Veracruz, U.S. General Winifred Scott led his troops toward Mexico City. General Antonio López de Santa Anna's Mexican troops blocked their route via the national road at the Cerro Gordo mountain pass (near Jalapa, Veracruz), between two large hills, La Atalaya and El Telégrafo. While Santa Anna had heavily defended this pass, he failed to station as many men on his left, an area he assumed to be impassible. Captain Robert E. Lee's reconnaissance revealed this weakness and on April 18, General Scott commanded a flanking of the Mexican army. U.S. General David Twiggs led his men to the lightly defended area and General Gideon Pillow led his smaller troop toward the Mexican front.
The surprise attack forced Mexican troops to flee; and Santa Anna had to ride off without his wooden leg (which was then captured and kept by the U.S. army). After their victory, the U.S. army pushed forward to Puebla, Puebla in Mexico's interior.