Ece 420 fall 2013
You will work through an example problem that explores the effects of sample-rate compression and expansion on the spectrum of a signal.
Multirate theory exercise
Consider a sampled signal with the DTFT shown in [link] .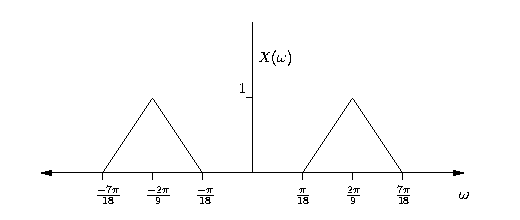 Assuming , use the relations between the DTFT of a signal before and after sample-rate compression and expansion( [link] and [link] ) to sketch the DTFT response of the signal as it passes through themultirate system of [link] (without any filtering). Include both the intermediate response and the final response . It is important to be aware that the translation from digital frequency to analog frequency depends on the sampling rate. Therefore, the conversion is different for and .

Questions & Answers
Receive real-time job alerts and never miss the right job again
Source:  OpenStax, Ece 420 fall 2013. OpenStax CNX. Sep 26, 2013 Download for free at http://cnx.org/content/col11560/1.3
Google Play and the Google Play logo are trademarks of Google Inc.
Notification Switch
Would you like to follow the 'Ece 420 fall 2013' conversation and receive update notifications?