By the end of this section, you will be able to:
Describe the structure of eukaryotic cells
Compare animal cells with plant cells
State the role of the plasma membrane
Summarize the functions of the major cell organelles
Have you ever heard the phrase "form follows function?" It's a philosophy practiced in many industries. In architecture, this means that buildings should be constructed to support the activities that will be carried out inside them. For example, a skyscraper should be built with several elevator banks; a hospital should be built so that its emergency room is easily accessible.
Our natural world also utilizes the principle of form following function, especially in cell biology, and this will become clear as we explore eukaryotic cells ( [link] ). Unlike prokaryotic cells, eukaryotic cells have: 1) a membrane-bound nucleus; 2) numerous membrane-bound organelles such as the endoplasmic reticulum, Golgi apparatus, chloroplasts, mitochondria, and others; and 3) several, rod-shaped chromosomes. Because a eukaryotic cell's nucleus is surrounded by a membrane, it is often said to have a "true nucleus." The word "organelle" means "little organ," and, as already mentioned, organelles have specialized cellular functions, just as the organs of your body have specialized functions.
At this point, it should be clear to you that eukaryotic cells have a more complex structure than prokaryotic cells. Organelles allow different functions to be compartmentalized in different areas of the cell. Before turning to organelles, let's first examine two important components of the cell: the plasma membrane and the cytoplasm.
Art connection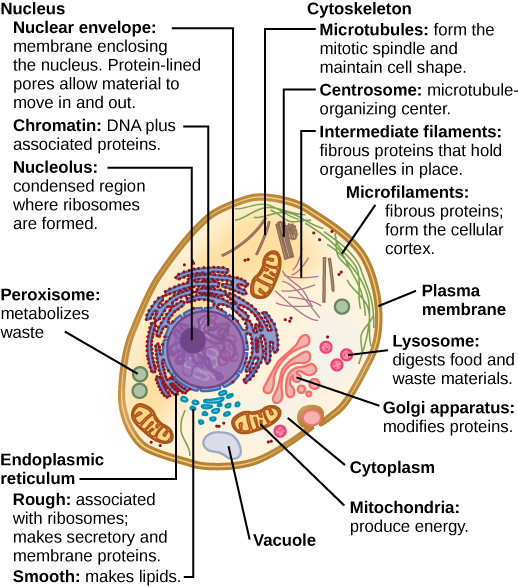 If the nucleolus were not able to carry out its function, what other cellular organelles would be affected?
The plasma membrane
Like prokaryotes, eukaryotic cells have a plasma membrane ( [link] ), a phospholipid bilayer with embedded proteins that separates the internal contents of the cell from its surrounding environment. A phospholipid is a lipid molecule with two fatty acid chains and a phosphate-containing group. The plasma membrane controls the passage of organic molecules, ions, water, and oxygen into and out of the cell. Wastes (such as carbon dioxide and ammonia) also leave the cell by passing through the plasma membrane.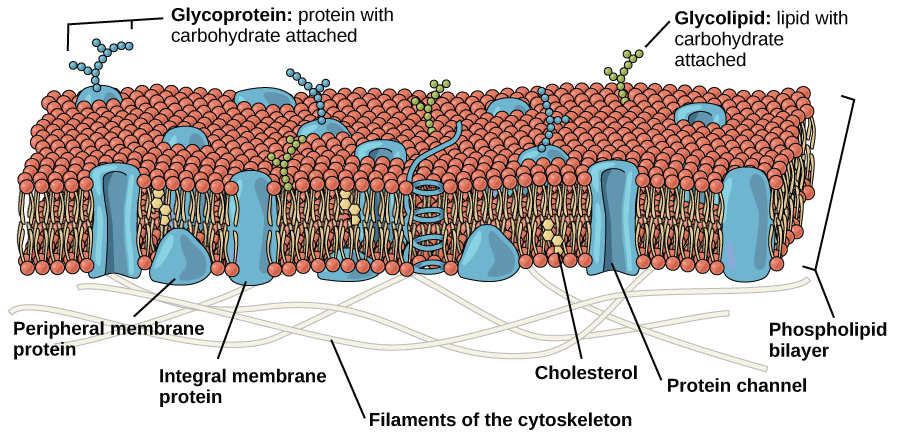 The plasma membranes of cells that specialize in absorption are folded into fingerlike projections called microvilli (singular = microvillus); ( [link] ). Such cells are typically found lining the small intestine, the organ that absorbs nutrients from digested food. This is an excellent example of form following function. People with celiac disease have an immune response to gluten, which is a protein found in wheat, barley, and rye. The immune response damages microvilli, and thus, afflicted individuals cannot absorb nutrients. This leads to malnutrition, cramping, and diarrhea. Patients suffering from celiac disease must follow a gluten-free diet.