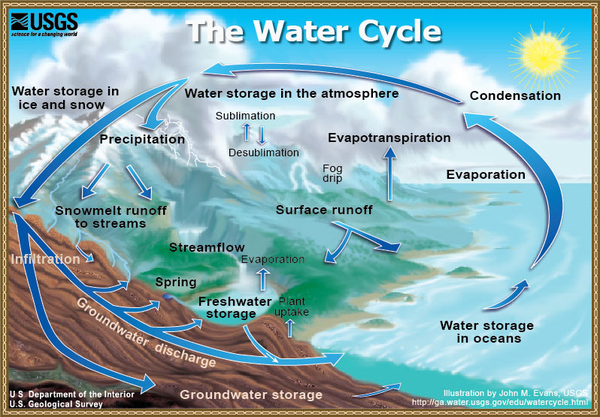 Human interactions with the water cycle
Freshwater supply is one of the most important provisioning ecosystem services on which human well-being depends. By 2000, the rate of our water extraction from rivers and aquifers had risen to almost 4000 cubic kilometers per year. The greatest use of this water is for irrigation in agriculture, but significant quantities of water are also extracted for public and municipal use, as well as industrial applications and power generation. Other major human interventions in the water cycle involve changes in land cover and infrastructure development of river networks. As we have deforested areas for wood supply and agricultural development we have reduced the amount of vegetation, which naturally acts to trap precipitation as it falls and slow the rate of infiltration into the ground. As a consequence, surface runoff has increased. This, in turn, means flood peaks are greater and erosion is increased. Erosion lowers soil quality and deposits sediment in river channels, where it can block navigation and harm aquatic plants and animals. Where agricultural land is also drained these effects can be magnified. Urbanization also accelerates streamflow by preventing precipitation from filtering into the soil and shunting it into drainage systems. Additional physical infrastructure has been added to river networks with the aim of altering the volume, timing, and direction of water flows for human benefit. This is achieved with reservoirs, weirs, and diversion channels. For example, so much water is removed or redirected from the Colorado River in the western United States that, despite its considerable size, in some years it is dry before reaching the sea in Mexico. We also exploit waterways through their use for navigation, recreation, hydroelectricity generation and waste disposal. These activities, especially waste disposal, do not necessarily involve removal of water, but do have impacts on water quality and water flow that have negative consequences for the physical and biological properties of aquatic ecosystems.
The water cycle is key to the ecosystem service of climate regulation as well as being an essential supporting service that impacts the function of all ecosystems. Consider the widespread impacts on diverse natural and human systems when major droughts or floods occur. Consequently, human disruptions of the natural water cycle have many undesirable effects and challenge sustainable development. There are two major concerns. First, the need to balance rising human demand with the need to make our water use sustainable by reversing ecosystem damage from excess removal and pollution of water. Traditionally, considerable emphasis has been on finding and accessing more supply, but the negative environmental impacts of this approach are now appreciated, and improving the efficiency of water use is now a major goal. Second, there is a need for a safe water supply in many parts of the world, which depends on reducing water pollution and improving water treatment facilities.