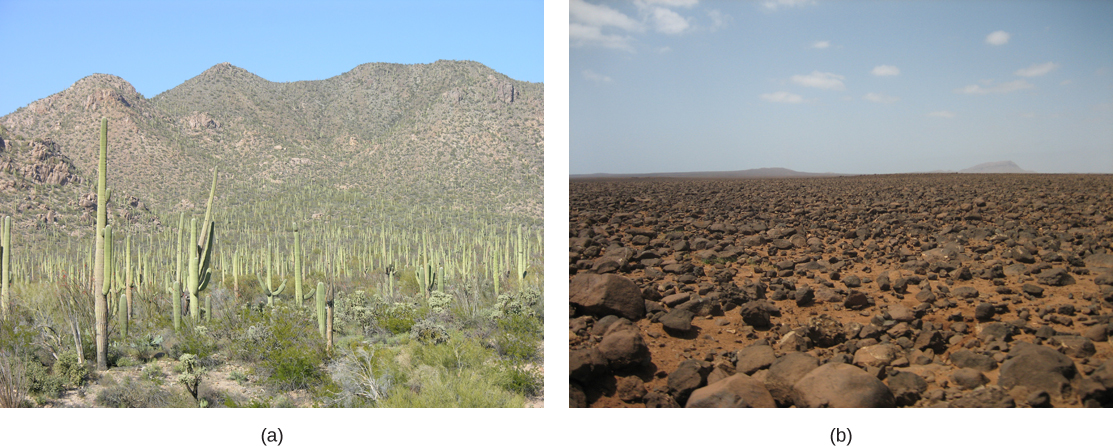 Ecosystems are complex with many interacting parts. They are routinely exposed to various disturbances, or changes in the environment that effect their compositions: yearly variations in rainfall and temperature and the slower processes of plant growth, which may take several years. Many of these disturbances are a result of natural processes. For example, when lightning causes a forest fire and destroys part of a forest ecosystem, the ground is eventually populated by grasses, then by bushes and shrubs, and later by mature trees, restoring the forest to its former state. The impact of environmental disturbances caused by human activities is as important as the changes wrought by natural processes. Human agricultural practices, air pollution, acid rain, global deforestation, overfishing, eutrophication, oil spills, and illegal dumping on land and into the ocean are all issues of concern to conservationists.
Equilibrium is the steady state of an ecosystem where all organisms are in balance with their environment and with each other. In ecology, two parameters are used to measure changes in ecosystems: resistance and resilience. The ability of an ecosystem to remain at equilibrium in spite of disturbances is called resistance . The speed at which an ecosystem recovers equilibrium after being disturbed, called its resilience . Ecosystem resistance and resilience are especially important when considering human impact. The nature of an ecosystem may change to such a degree that it can lose its resilience entirely. This process can lead to the complete destruction or irreversible altering of the ecosystem.
Food chains and food webs
The term "food chain" is sometimes used metaphorically to describe human social situations. In this sense, food chains are thought of as a competition for survival, such as "who eats whom?" Someone eats and someone is eaten. Therefore, it is not surprising that in our competitive "dog-eat-dog" society, individuals who are considered successful are seen as being at the top of the food chain, consuming all others for their benefit, whereas the less successful are seen as being at the bottom.
The scientific understanding of a food chain is more precise than in its everyday usage. In ecology, a food chain is a linear sequence of organisms through which nutrients and energy pass: primary producers, primary consumers, and higher-level consumers are used to describe ecosystem structure and dynamics. There is a single path through the chain. Each organism in a food chain occupies what is called a trophic level . Depending on their role as producers or consumers, species or groups of species can be assigned to various trophic levels.