Complex iv
The fourth complex is composed of cytochrome proteins c, a, and a 3 . This complex contains two heme groups (one in each of the two cytochromes, a, and a 3 ) and three copper ions (a pair of Cu A and one Cu B in cytochrome a 3 ). The cytochromes hold an oxygen molecule very tightly between the iron and copper ions until the oxygen is completely reduced. The reduced oxygen then picks up two hydrogen ions from the surrounding medium to make water (H 2 O). The removal of the hydrogen ions from the system contributes to the ion gradient used in the process of chemiosmosis.
Links
Here are some useful links to videos on electron transport chains
Chemiosmosis
In chemiosmosis, the free energy from the series of redox reactions just described is used to pump hydrogen ions (protons) across the membrane. The uneven distribution of H + ions across the membrane establishes both concentration and electrical gradients (thus, an electrochemical gradient), owing to the hydrogen ions' positive charge and their aggregation on one side of the membrane.
If the membrane were open to diffusion by the hydrogen ions, the ions would tend to diffuse back across into the matrix, driven by their electrochemical gradient. Recall that many ions cannot diffuse through the nonpolar regions of phospholipid membranes without the aid of ion channels. Similarly, hydrogen ions in the matrix space can only pass through the inner mitochondrial membrane through an integral membrane protein called ATP synthase ( [link] ). This complex protein acts as a tiny generator, turned by the force of the hydrogen ions diffusing through it, down their electrochemical gradient. The turning of parts of this molecular machine facilitates the addition of a phosphate to ADP, forming ATP, using the potential energy of the hydrogen ion gradient.
Art connection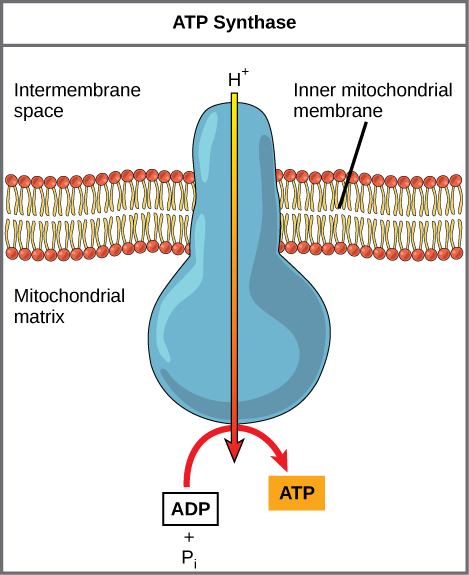 Dinitrophenol (DNP) is an uncoupler that makes the inner mitochondrial membrane leaky to protons. It was used until 1938 as a weight-loss drug. What effect would you expect DNP to have on the change in pH across the inner mitochondrial membrane? Why do you think this might be an effective weight-loss drug?
Chemiosmosis ( [link] ) is used to generate 90 percent of the ATP made during aerobic glucose catabolism; it is also the method used in the light reactions of photosynthesis to harness the energy of sunlight in the process of photophosphorylation. Recall that the production of ATP using the process of chemiosmosis in mitochondria is called oxidative phosphorylation. The overall result of these reactions is the production of ATP from the energy of the electrons removed from hydrogen atoms. These atoms were originally part of a glucose molecule. At the end of the pathway, the electrons are used to reduce an oxygen molecule to oxygen ions. The extra electrons on the oxygen attract hydrogen ions (protons) from the surrounding medium, and water is formed.