An overview of the chapter contexts for our Grade 10 Physical Science WebBooks.
Overview of chapters
Units
This chapter explains the huge role measuring plays in the Physical Sciences and the importance of units. Examples given illustrate that experiment and observation becomes meaningful when expressed in a quantity and its particular unit. The SI unit system with its seven base SI units is introduced. Details are provided for the correct way to write units and their abbreviations. For example: the SI unit for length is meter (lower case) and the abbreviation is "m", while the volume of a liquid is measured in litre "ℓ". When a unit is named after a person, then the symbol is a capital letter. The 'newton' is the unit of force named after Sir Isaac Newton and its symbol is "N". When writing a combination of base SI units, place a dot (·) between the base units used. Metres per second is correctly written as
Currently learners are expected to round off correctly to 2 decimal places. The text in the learner's book illustrates the big difference to the answer when rounding off digits during a calculation. As an educator you often need to remind your learners only to round off the final answer. Learners also need to be able to write and translate data into the correct units and dimensions using scientific notation. To develop learners' skills to do conversions and calculations use the table of unit prefixes, conversion diagrams and worked examples.
Chemistry overview
Matter and materials
What are the objects around us made of?
Learners will learn that all objects are made of matter, and that different objects are made of different types of matter or materials. These different properties will be explained by studying material's microscopic structure (the small parts that make up the material). We will explore the smallest building blocks of matter, atoms, their unique properties and how they interact and combine with other atoms.
Revision of concepts related to molecules, their molecular and empirical formulae, and models to represent compounds will assure that all learners have the necessary prior knowledge to understand new concepts.
Classification of matter
To link to Grade 9, matter is classified according to its different properties. The diagram below summarises the sequence in which content, concepts and skills are developed in this chapter.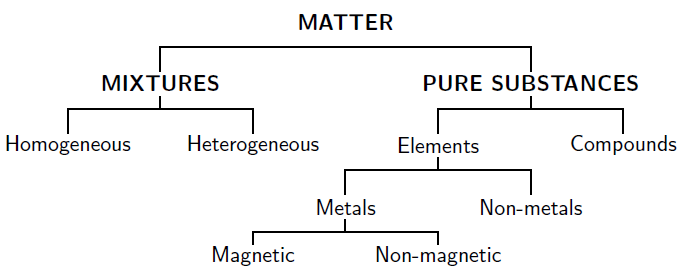 Diagram: the Classification of Matter
The terms: mixture, heterogeneous and homogeneous mixtures are defined and explained in a learner-friendly way. To clarify concepts and support understanding, a lot of interesting examples linked to everyday lifestyle are given. For example: a pizza is described as a heterogeneous mixture, as each slice of pizza will probably differ from the next one, because the toppings like cheese, tomato, mushrooms and peppers are not evenly distributed and are visible. Ways to separate mixtures is extended by explaining the dialysis process and how centrifugation is used to separate cells and plasma in blood.