Watch this animation to learn more about tendonitis, a painful condition caused by swollen or injured tendons.
Supportive connective tissues
Two major forms of supportive connective tissue, cartilage and bone, allow the body to maintain its posture and protect internal organs.
Cartilage
The distinctive appearance of cartilage is due to the semisolid matrix. Embedded within the cartilage matrix are chondrocytes , or cartilage cells, and the space they occupy are called lacunae (singular = lacuna). Cartilaginous tissue is avascular (without blood), thus all nutrients need to diffuse through the matrix to reach the chondrocytes. This is a factor contributing to the very slow healing of cartilaginous tissues.
The three main types of cartilage tissue are hyaline cartilage, fibrocartilage, and elastic cartilage ( [link] ). Hyaline cartilage , the most common type of cartilage in the body, consists of short and dispersed collagen fibers and contains large amounts of proteoglycans. Under the microscope, tissue samples appear clear. The surface of hyaline cartilage is smooth. Both strong and flexible, it is found in the rib cage and nose and covers bones where they meet to form moveable joints. It makes up the embryonic skeleton before bone formation. A plate of hyaline cartilage at the ends of bone allows continued growth until adulthood. Fibrocartilage is tough because it has thick bundles of collagen fibers dispersed through its matrix. The knee and jaw joints and the the intervertebral discs are examples of fibrocartilage. Elastic cartilage contains elastic fibers as well as collagen and proteoglycans. This tissue gives rigid support as well as elasticity. Tug gently at your ear lobes, and notice that the lobes return to their initial shape. The external ear contains elastic cartilage.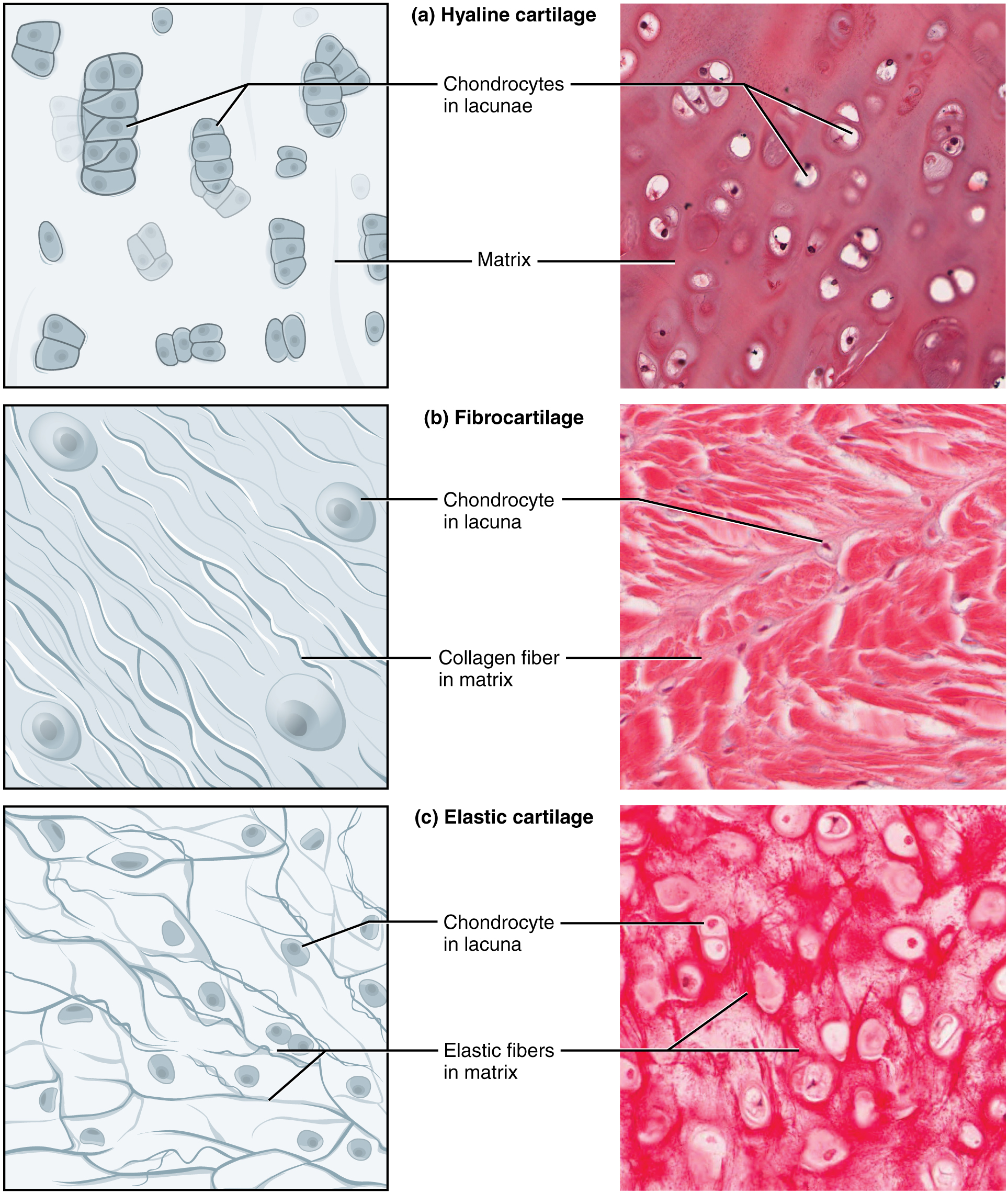 Bone
Bone is the hardest connective tissue. It provides protection to internal organs and supports the body. Bone's rigid extracellular matrix contains mostly collagen fibers embedded in a mineralized matrix containing a form of calcium phosphate. Both components of the matrix, fibers and minerals, contribute to the unusual properties of bone. Without collagen, bones would be brittle and shatter easily. Without mineral crystals, bones would flex and provide little support. Osteocytes, bone cells like chondrocytes, are located within lacunae. Bone is a highly vascularized tissue. Unlike cartilage, bone tissue can recover from injuries in a relatively short time.
Fluid connective tissue
Blood and lymph are fluid connective tissues. Cells circulate in a liquid extracellular matrix. The formed elements circulating in blood are all derived from stem cells located in bone marrow ( [link] ). Erythrocytes , red blood cells, transport oxygen and some carbon dioxide. Leukocytes , white blood cells, are responsible for defending against potentially harmful microorganisms or molecules. Platelets are cell fragments involved in blood clotting. Nutrients, salts, and wastes are dissolved in the liquid matrix and transported through the body.