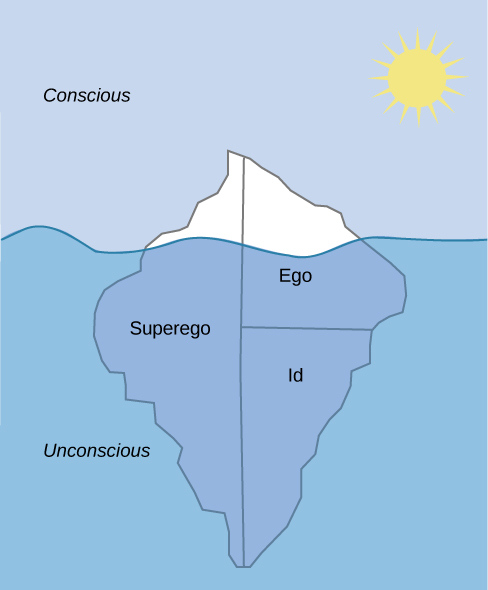 According to Freud, our personality develops from a conflict between two forces: our biological aggressive and pleasure-seeking drives versus our internal (socialized) control over these drives. Our personality is the result of our efforts to balance these two competing forces. Freud suggested that we can understand this by imagining three interacting systems within our minds. He called them the id, ego, and superego ( [link] ).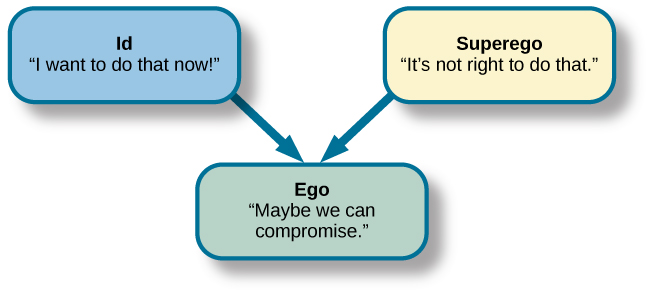 The unconscious id contains our most primitive drives or urges, and is present from birth. It directs impulses for hunger, thirst, and sex. Freud believed that the id operates on what he called the "pleasure principle," in which the id seeks immediate gratification. Through social interactions with parents and others in a child's environment, the ego and superego develop to help control the id. The superego develops as a child interacts with others, learning the social rules for right and wrong. The superego acts as our conscience; it is our moral compass that tells us how we should behave. It strives for perfection and judges our behavior, leading to feelings of pride or—when we fall short of the ideal—feelings of guilt. In contrast to the instinctual id and the rule-based superego, the ego is the rational part of our personality. It's what Freud considered to be the self, and it is the part of our personality that is seen by others. Its job is to balance the demands of the id and superego in the context of reality; thus, it operates on what Freud called the "reality principle." The ego helps the id satisfy its desires in a realistic way.
The id and superego are in constant conflict, because the id wants instant gratification regardless of the consequences, but the superego tells us that we must behave in socially acceptable ways. Thus, the ego's job is to find the middle ground. It helps satisfy the id's desires in a rational way that will not lead us to feelings of guilt. According to Freud, a person who has a strong ego, which can balance the demands of the id and the superego, has a healthy personality. Freud maintained that imbalances in the system can lead to neurosis (a tendency to experience negative emotions), anxiety disorders, or unhealthy behaviors. For example, a person who is dominated by their id might be narcissistic and impulsive. A person with a dominant superego might be controlled by feelings of guilt and deny themselves even socially acceptable pleasures; conversely, if the superego is weak or absent, a person might become a psychopath. An overly dominant superego might be seen in an over-controlled individual whose rational grasp on reality is so strong that they are unaware of their emotional needs, or, in a neurotic who is overly defensive (overusing ego defense mechanisms).