Although blood cells are not exchanged, the chorionic villi provide ample surface area for the two-way exchange of substances between maternal and fetal blood. The rate of exchange increases throughout gestation as the villi become thinner and increasingly branched. The placenta is permeable to lipid-soluble fetotoxic substances: alcohol, nicotine, barbiturates, antibiotics, certain pathogens, and many other substances that can be dangerous or fatal to the developing embryo or fetus. For these reasons, pregnant women should avoid fetotoxic substances. Alcohol consumption by pregnant women, for example, can result in a range of abnormalities referred to as fetal alcohol spectrum disorders (FASD). These include organ and facial malformations, as well as cognitive and behavioral disorders.
Functions of the Placenta
Nutrition and digestion
Respiration
Endocrine function

Mediates diffusion of maternal glucose, amino acids, fatty acids, vitamins, and minerals
Stores nutrients during early pregnancy to accommodate increased fetal demand later in pregnancy
Excretes and filters fetal nitrogenous wastes into maternal blood

Mediates maternal-to-fetal oxygen transport and fetal-to-maternal carbon dioxide transport

Secretes several hormones, including hCG, estrogens, and progesterone, to maintain the pregnancy and stimulate maternal and fetal development
Mediates the transmission of maternal hormones into fetal blood and vice versa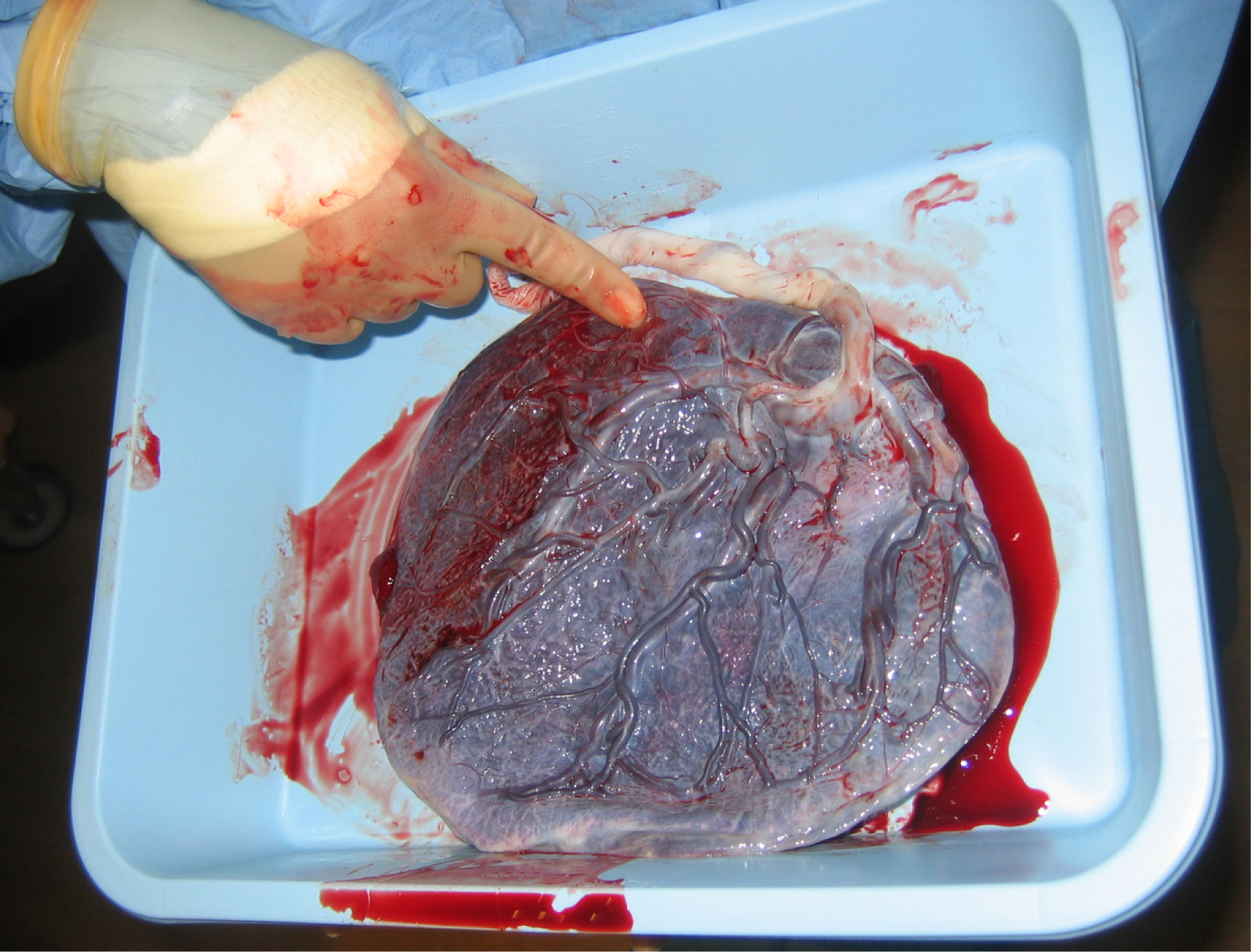 Organogenesis
Following gastrulation, rudiments of the central nervous system develop from the ectoderm in the process of neurulation ( [link] ). Specialized neuroectodermal tissues along the length of the embryo thicken into the neural plate . During the fourth week, tissues on either side of the plate fold upward into a neural fold . The two folds converge to form the neural tube . The tube lies atop a rod-shaped, mesoderm-derived notochord , which eventually becomes the nucleus pulposus of intervertebral discs. Block-like structures called somites form on either side of the tube, eventually differentiating into the axial skeleton, skeletal muscle, and dermis. During the fourth and fifth weeks, the anterior neural tube dilates and subdivides to form vesicles that will become the brain structures.
Folate, one of the B vitamins, is important to the healthy development of the neural tube. A deficiency of maternal folate in the first weeks of pregnancy can result in neural tube defects, including spina bifida—a birth defect in which spinal tissue protrudes through the newborn's vertebral column, which has failed to completely close. A more severe neural tube defect is anencephaly, a partial or complete absence of brain tissue.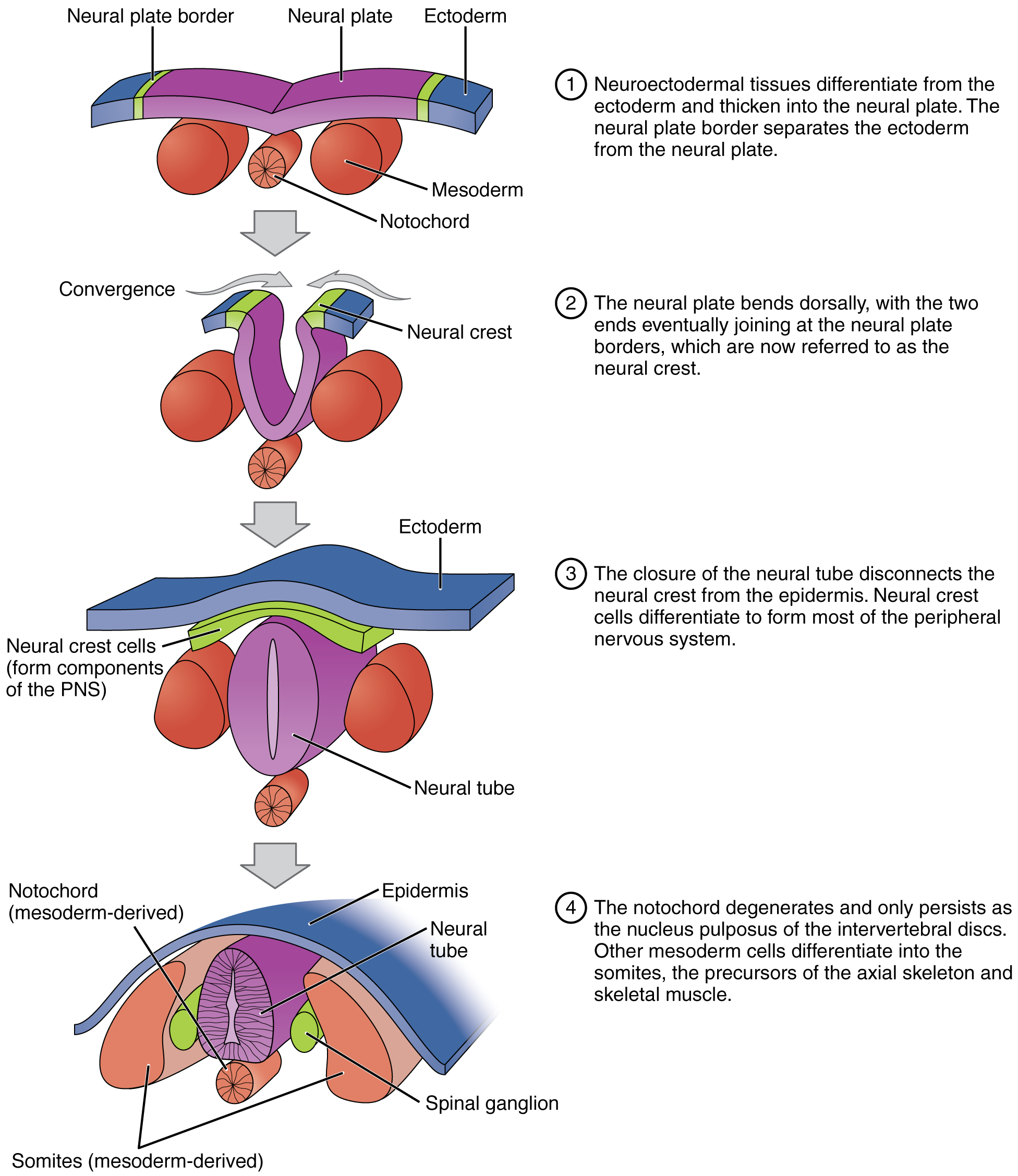 The embryo, which begins as a flat sheet of cells, begins to acquire a cylindrical shape through the process of embryonic folding ( [link] ). The embryo folds laterally and again at either end, forming a C-shape with distinct head and tail ends. The embryo envelops a portion of the yolk sac, which protrudes with the umbilical cord from what will become the abdomen. The folding essentially creates a tube, called the primitive gut, that is lined by the endoderm. The amniotic sac, which was sitting on top of the flat embryo, envelops the embryo as it folds.