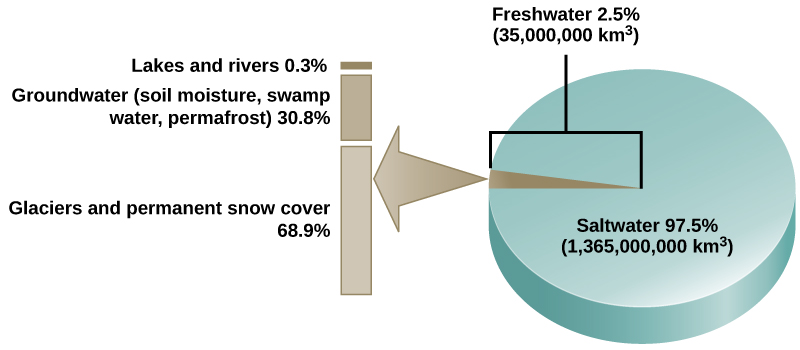 The various processes that occur during the cycling of water are illustrated in [link] . The processes include the following:
evaporation and sublimation
condensation and precipitation
subsurface water flow
surface runoff and snowmelt
streamflow
The water cycle is driven by the Sun's energy as it warms the oceans and other surface waters. This leads to evaporation (water to water vapor) of liquid surface water and sublimation (ice to water vapor) of frozen water, thus moving large amounts of water into the atmosphere as water vapor. Over time, this water vapor condenses into clouds as liquid or frozen droplets and eventually leads to precipitation (rain or snow), which returns water to Earth's surface. Rain reaching Earth's surface may evaporate again, flow over the surface, or percolate into the ground. Most easily observed is surface runoff: the flow of fresh water either from rain or melting ice. Runoff can make its way through streams and lakes to the oceans or flow directly to the oceans themselves.
Groundwater is a significant reservoir of fresh water. It exists in the pores between particles in sand and gravel, or in the fissures in rocks. Shallow groundwater flows slowly through these pores and fissures and eventually finds its way to a stream or lake where it becomes a part of the surface water again. Streams do not flow because they are replenished from rainwater directly; they flow because there is a constant inflow from groundwater below. Some groundwater is found very deep in the bedrock and can persist there for millennia. Most groundwater reservoirs, or aquifers, are the source of drinking or irrigation water drawn up through wells. In many cases these aquifers are being depleted faster than they are being replenished by water percolating down from above.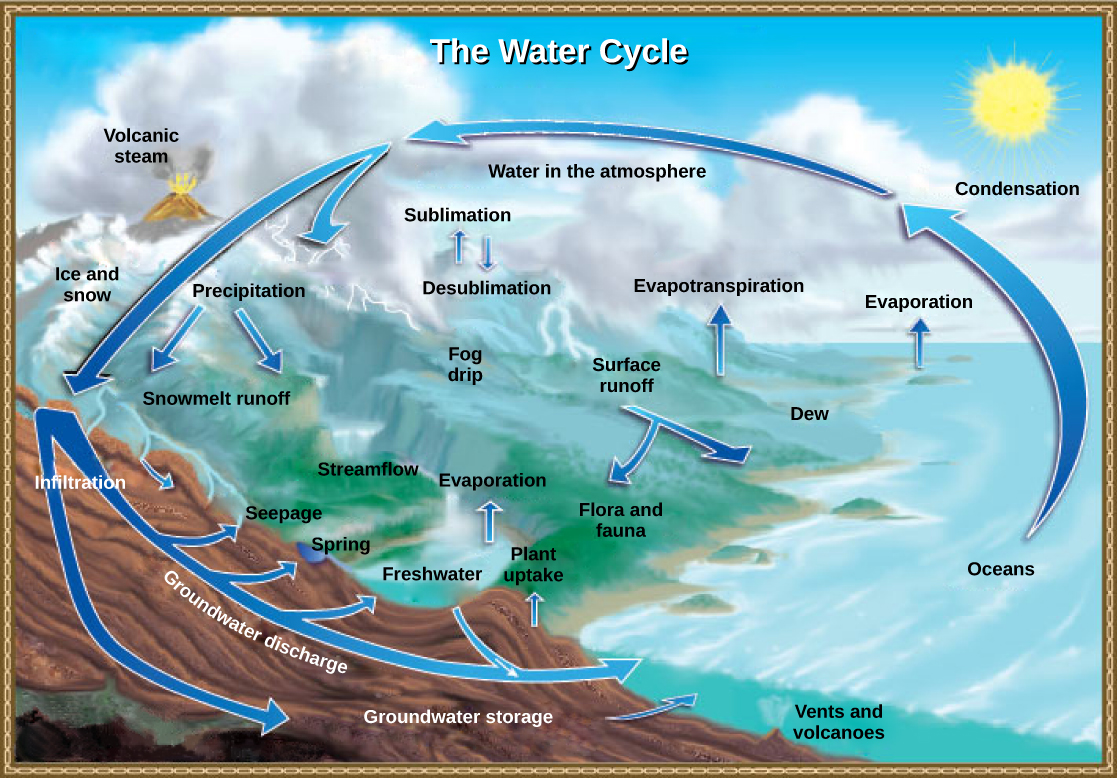 The carbon cycle
Carbon is the fourth most abundant element in living organisms. Carbon is present in all organic molecules, and its role in the structure of macromolecules is of primary importance to living organisms. Carbon compounds contain energy, and many of these compounds from plants and algae have remained stored as fossilized carbon, which humans use as fuel. Since the 1800s, the use of fossil fuels has accelerated. As global demand for Earth's limited fossil fuel supplies has risen since the beginning of the Industrial Revolution, the amount of carbon dioxide in our atmosphere has increased as the fuels are burned. This increase in carbon dioxide has been associated with climate change and is a major environmental concern worldwide.