Minutes from the New York Etching Club's fifteenth year.
1891 events
The New York Etching Club held its annual exhibition in February at the National Academy of Design. The club published an exhibition catalogue in a new format including five original etchings that were accompanied by photogravures of the artists who made them. In addition, an essay by James D. Smillie, entitled "Some Observations," discussed among several topics the collapse of the commercial market for etchings. A pen and ink drawing by Charles A. Platt was used as a frontispiece, and an occasional touch of bright red printing ink was used in the catalogue. The event marked the return to annual exhibitions accompanied by a catalogue.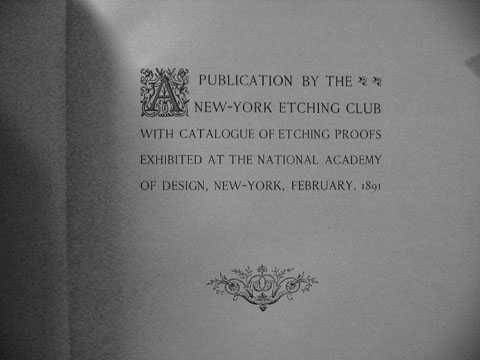 Feb. 13th 1891
There were present at a meeting held in the Studio of Mr Carlton.T.Chapman at above date:
Mssrs Hent Farrer, Thos.W.Wood, James.D.Smillie, Carlton.T.Chapman, J.C.Nicoll, Otto H.Bacher, and Alexander Schilling:___ No quorum being present, it was decided to Transact such business as was most urgent, such action to be subject to ratification at a subsequent meeting of the Club.
The sentiment of the members present was unanimously in favor of holding another exhibition in 1892.
It was thought that the interest taken in the present exhibition of the Club, amply warranted the taking of such a step. It was further agreed that only by bringing before the eyes of the public work of a high order, (and of a purely artistic nature at that,) could the aforesaid public be brought to a just appreciation, of the better and more subtle qualities in the art of etching __ after a general
discussion of this subject in which all present joined; it was then moved by Mr Nicoll and seconded by Mr Wood that the President be
authorized to apply for space in the American Water Color exhibition to be held in 1892, upon the same terms as heretofore.
The President then appointed Messrs Nicoll and Smillie a committee to audit the Treasures accounts.
The following Bills were favorably passed upon: Messrs Kimmel&Voigt for printing of Etchings for /91 Catalogue $118.75. The Moss Engraving Co for Photo. Eng - 8.75 W. Kurtz for Halftone portrait's 62.00 A. J. Borst for frames and mats18.90. The bill of Devinne&Co for printing and binding the catalogue having gone astray and no duplicate being at hand Mr Smillie volunteerd giving
the items. The total being about $191.00, this too was favorably passed.
The Treasurer then gave an approximate total of the cash available and it was not sufficient at this time to pay all bills, he was authorized to use his discretion in making payments __
After which the meeting Adjourned ____
Alexander Schilling Secretary.
approved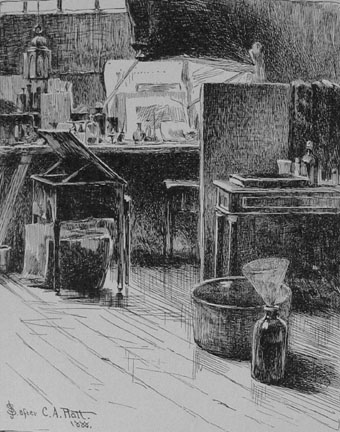 April 10th 1891
The Annual meeting of the New York Etching Club, was held on the evening of this date at the studio of Mr. C.F.W. Mielatz in the "Alpine" cor 33d St&B'way: