Minutes from the New York Etching Club's fourteenth year.
1890 events
The Critic (Vol. 16, March 1, 1890) reported that the American Society of Painters on Stone had been formed for the purpose of publishing work (lithographs) rather than exhibiting. Founding members of the group included Otto Bacher, Thomas Moran, Frederick Dielman, Reginald Cleveland Coxe, William Merritt Chase and Edward Moran. Carroll Beckwith was identified as president, and Montague Marks as Treasurer and Secretary.
February 14th, 1890.
At the regular meeting called for above date there was no quorum. There were present T. W. Wood – Thos Moran , R. Swain Gifford, Dr. L M Yale&W. H. Shelton. In order to make his Committee Report, a meeting was arranged with Mr Moran in the Chair subject to approval – Mr Moran reported that the rooms of the Union League Club could not be had by the Etching Club
Mr. Moran proposed in writing the name of Miss Ellen Oakford of New Haven Conn. for Membership.
The informal Meeting then adjourned
Mr Chapman and Mr Lauber came in after the Adjournment.
W. H. Shelton Secy.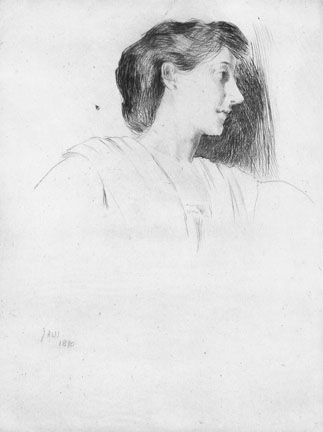 Friday.april, 11th, 1890.
The yearly meeting of the N. Y. Etching Club was held at the Secretary's Studio 106 East 55th St.
There were present the following members. Otto. H. Bacher, A.H. Baldwin F.S. Church, Frdk' Dielman, Henry Farrer Joseph Lauber, Thos Moran J.C. Nicoll Alex Schilling. W.H. Shelton. J.D. Smillie T.W. Wood&C.Y. Chapman.
The minutes of the last four meetings were read&approved which included the endorsement of the informal action taken at the last two meetings when no quorum was present.
The Club now proceeded to the yearly elections Messrs Lauber&Chapman having been appointed tellers.
Mr. Farrer was reelected President
Mr Schilling was elected Secretary and Treasurer in place of Mr. Shelton.
The Executive Committee was reelected consisting of F.S. Church, Thos Moranand J. C. Nicoll.
The Chair appointed as auditing Committee Jas. D. Smillie&Frd'k. Dielman
Miss Ellen Oakford of New Haven Conn was elected as a non-Resident Member
The name of Prosper. L. Sinnat was passed over as none of his work was before the Club.
C.hs' W. Meilatz was proposed by Mr. Schilling&seconded by Mr Lauber.
Thos.R. Manley was proposed by Mr. Schilling&seconded by Mr. Lauber.
The name of Wm M. Chase was dropped from the Roll of Membership for general non compliance with the requirements of the Constitution.