Moral and ethical decision making needs to be a part of the preparation of future principals because of the critical role that they play in their schools and communities. Using the students electronic portfolio system, Interstate School Leaders Licensure Consortium (ISLLC) Standard 5 and advanced programs in Educational Leadership Disposition Index item 17 both pertaining to ethics and ethical decision making, a pre/post comparison study of student growth was conducted. The research determined that the growth across both areas were statistically significant. Additionally, there was a significant main effect for time, test, and interaction between time and test.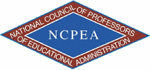 Ncpea education leadership review: portland conference special edition, volume 12, number 3 (october 2011)
This manuscript has been peer-reviewed, accepted, and endorsed by the National Council of Professors of Educational Administration (NCPEA) as a significant contribution to the scholarship and practice of education administration. In addition to publication in the Connexions Content Commons, this module is published in the
Education Leadership Review: Special Portland Conference Issue (October 2011)
, ISSN 1532-0723. Formatted and edited in Connexions by Theodore Creighton and Brad Bizzell, Virginia Tech and Janet Tareilo, Stephen F. Austin State University.
Introduction
Moral and ethical leadership has evolved over the years, and while early standards were often religious in nature, many standards remain. Every year principals are terminated for immoral activities, failure to assume leadership obligations, or breaches of ethics. Because of the critical role that principals play in school and community leadership, preparation programs should teach and assess principal candidates' dispositions such as fairness and integrity. This paper is an analysis of educational administration student growth using an electronic portfolio system to measure self-perceptions of readiness to implement the Interstate School Leaders Licensure Consortium (ISLLC) Standards and self-perceptions of dispositions of effective leadership identified by the Standards for Advanced Programs in Educational Leadership (Schulte&Kowal, 2005). The Interstate School Leaders Licensure Consortium (ISLLC) standard five states, "An education leader promotes the success of every student by acting with integrity, fairness, and in an ethical manner" (ISSLC, p. 15). Data is collected at the beginning and end of the program that measures growth of the student in two areas. 1. The growth in their self-perceived readiness to implement the ISLLC standards and; 2. A measurement of student self-perceptions of growth using the Advanced Programs in Educational Leadership disposition index. In the pages that follow there will be an examination of self-perceived growth of the ISLLC standards and self-perceived growth of their dispositions, and secondly an examination of the difference in the growth rate of standards compared to dispositions.
Standards and dispositions
Dispositions create the foundation of what a future principal can bring to the critical work of the educational leader. Dispositions, "the values, commitments, and professional ethics that influence behavior" (NCATE 2002, P. 53), can be more difficult to teach and assess than knowledge or skills (Edick, Danielson,&Edwards, 2005; Edwards&Edick, 2006). The development of positive dispositions must be a critical component of an educational leadership preparation program. School leaders who have not developed positive dispositions have trouble being leaders of effective schools. (Davis, 1998; Hallinger&Heck, 1996; Heifetz, 2006).