Introduction
I may finally call attention to the probability that the association of the paternal and maternal chromosomes in pairs, and their subsequent separation during the reducing division as indicated above, may constitute the physical basis of the Mendelian law of heredity.
Walter S. Sutton, "On the Morphology of the Chromosome Group in Brachystola magna", Biological Bulletin , 1902, 4:39

Sutton was one of the biologists (along with Theodor Boveri) who discovered that chromosomes correspond to the paired "particles" required by Mendel's Laws, and that the number of these chromosomes is halved at the time that sperm and egg cells are generated. The Boveri-Sutton Chromosome Theory (also known as the Chromosome Theory of Inheritance) is one of the important linkages between Mendel and modern molecular biology. Sutton was raised on a farm near Russell, Kansas, and played basketball under Coach Naismith at the University of Kansas. His ground-breaking work was done at Columbia University in New York City. So when you study meiosis and heredity, remember that a major part of this knowledge came from the work of another biologist from Kansas, Walter Sutton, working with grasshoppers (the aforementioned Brachystola magna) that are indigenous to the state of Kansas.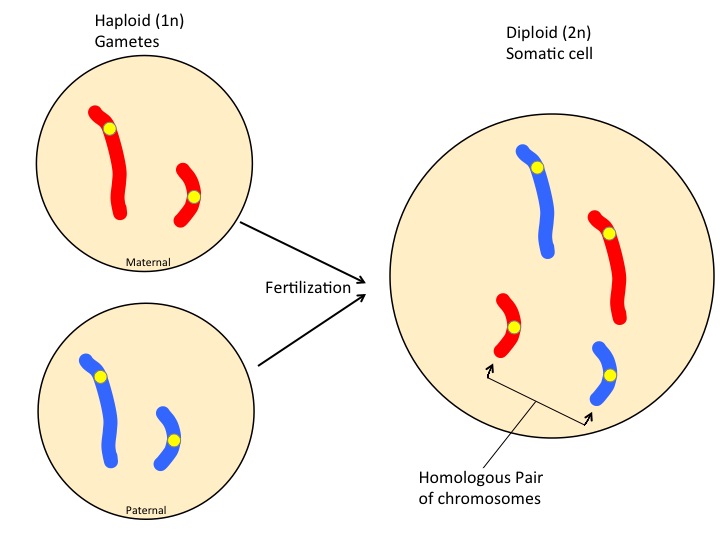 Sexual reproduction requires fertilization , a union of two cells from two individual organisms. If those two cells each contain one set of chromosomes, then the resulting cell contains two sets of chromosomes. The number of sets of chromosomes in a cell is called its ploidy level. Haploid cells contain one set of chromosomes. Cells containing two sets of chromosomes are called diploid ( [link] ). If the reproductive cycle is to continue, the diploid cell must somehow reduce its number of chromosome sets before fertilization can occur again, or there will be a continual doubling in the number of chromosome sets in every generation. So, in addition to fertilization, sexual reproduction includes a nuclear division, known as meiosis, that reduces the number of chromosome sets.
Most animals and plants are diploid, containing two sets of chromosomes; in each somatic cell (the nonreproductive cells of a multicellular organism), the nucleus contains two copies of each chromosome that are referred to as homologous chromosomes ( [link] ). Somatic cells are sometimes referred to as "body" cells. Homologous chromosomes are matched pairs containing genes for the same traits in identical locations along their length. Diploid organisms inherit one copy of each homologous chromosome from each parent; all together, they are considered a full set of chromosomes. In animals, haploid cells containing a single copy of each homologous chromosome are found only within gametes. Gametes fuse with another haploid gamete to produce a diploid cell.