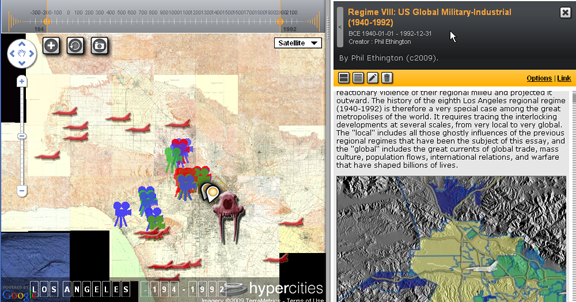 YouTube video on this collection: (External Link)
Permalink to this collection in HC: (External Link)
The third project that I will profile is a hybrid, multi-author publication with the Cambridge University Press journal, Urban History . Entitled "Transnational Urbanism in the Americas," this multimedia companion to the traditional print journal uses HyperCities to present seven collections that enhance the articles through a rich array of maps, photographs, textual documentation, and other visual resources. The theme of the special issue is "transnationalism," which is analyzed through the visualization and mapping of a wide range of intellectual, political, social, and economic border-crossings. In fact, the paradigm of transnational studies requires a rethinking of the very idea of urban historical scholarship: As the authors argue, web publishing changes the way we conceptualize, mobilize, and share historical information and engage in scholarly communication. The HyperCities publications consist of five visual tours of transnational urban spaces at particular moments in the twentieth century—Rio de Janeiro, Buenos Aires, Brussels, Montreal, and Miami—focusing on issues such as public housing, public health, and racial segregation, as well as two mappings of travels and cities as centers of transnational exchange derived from the articles themselves.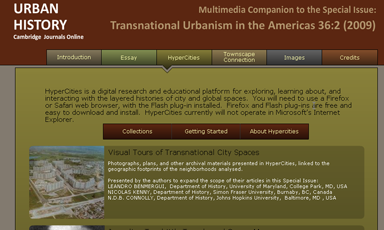 Permalink: (External Link)
Finally, HyperCities is also used for pedagogical purposes to help students visualize and learn about the complex layers of city spaces. Student-created projects exist side-by-side with scholarly research and community collections and can be seen and evaluated by peers. These projects, such as those created by my students for a General Education course at UCLA, "Berlin: Modern Metropolis," demonstrate a high degree of skill in articulating a multi-dimensional argument in a hypermedia environment, bringing together a wide range of media resources, ranging from 2D maps and 3D re-creations of historical buildings to photographs, videos, and text documents. What all of these projects have in common is an approach to knowledge production that underscores the distributed dimension of digital scholarship (by dint of the fact that all of the projects make use of digital resources from multiple archives joined together by network links), interdisciplinary argumentation in a hypermedia environment, and an open-ended, participatory approach to interacting with and even extending and/or remixing media objects.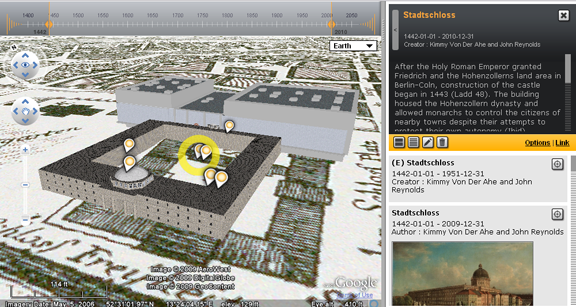 YouTube video on this collection: (External Link)
Permalink to this collection in HC: (External Link)
Hypercities and the challenges of sustainable publishing
Over the past year, the HyperCities team has begun "publishing" examples of geo-temporal arguments that are realized through hypermedia space/time visualizations. Far from simply hosting a finished product, "publishing" means the design, creation, curation, editing, presentation, accessibility, iterative development, and maintenance of scholarly projects. Needless to say, there are a lot of considerations, which I will discuss below, that need to be addressed to make this endeavor sustainable. The intellectual idea is to bring together the analytic tools of GIS, digital design and curation, and traditional methods of humanistic inquiry in order to publish research that critically maps and interprets a wide range of cultural, historical, and social dynamics. The following tenets have guided our thinking about this emerging scholarly field of "digital cultural mapping" and the development of the HyperCities platform: