What makes HyperCities unique and different from Google Earth/Maps are the following: First, we emphasize browsing by both space and time through the integration of "time-layers." In this regard, all objects within HyperCities are time and space stamped (as points, polylines, polygons, and spans), allowing users to tell stories that move through space and time, such as family genealogies or immigration narratives. Second, our content focuses on Humanities scholarship related to the urban, cultural, and historical transformations of city spaces. It does not include things like traffic, driving directions, weather, or commercial interests. Third, we are an aggregation, integration, and presentation platform for academic publishing and community archives. Through our web-services, archival repositories can expose their assets within the HyperCities environment, without ever sacrificing the ownership of the objects or the ways the meta-data is maintained and edited. And finally, HyperCities functions like a "Humanities social network" for creating, accessing, editing, and sharing content related to city spaces. Anyone can join and immediately start creating collections that can be made available (or not) to other users. We regularly feature content and collections on the HyperCities homepage, highlighting the work being done by our ever-expanding user base.
I will now profile four digital projects that have been created, edited, and published within HyperCities. I briefly describe each project here, and I have also provided a "tour" of three of the projects on YouTube as well as the permalinks to each project. Let me start with a digital curation project on the "2009 Election Protests in Iran," which meticulously documents, often minute-by-minute and block-by-block, the sites where protests emerged in the streets of Tehran following the elections in mid-June. With more than one thousand media objects (primarily geo-referenced YouTube videos, Twitter feeds, and Flickr photographs), the project is quite possibly the single largest digital collection to trace the history of the protests and their violent suppression. It is a digital curation project that adds a significant amount of value to these individual and dispersed media objects by bringing them together in an intuitive, cumulative and open-ended geo-temporal environment that fosters analysis through diachronic and synchronic comparisons. In addition to collecting, organizing, and analyzing the media objects, the creator of the project, Xarene Eskandar, is also working on qualitative analyses of the data (such as mappings of anxiety and shame) as well as investigating how media slogans used in the protests were aimed at many different audiences, especially Western ones.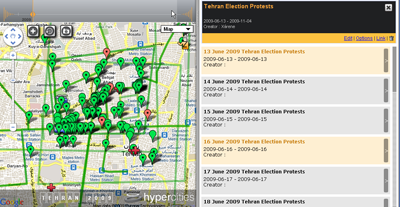 Youtube video on this collection: (External Link)
Permalink to this collection in HyperCities: (External Link)
Another project, "Ghost Metropolis" by Philip Ethington, is a digital companion to his forthcoming book on the history of Los Angeles, which starts in 13,000 BCE and goes up through the present. Experienced as a complexly layered visual and cartographic history, "Ghost Metropolis" demonstrates how history literally "takes" and "makes" place, transforming the urban, cultural, and social environment as various "regional regimes" leave their impression on the landscape of the global city of Los Angeles. The scholarship of this project can only be appreciated in a hypermedia environment that allows a user to move seamlessly between global and local history, overlaying datasets, photographs, narratives, cartographies, and other visual assets in a richly interactive space. Significantly, this project—a scholarly publication in its own right—can be viewed side-by-side with and even "on top of" other projects that address cultural and social aspects of the same layered landscape, such as video documentaries created in 2008-09 by immigrant youth living in LA's historic Filipinotown. The beauty of this approach is that scholarly research intersects with and is enhanced by community memories and archiving projects that tend, at least traditionally, to exist in isolation from one another.