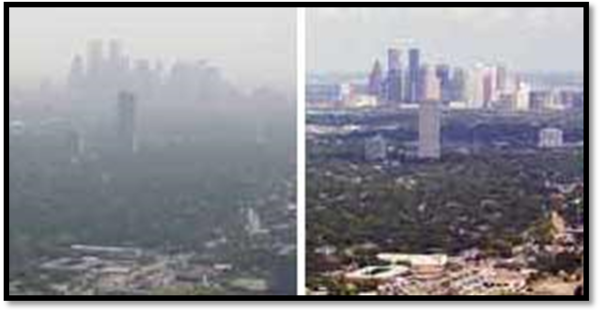 The sources of air pollutants are widely varied and include manmade and natural processes. For example, particles are emitted by manmade sources like diesel engines and smokestacks, and by natural sources such as volcanoes and windblown dust. Cows actually produce 80 million metric tons per year of methane , which can warm the planet and help form tropospheric ozone.
The Environmental Protection Agency posts Air Quality Index numbers to tell us how clean the air is in each part of the country each day. More information about this can be found at http://airnow.gov/index.cfm?action=aqibroch.index . In the Houston Chronicle, the weather page shows the ozone levels from the day before and a forecast of today's ozone levels. Online, the Houston Chronicle has a "current air quality" map that you can click on. That takes you to an interactive map, where they can click on each monitor and see its meteorology and air pollution conditions. For the Westbury schools, the Bayland Park monitor (#13 in the bottom map) would be the closest to their campus. This map is available at http://weather.chron.com/US/TX/Houston.html.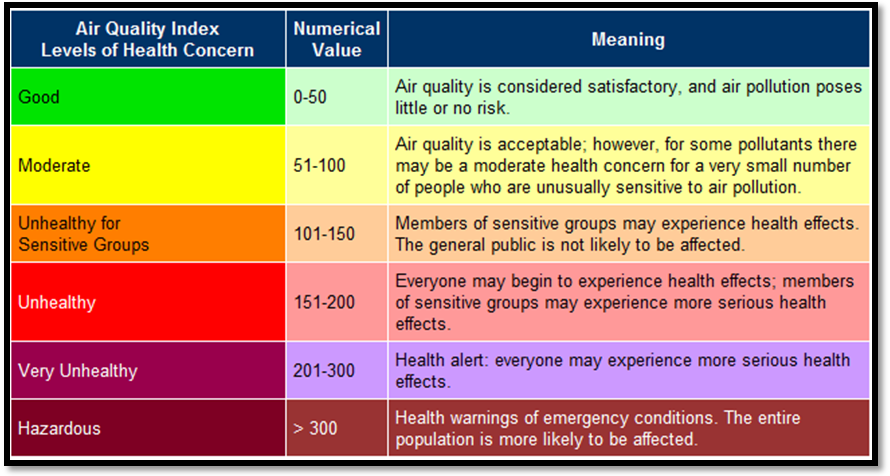 The following AQI ranges correspond to certain ranges of ozone concentration in parts per billion (ppb). This can give students a sense of how their GLOBE ozone measurements (in ppb) relate to AQI levels, though technically the AQI is based on 8-hour averaged concentrations of ozone.
| | |
| --- | --- |
| Air Quality Index | Ozone Concentration (ppb)* |
| 0-50 | 0-59 |
| 51-100 | 60-75 |
| 51-100 | 76-95 |
| 151-200 | 96-115 |
| 201-300 | 116-374 |
| >300 | >374 |
*These numbers were calculated by using the EPA's conversion calculator, which can be found at http://www.airnow.gov/index.cfm?action=aqi.aqi_conc_calc.
Additional resources
The EPA provides reading material through Project A.I.R.E:
Air pollution http://www.epa.gov/region01/students/pdfs/rd_airpol.pdf
Health effects http://www.epa.gov/region01/students/pdfs/rd_health.pdf
Weather and air quality http://www.epa.gov/region01/students/pdfs/weather.pdf
Ozone http://www.epa.gov/region01/students/pdfs/ozone.pdf
Automobiles and air pollution http://www.epa.gov/region01/students/pdfs/rd_auto.pdf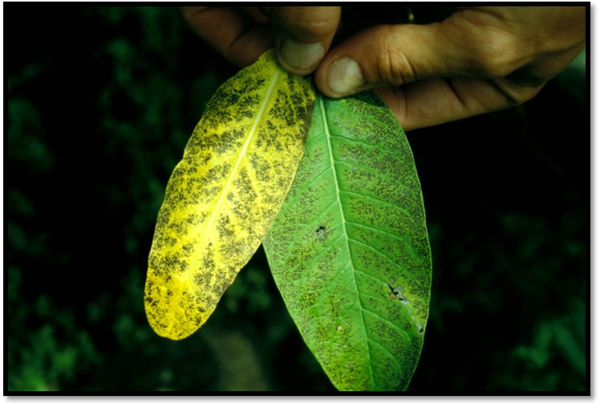 Materials (for a class of 25)
Hygrometer (1 per class)
Infrared Thermometer (1 per class)
Ozone Test Strips (1 per class)
Ozone Scanner (1 per class)
Wind Vane (1 per class)
Thermal Glove (1 per class)
Cloud Charts (1 per class)
GLOBE Measurement Data Sheets (1 per student)
Access to computer (enough for two or three students to share a computer)
Access to UnitedLearning.com
Access to Brainpop.com
Projection Screen
Vocabulary
Ozone
Ultraviolet radiation
Air pollution
Oxygen atoms
Tropospheric ozone
Stratospheric ozone
Environment
Surface temperature
Air temperature
Humidity
Clouds
Wind direction
Environmental Protection Agency
Air Quality Index
Air pollutants
Particles
Manmade sources
Natural Sources
Methane