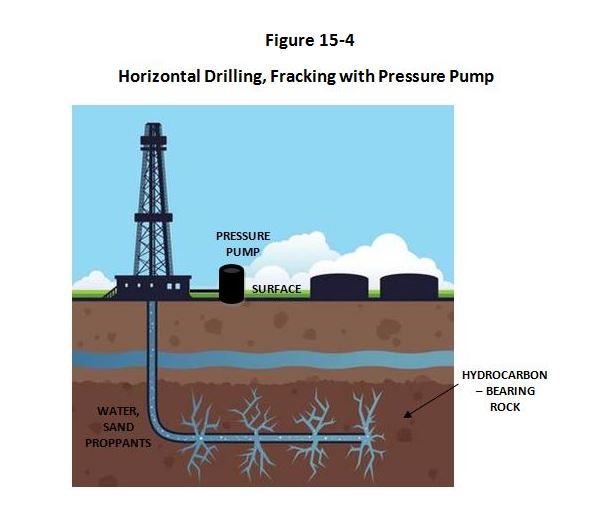 With fracking and horizontal drilling, recovery from a deposit can be much higher than previously possible. Even more recent technological changes have increased both the efficiency and the reward from extraction of hydrocarbons from deep shale deposits. One example is octopus drilling.
Octopus drilling
Octopus drilling (see Figure 15-5) combines horizontal drilling and fracking with multiple wells on a single pad, or platform, to tap multiple deposits. This has made drilling faster and more efficient and has bolstered recovery rates even further. With octopus drilling, there can be as many as 18 wells emanating from one pad, enabling oil firms to secure even larger columns of oil or gas from shale deposits.
By 2014, the Eagle Ford formations in South Texas were producing nearly 2 million barrels per day, double that of the rich Bakken shale formations centered in North Dakota. Under the methods presented above, Texas will likely produce 4 million bbls per day by 2020, or double that of Nigeria in 2013.
In tight shale formations, decline curves have tended to be very steep. That is, initially the volume of oil (and/or gas) comes in strong, but then drops off. The decline rate in a single shale well can be as high as 60% in the first year, continuing on into the second and third years increasing rate each year.
To see the significance of this, consider a typical type of well drilled in the Texas Eagle Ford Shale (a formation, not a location) where the northern portion of the formation yields primarily crude oil, while the southern portion yields mainly natural gas. Marcellus shale formations in the U.S. North East produces mostly gas. Compare this with a "noble" oil well in Angola or the huge Saudi Sheba Field, located near Bahrain.
These "noble" wells in the mid-east have produced 15,000 to 20,000 bbls oil a day in the first year of production. After that output falls by about 20% in the first four years of operations (about 4.5% decline per year).
But in the Eagle Ford Shale in Texas a well might produce only a few hundred bbls per day in the first year, with a decline rate of about 7.5% per year thereafter. This is why over 12,000 wells have been drilled in just 3 Texas locations since 1999 with perhaps 100,000 new wells nationwide.
Decline rates differ significantly in different shale deposits. In the Bakken Shale in North Dakota, a typical well loses 44% of its production after a year. To counter the rapid decline rates, drillers have resorted to "octopus" drilling illustrated earlier
It is for this reason (rapid decline rates) that U.S. production of crude oil is expected to increase from 5.82 million bbls per day to a peak of about 7.54 million bbls per day in 2019. Then, as shale fields mature, crude production is expected to fall to 6.13 million bbls per day within a few years. Some oil industry leaders say that while very welcome, shale oil is a temporary bonanza for the U.S. So even if U.S. becomes the world's largest oil producer and a leading natural gas producer by 2019, this will not mean U.S. energy independence forever (as some think).