Rapid decline rates in shale wells are not only reasons for caution in predicting U.S. oil independence over the next few years. Fracking as practiced in the U.S. is expensive ($5 million per well and up). High prices, reaching a peak of over $120 per barrel (2014) have attracted high investment levels in shale-bearing regions. Fracking operations turn out to be quite sensitive to oil prices. From June 2014 to mid-November 2014, oil prices per bbl. (Brent prices) fell by 30%, to $82.00 and then to $62.00/bbl. in mid-December. The International Energy Agency predicted that this price decline, if not reversed, could lead to a 10% decline at least in U.S. shale investments in 2015. This would eventually place at risk any sustained energy independence for the U.S. By January 2015 the price of Texas crude had fallen to $48.00/bbl. Even if oil prices were to fall below $50/bbl, wells that are already in place would continue to produce, because capital costs have already been sunk. Operational (variable) costs lie well below $50 for all but the most inefficient firms. Operational costs of independent drillers in 2014 averaged less than $20/bbl. This even at $50/bbl oil would continue to flow from wells already in place, but at the rapid decline rates noted above.
In any case, it is apparent that the combination of the innovation of directional drilling and octopus drilling with changes in fracturing practices that has been responsible for the huge recent increases in gas and oil output reserves in the U.S. and elsewhere, especially from shale formations.
By 2015 the shale boom in the quest for hydrocarbons has hardly begun in the rest of the world, especially in emerging nations (see Figure 15-6).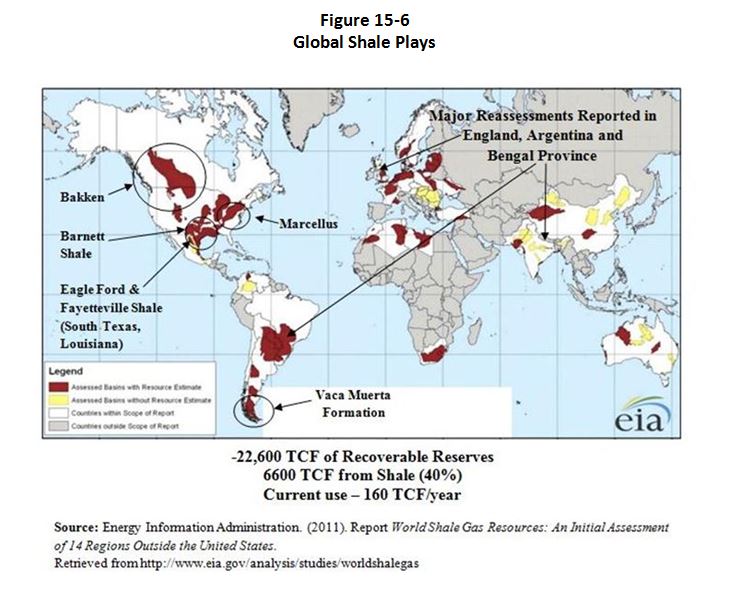 The reader may wonder why the discussion on shale, directional drilling/fracking has been presented in such detail. There is in fact a very good reason. These developments have already begun to materially change the world energy picture, not only as it pertains to developed nations, but to emerging nations as well. Notable environmental risks may also be involved. But that is not all. The reverberations from shale will resound down through the next 30 years, and will affect the lives of hundreds of millions worldwide.