Maybe we are working on an outmoded paradigm about who we are and what are world really is. It was once that we had a simple and clear vision of who we are—leader of the free world, saving the world from the darkness of communism. Now we see anachronisms in terms of world security. Is there a new way for us to lead? Should it involve, say, provisions of goods and services without environmental damage? Should that be the new world focus for us?
—John H. Gibbons, 1989
In spite of the pitfalls and the perils, our nation has always believed that what scientists do would always transform our world for the better in the end. Benjamin Franklin, the father of our scientific revolution, once wrote: "The progress of human knowledge will be so rapid and discoveries made of which we at present have no conception. I begin to be almost sorry I was born so soon since I cannot have the happiness of knowing what will be known in years hence."
—William J. Clinton, February 12, 1998
The world has changed in 60 years. In part due to advances in technology—computing and the Internet—it has become smaller and, in the words of Tom Friedman, "flatter." In a world where large multinational corporations can take their manufacturing, service divisions, even R&D facilities to whichever parts of the world can offer skilled workers at a good price, traditional arguments about the value of having the best universities and research facilities—and providing the necessary federal funding for them—become more complex. (TIS, p. 259)
—Neal Lane, 2008
Clinton at the aaas
On February 12, 1998, President Bill Clinton addressed the one hundred fiftieth anniversary meeting of the AAAS in Philadelphia. Although Clinton had faced a Republican majority in both houses of Congress since January 1995, the political atmosphere was far from toxic. Following the collapse of the Berlin Wall in 1989 and the dissolution of the Soviet Union two years later, and with the attack on the Twin Towers and the Pentagon more than three years in the future, the United States basked in its status as the world's sole superpower.
Clinton extolled the virtues of science and technology and the benefits they conferred on the nation. He compared the current state of scientific knowledge and its visible fruits with that at the time Truman had addressed the AAAS's centennial meeting fifty years before, and speculated on what still-unknown wonders his successor as president would use to illustrate the promise of science at the bicentennial meeting of the AAAS in 2048.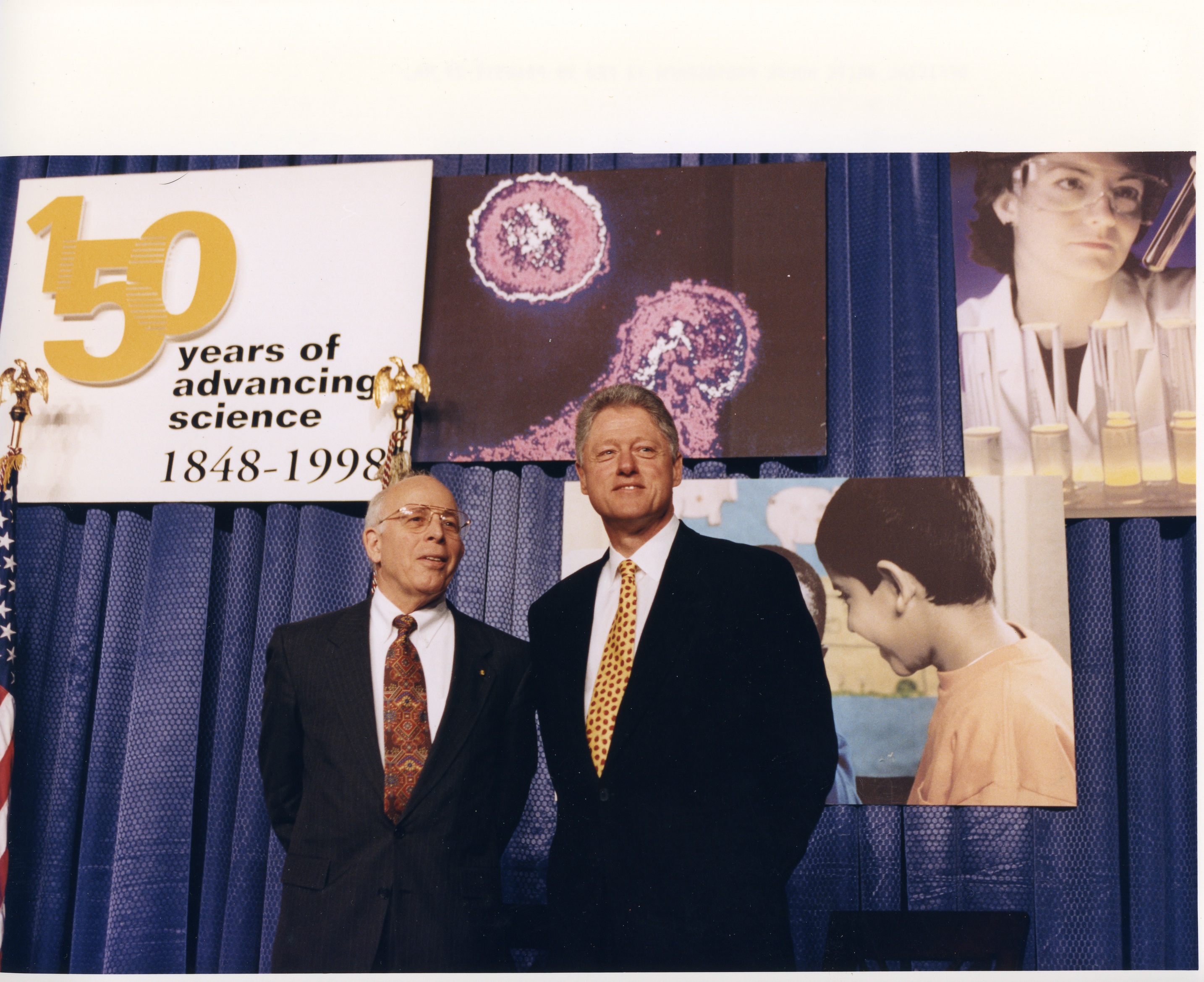 Toward the end of his speech, the president announced the resignation of John Gibbons, who had served as his science advisor from the beginning of his administration. He then announced his intention to nominate National Science Foundation director Neal Lane as his successor, and Rita Colwell, Professor of Biology at the University of Maryland, as the first female director of NSF.