Legacy analog recordings will remain expensive to transfer but their preservation is a critical issue all over the world. We cannot turn our back on these resources and time is running out to preserve them. At Indiana University, we have conducted a campus-wide survey of all the audio, video, and film holdings on campus and are now embarking on a large-scale preservation plan. The plan is likely to result in some kind of centralized digitizing facility that will provide a better economy of scale for this kind of work. Ultimately it will require software tools to manage and make accessible the materials that are digitally preserved and we are working within this context to ensure that we are part of these developments.
Finally, we have begun to establish some partnerships with other archives and collections where digital preservation work is being conducted. We can offer redundant storage and, importantly, annotation and access solutions through the software we have developed.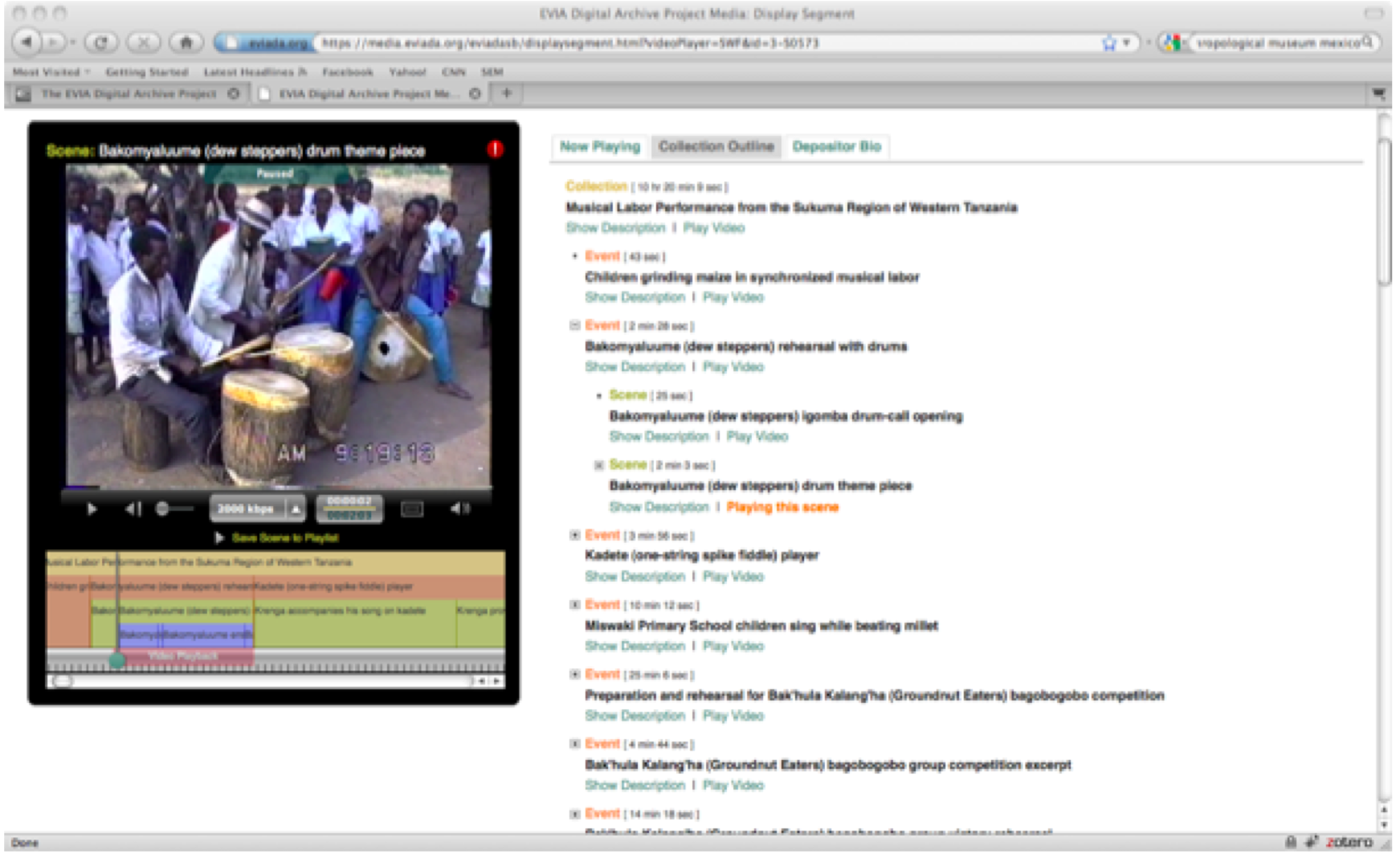 Funding
Between 2001 and 2009, the Mellon Foundation has contributed $2.5 million to the development of the EVIA Project and this has been matched by $1.5 million in cost share by IU and the University of Michigan during that period. The EVIA Project has been an expensive endeavor by humanities project standards. Much of this support went towards software development. The tools we have built have not been supplanted by commercial alternatives, nor are there open-source creations that fulfill the needs of our project. Our software will at the very least need to be maintained , and of course we have many ideas for extending and improving it. In addition, the preservation of tape formats will only be more expensive in the future. We have considered many solutions for revenue over the course of the project. For the moment we have arrived at solutions that are allowing us to continue to grow and develop the project.
One of our requirements from the Mellon Foundation has been to develop a sustainability plan for the project. We conducted a sustainability study that resulted in a plan recommending a subscription-based model, much like JSTOR in its construction. Libraries would become subscribers, allowing institutional access, and societies and units could become members, giving them certain services. After evaluating this plan in discussions with our advisory board we determined that it was not appropriate in some ways and not realistic in others. By charging for access we jeopardized our copyright stance as well as put our depositors and ourselves into murky ethical territory. The complexity of the relationships between the video recordings and the hundreds of subjects involved would make licensing or paying royalties an expensive proposition to manage and a political nightmare on the ground. We also felt that the product we were creating was not the kind of publication or resource that libraries were accustomed to purchasing and we were not confident that the market would support the project. Ethnomusicology, at least, is a small discipline that could not generate the kind of leverage within institutions for library purchase. Furthermore, the cost for support, marketing, and management of a subscription service was very high and we determined that it was more cost effective to make the materials available at no cost.