Annotation involves taking an assembled corpus of unedited video files, segmenting it using a three-level hierarchical scheme, and annotating each segment. Annotation also typically includes developing a lengthy glossary, citations, and transcriptions. When given the tools, scholars were annotating their recordings in much more detail that we originally anticipated. As a response, we recognized that we had to provide scholarly credit for the kind of work they were doing, and that implied implementing some kind of peer review. We already had in place a vetting process for the acceptance of collections similar to that used to vet conference presentations. Once a collection is completed, a designated editor evaluates it with assistance from a managing editor, and if it is deemed acceptable, suitable peer reviewers are found and the project is sent for review. Usually, there are some small changes that the author will be required to make as part of the peer review dialog, and once those changes are complete, we send the project to be copy-edited. Some of these collections contain annotations equivalent in length to a small monograph.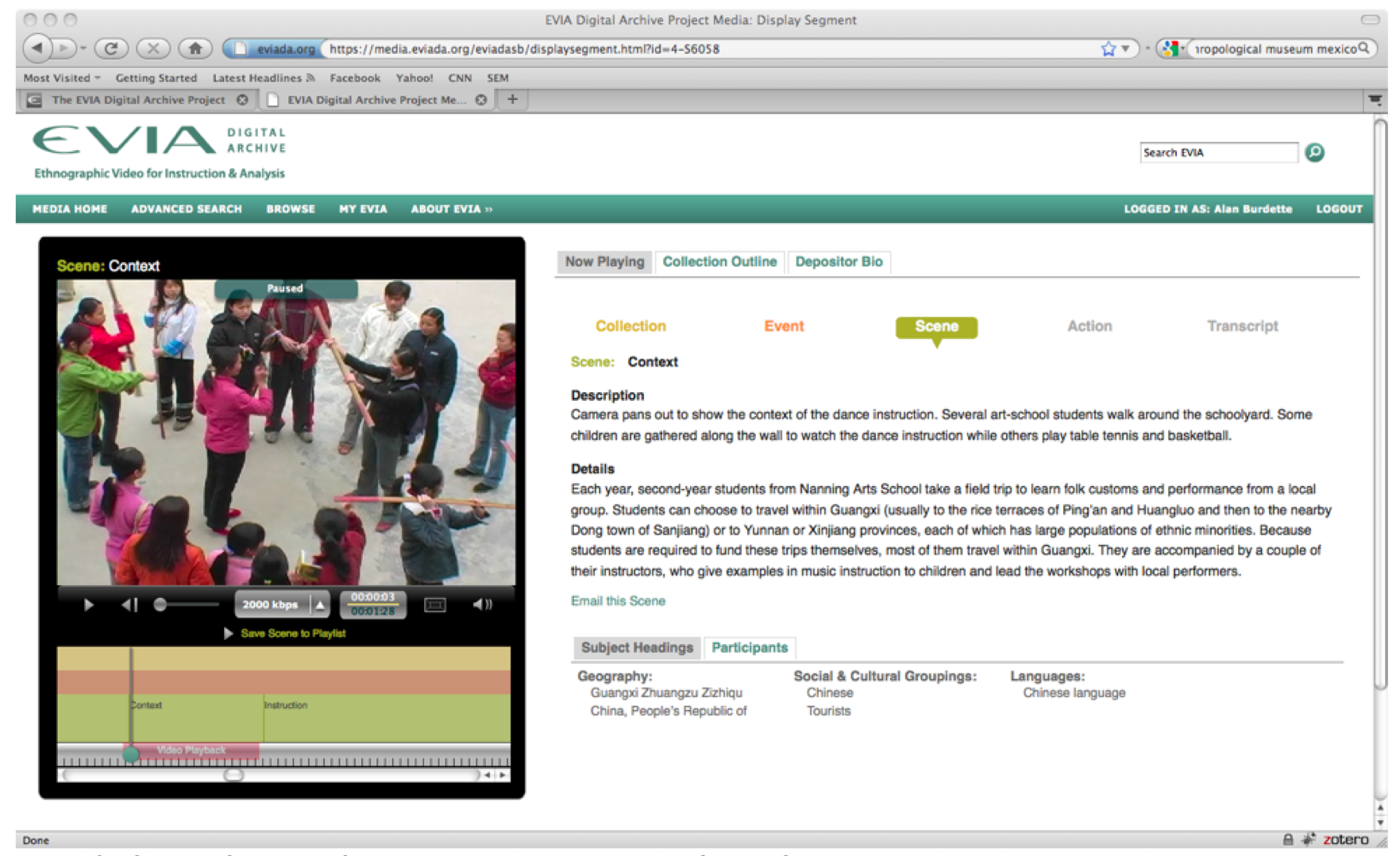 One key difference between the EVIA project's vetting processes and those of a journal is that by the time an author completes his or her collection, we typically have a significant amount of money and time invested in it. Preservation transfers, video transcending, file and data management, training, the summer institute fellowship, and peer review management all consume a great deal of money. A humanities journal, by contrast, usually has very little labor—much of it volunteer—invested at this point. It is very simple for a journal editor to reject a submission and move on to something else. Our practice is to continue to work with scholars in cases when peer review has not been entirely favorable and to keep moving towards an acceptable final product.
Technological advances are changing this equation in our favor because file-based video acquisition is going to eliminate preservation transfer costs, and the direction of our own software development is going to facilitate scholars working independently on their materials. In this way, they will be able to approach us with a nearly finished product before we begin investing any money in the publication of their collection.
Some EVIA Project collections are not peer reviewed because they are accepted through a method other than the scholarly collection proposal and the EVIA Fellowship. Rather, they are the result of outside projects collaborating with the EVIA Project for preservation and access services. In some cases these collections are quite large, making it impossible to annotate video with the level of detail common in smaller ten-hour scholarly projects. As such, we do not plan to submit these collections for peer review, but we may work to see that some portion of the collection is more highly annotated and then peer-reviewed. This is an area of ongoing exploration.