That he [Bromley] would have access to him [the president]whenever he needed it.
That once he [Bromley] and the president had agreed on some actioninvolving science and technology, that I would have his full support to make it happen.
That the president would, for the first time, nominate all four of the OSTP Associate Directors provided for in PL 94-282.
The third of these conditions underlined Bromley's largely unarticulated promise to recognize aspects of the OSTP Actthat his three predecessors had ignored. That Act had provided for four OSTP Associate Directors, who had to be confirmed by the Senate. As science advisorto Carter, Frank Press had appointed only assistant directors who did not require confirmation. His two successors under Reagan followed hisprecedent.
Bromley seems to have had no problem with asking the president to nominate associate directors who would also becomfortable with congressional testimony. His first selections for those positions were J. Thomas Ratchford, Associate Director of AAAS and formerly asenior staff member on the House Science and Technology Committee, nominated as Associate Director for Policy and International Affairs; and James Wyngaarden,Director of the National Institutes of Health, nominated as Associate Director of Life Sciences.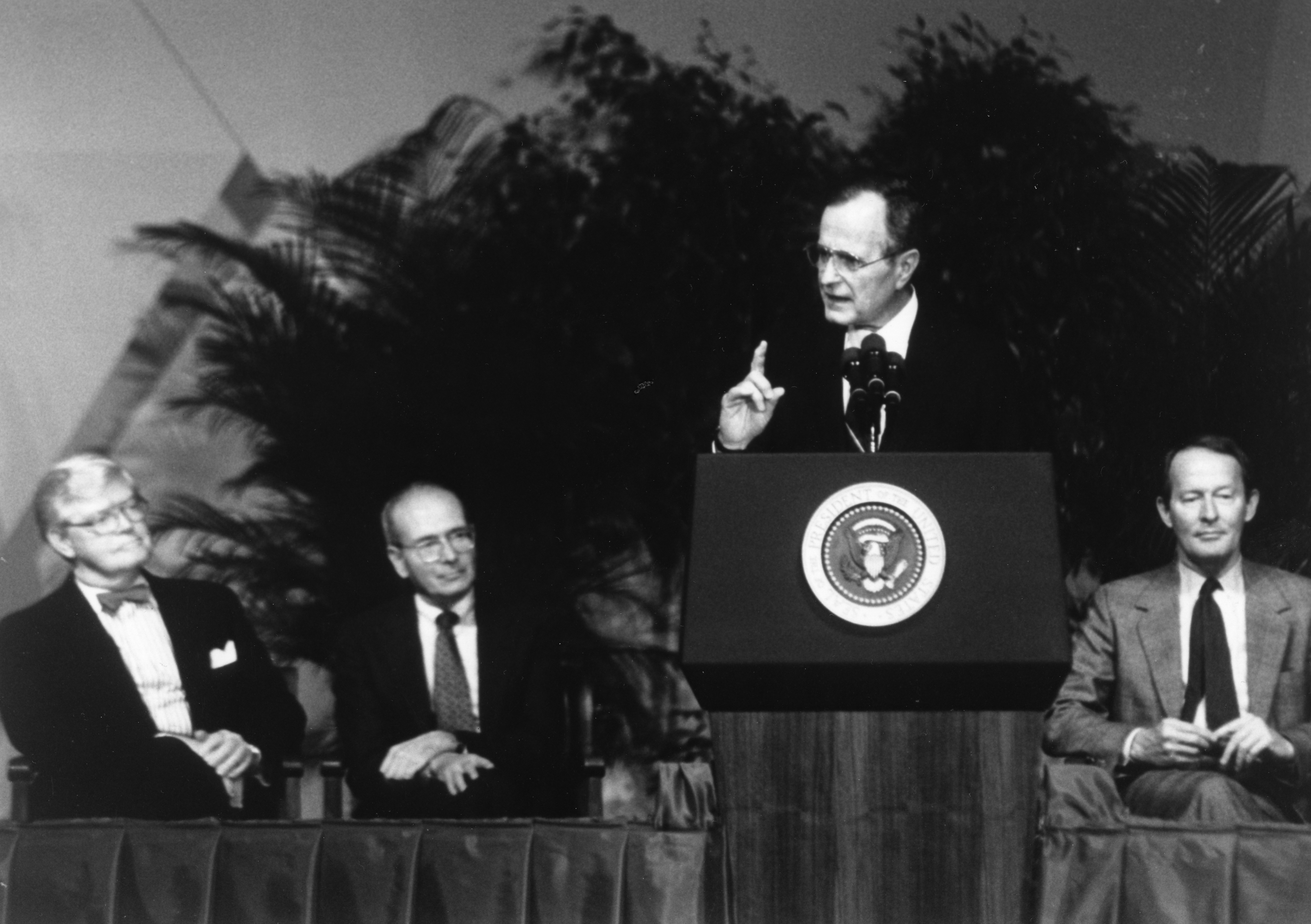 Bromley accompanied Ratchford and Wyngaarden to Capitol Hill to introduce them to the Senate Commerce, Science, Space andTechnology Committee for what was expected to be their pro forma confirmation hearings. The confirmation portions of those hearings were, in fact, pro forma , but Bromley himself was subjected to a fifty-five–minute grilling by committee chair Albert Gore (D-TN) about the administration's weakto non-existent activities on environmental issues, particularly global climate change. Bromley's principle defense was that more research was required before ascientific consensus could be reached on the detailed nature of global change and the economic consequences of mitigation. According to one report, "Thegentlemanly, silver-haired Bromley stood up to the Senators throughout the ordeal. But at times, he sounded foolish and even uninformed as he dutifullyattempted to defend the administration's weak environmental performance against vintage congressional bombast."
Two of the four associate directors resigned midway through the Bush administration. From early 1991 on, Donald A. Henderson, Deanof the School of Public Health at Johns Hopkins University, served as Associate Director for Life Sciences. Eugene Wong replaced Phillips as Associate Directorfor Industrial Technology. Karl A. Erb, a former Yale colleague of Bromley's who had served as Assistant Director of OSTP for Physical Sciences and Engineeringsince 1990, then replaced Wong as Associate Director for Physical Sciences and Engineering under the OSTP.