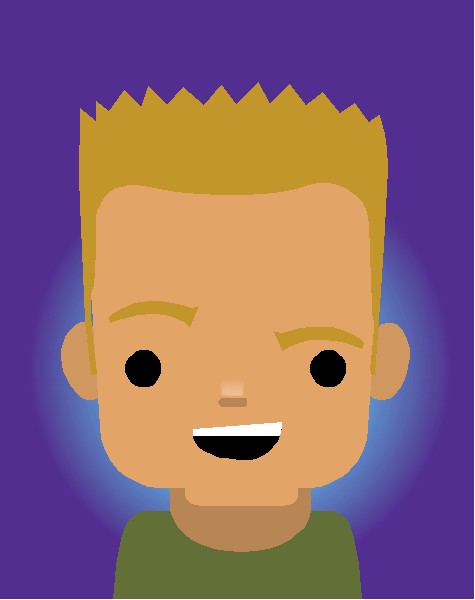 Oh no, we haven't even booked a place!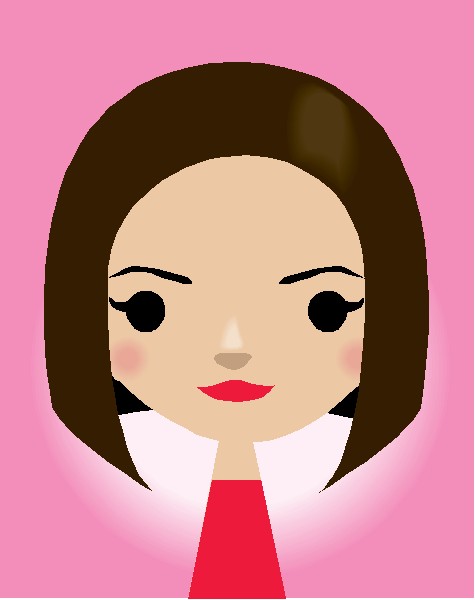 And it's got to be done right. We can't print the initiations until we have the menu planned. We can't do the seating arrangements until we have the RSVPs. We aren't sure what kind of band to get for the reception, or should it be a DJ? We're just overwhelmed.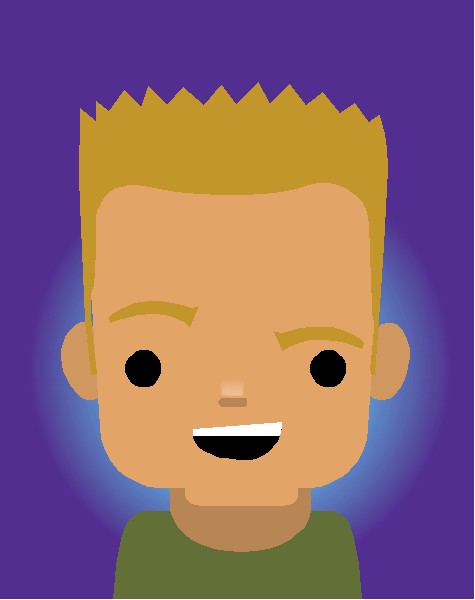 My sister said you really saved her wedding. I know she gave you over a year to plan.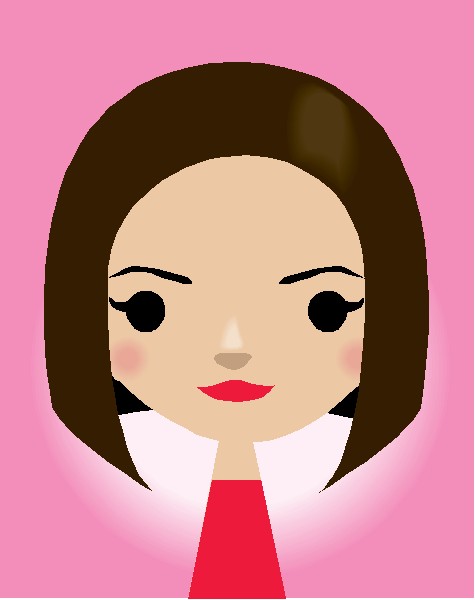 But I've always dreamed of a June wedding, and I'm not willing to give that up. I know it's late, but Sally can you help us?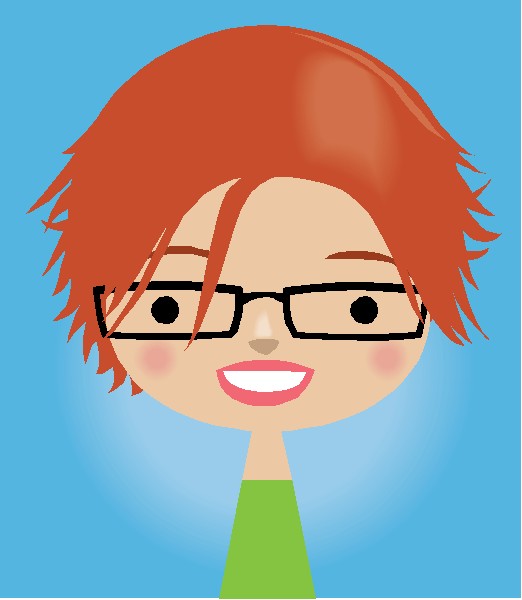 Take it easy guys. I've got it under control. We've got a lot of people and activities to get under control. You guys really should have called six months ago, but we'll still make this wedding happen on time.
There's a lot to get done before June. Sally's going to need to figure out what work needs to done before she does anything else. For this she starts to put together a to-do-list.
Invitations
Flowers
Wedding Cake
Dinner Menu
Band
Since there are so many different people involved in making the wedding go smoothly, it takes a lot of planning to make sure all of the work happens in the right order, gets done by the right people and doesn't take too long. Initially, Sally was worried that she didn't have enough time to make sure everything was done properly. But she knew that she had some powerful time management tools on her side when she took the job, and they'll help her make sure that everything will work out fine.
To get started, Sally started arranging the activities in a work breakdown structure. This is part of the WBS Sally made for the wedding.
Arrange the following activities into the WBS to show how the work items decompose into activities.
Shop for shoes
Create guest list
Tailoring and fitting
Shop for dress
Find caterer
Cater the wedding
Wait for RSVPs
Mail the invitations
Finalize the menu
Print the invitations
Choose the bouquet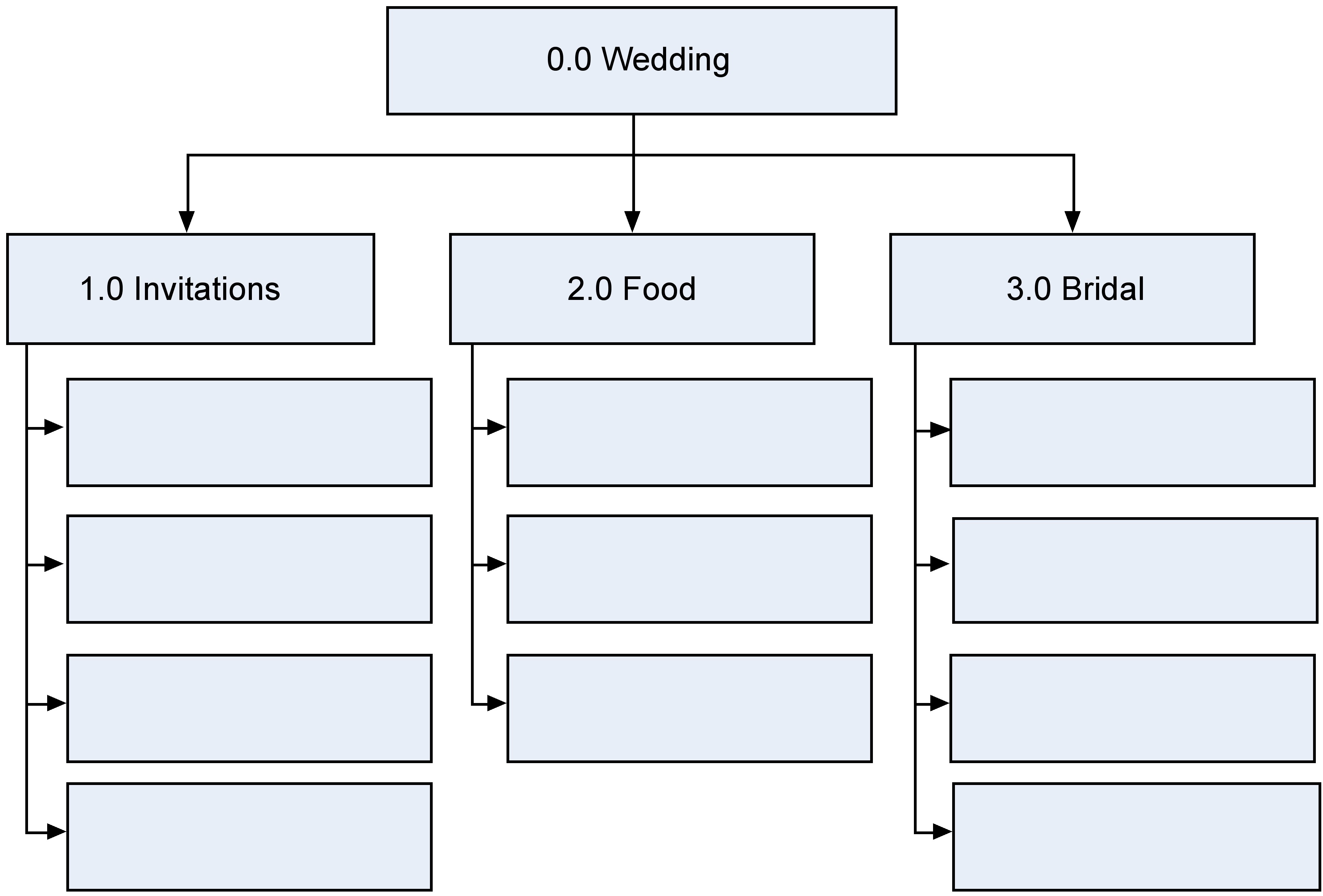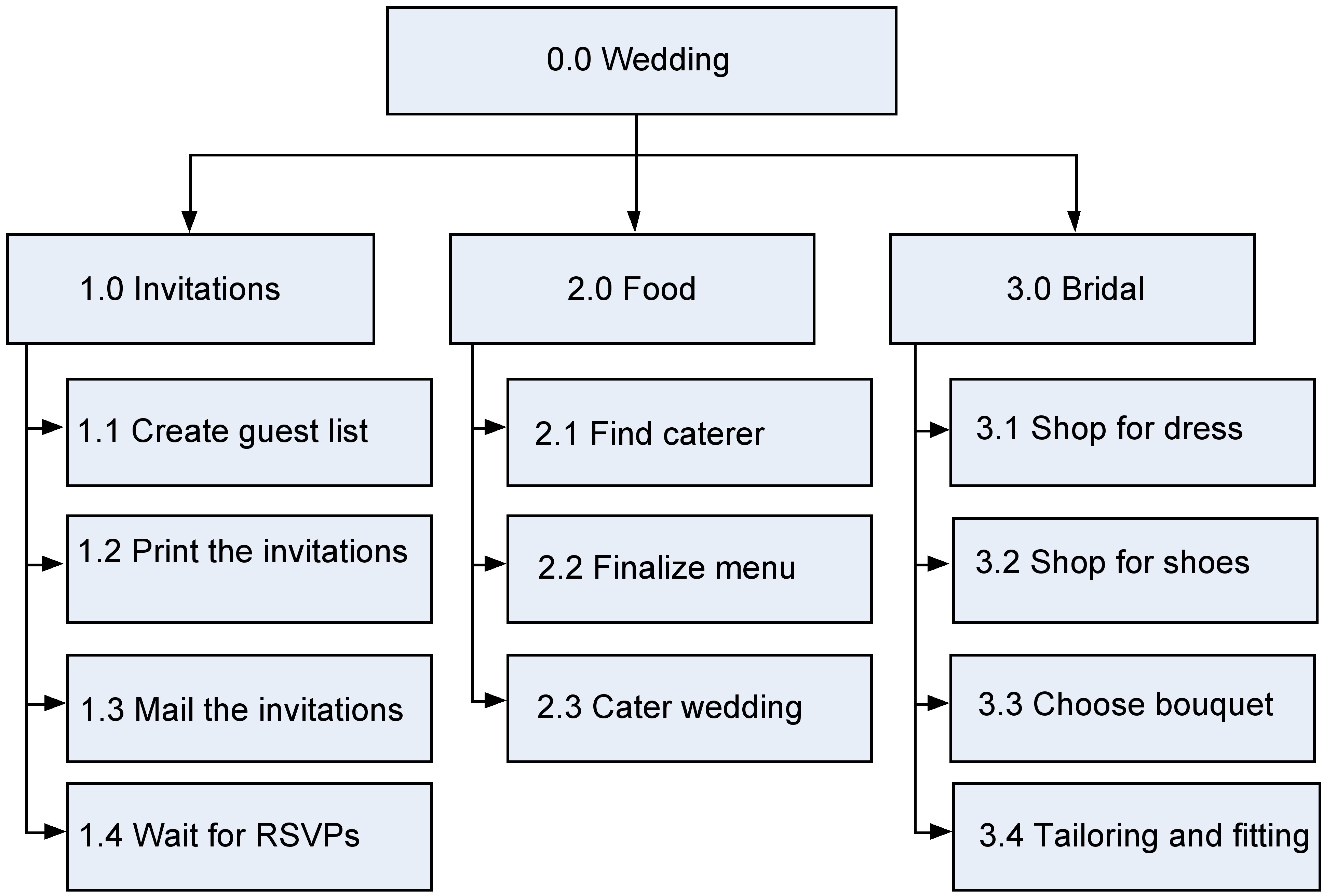 Got questions? Get instant answers now!
Activity definition
Now that the activity definitions for the work packages have been completed, the next task is to complete the activity list. The project activity list is a list of everything that needs to be done to complete your project, including all the activities that must be accomplished to deliver the work package. Next you want to define the activity attributes . Here's where the description of each activity is kept. All of the information you need to figure out; the order of the work should be here too. So any predecessor activities, successor activities or constraints should be listed in the attributes along with descriptions and any other information about resources or time that you need for planning. The three main kinds of predecessors are finish-to-start (FS), start-to-start (SS) and finish-to-finish (FF).
The most common kind of predecessor is the finish-to-start. It means that one task needs to be completed before another one can start. When you think of predecessors, this is what you usually think of, one thing needs to end before the next can begin. It's called finish-to-start because the first activity finish leads into the second activity's start ( [link] ).