An introduction to the basic element of music called melody, with some useful definitions.
Introduction
Melody is one of the most basic elements of music. A note is a sound with a particular pitch and duration . String a series of notes together, one after the other, and you have a melody . But the melody of a piece of music isn't just any string of notes. It's the notes that catch your ear as you listen; the line that sounds most important is the melody. There are some common terms used in discussions of melody that you may find it useful to know. First of all, the melodic line of a piece of music is the string of notes that make up the melody. Extra notes, such as trills and slides, that are not part of the main melodic line but are added to the melody either by the composer or the performer to make the melody more complex and interesting are called ornaments or embellishments . Below are some more concepts that are associated with melody.
The shape or contour of a melody
A melody that stays on the same pitch gets boring pretty quickly. As the melody progresses, the pitches may go up or down slowly or quickly. One can picture a line that goes up steeply when the melody suddenly jumps to a much higher note, or that goes down slowly when the melody gently falls. Such a line gives the contour or shape of the melodic line. You can often get a good idea of the shape of this line by looking at the melody as it is written on the staff, but you can also hear it as you listen to the music.

You can also describe the shape of a melody verbally. For example, you can speak of a "rising melody" or of an "arch-shaped" phrase . Please see The Shape of a Melody for children's activities covering melodic contour.
Melodic motion
Another set of useful terms describe how quickly a melody goes up and down. A melody that rises and falls slowly, with only small pitch changes between one note and the next, is conjunct . One may also speak of such a melody in terms of step-wise or scalar motion, since most of the intervals in the melody are half or whole steps or are part of a scale .
A melody that rises and falls quickly, with large intervals between one note and the next, is a disjunct melody. One may also speak of "leaps" in the melody. Many melodies are a mixture of conjunct and disjunct motion.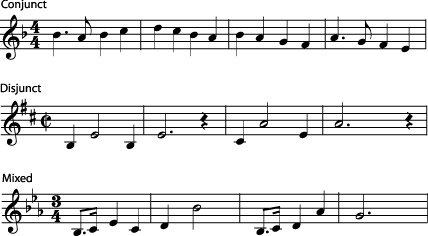 Melodic phrases
Melodies are often described as being made up of phrases. A musical phrase is actually a lot like a grammatical phrase. A phrase in a sentence (for example, "into the deep, dark forest" or "under that heavy book") is a group of words that make sense together and express a definite idea, but the phrase is not a complete sentence by itself. A melodic phrase is a group of notes that make sense together and express a definite melodic "idea", but it takes more than one phrase to make a complete melody.