III. SIMPLE LINEAR FEEDBACK SYSTEM
1/ Black's formula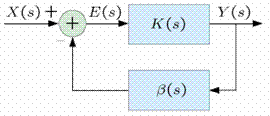 K(s) is called the open loop system function, and H(s) = Y (s)/X(s) is called the closed-loop system function. Note, when β(s) = 0, H(s) = K(s)
We can find H(s) by combining
to obtain
which can be solved to obtain Black's formula,
Two-minute miniquiz problem
Problem 8-1 Simple position control system
The objective of the position control system shown below is for the output position Y (s) to track the input signal X(s).

a) Determine the closed-loop system function H(s) = Y (s)/X(s).
b) For x(t) = u(t), a unit step, determine the steady state value of y(t).
Solution
We can use Black's formula to find H(s) as follows
b) The steady-state response to a unit step is simply the response to the complex exponential which is . The position error Hence, this position controller (with proportional feedback) has an error that diminishes as the gain increases. However, the error is never zero no matter how large the gain.
Effect of feedback on system performance
Feedback is used to enhance system performance.
Reduce the effect of an output disturbance
Improve dynamic characteristics — increase bandwidth, improve response time
Reduce nonlinear distortion
Properties of feedback
Decrease output impedance
2/ Stabilize gain

Note that both the open-loop and the same gain which equals 10.

But now suppose that the gain of the power amplifier is reduced to 5.
Note that a change in gain of the power amplifier of 50% leads to a change in gain of the feedback system of only 1%.
The stabilization of the gain resulting from feedback can be appreciated more generally from Black's formula.
If K(s) is large so that |β(s)K(s)|>>1 then
So if H(s) has a gain then β(s) must have an attenuation. If the attenuation β(s) is determined precisely but the gain K(s) varies (with time, temperature, etc.), then we can make an amplifier whose gain is independent of K(s) and determined almost entirely by β(s).
But how can we make β(s) precise?
Consider the non-inverting amplifier with a non-ideal (finite gain) op-amp — network (left), block diagram (right).

For an op-amp (model 741) the gain is typically . Hence, provided , we have
Conclusion — the gain of the feedback amplifier depends primarily on the values of the resistors and not on the gain of the op-amp which depends on parameters of transistors which change with time, temperature, etc.
3/ Reduce the effect of an output disturbance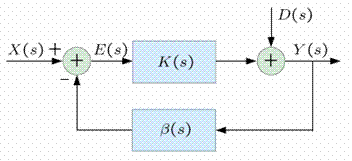 The transfer functions for the input and the disturbance are
Therefore, if β(s)K(s) is made arbitrarily large then