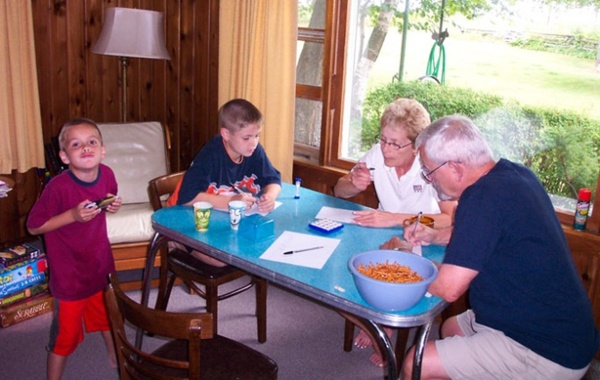 Healthy relationships between grandparents and their grandchildren can benefit everyone in the family. In particular, grandparents provide a generational link that can help young people form their own identities.
While Carl Rogers and Joan Erikson seemed to accept old age and achieve integrity, Erik Erikson struggled with despair, despite his international acclaim and many obvious accomplishments. Thus, it should become clear that an individual's point of view is an important aspect of one's identity. In Still Here (Ram Dass, 2000), Ram Dass, a former Harvard University psychologist turned renowned guru of Bhakti Yoga and Kirtan (see Chapter 17), acknowledges the challenges of old age: physical problems, illness, loneliness, embarrassment, powerlessness, loss of role/meaning, depression, and even senility. The suffering associated with these conditions is, however, self-induced, and one can choose mindfully to not suffer. Whether or not one suffers, therefore, and whether or not one approaches the end of life with relative integrity or despair, is in many ways a choice. And that choice will have a dramatic effect on the final stage of life: death.
Death and Dying
It is important to begin by distinguishing between death and dying . Death is the end of life, and as far as scientific psychology is concerned, no one alive has been able to study death itself. Dying is a process that occurs when death is imminent, but does not come immediately. The dying process begins either with old age or the diagnosis of a terminal illness. Elisabeth Kubler-Ross is well-known for her research on the dying process, as are the five stages that she described in On Death and Dying (1969): Denial and Isolation ; Anger ; Bargaining ; Depression ; and Acceptance . When diagnosed with a terminal illness, most people naturally respond with the common defense mechanism of denial, but there is more to it. Many psychology textbooks do not address the second aspect of this first stage: isolation. Denial is usually temporary, but the dying person may still not be ready or even able to talk about their death, so they isolate themselves psychologically. Unfortunately, hospital staff members often foster this isolation, because of their own fears and discomfort regarding death. Kubler-Ross and her colleagues found it quite difficult to stop hospital staff members from encouraging the isolation of patients clinging to denial, including such simple tasks as keeping the patient's door open so that people passing by could look in and vice versa. The final stage of acceptance, according to Kubler-Ross, is one that many patients do not achieve. Many people fear death, and Western culture, due in part to its emphasis on science and medicine, and its movement away from religion, encourages people to challenge death. But for those who fight, struggle, and hope to the very end, even they eventually "just cannot make it anymore" (Kubler-Ross, 1969).
There are, however, many people who do come to accept the inevitability of death, either as a result of illness or old age. Erikson seemed to finally be at peace at the very end of his life, smiling whenever he recognized his wife or daughter: