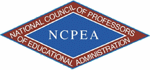 This chapter is published by
NCPEA Press
and is presented as an NCPEA/Connexions publication "print on demand book." Each chapter has been peer-reviewed, accepted, and endorsed by the National Council of Professors of Educational Administration (NCPEA) as a significant contribution to the scholarship and practice of education administration.
About the Authors

John R. Slate is a Professor at Sam Houston State University where he teaches Basic and Advanced Statistics courses, as well as professional writing, to doctoral students in Educational Leadership and Counseling. His research interests lie in the use of educational databases, both state and national, to reform school practices. To date, he has chaired and/or served over 100 doctoral student dissertation committees. Recently, Dr. Slate created a website ( Writing and Statistical Help ) to assist students and faculty with both statistical assistance and in editing/writing their dissertations/theses and manuscripts.
Ana Rojas-LeBouef is a Literacy Specialist at the Reading Center at Sam Houston State University where she teaches developmental reading courses. Dr. LeBoeuf recently completed her doctoral degree in Reading, where she conducted a 16-year analysis of Texas statewide data regarding the achievement gap. Her research interests lie in examining the inequities in achievement among ethnic groups. Dr. Rojas-LeBouef also assists students and faculty in their writing and statistical needs on the Writing and Statistical Help website.
In this set of steps, readers will calculate a multivariate analysis of variance procedure, following the determination of the extent to which data for the dependent variables reflect normal distributions. Although a parametric statistical procedure requires that its data be reflective of a normal curve, the multivariate analysis of variance procedure is regarded as being sufficiently robust that it can withstand most violations. For detailed information regarding the assumptions underlying the multivariate analysis of variance (MANOVA) procedure, readers are referred to the Hyperstats Online Statistics Textbook at (External Link) ; to the Electronic Statistics Textbook (2011) at (External Link) ; or to Andy Field's (2009) Discovering Statistics Using SPSS at (External Link)&ie=UTF8&qid=1304967862&sr=1-1
Research questions for which a MANOVA procedure is appropriate involve asking for differences in multiple dependent variables by group membership (i.e., more than two groups may be present). In addition to multiple dependent variables being present, multiple independent variables can be present as well. That is, differences in several achievement variables could be analyzed by student gender, student ethnicity, student socioeconomic status, and the like. A specific research question that could be addressed is, "What is the difference in academic achievement among elementary school students as a function of ethnic membership, gender, and grade level?" Academic achievement in this example could be reading, math, science, and social studies scores. The independent variables are ethnicity, gender, and grade level.