Why Mindsets Need to Shift
When first-order change (piecemeal continuous improvement) is required mindsets can motivate people to resist those changes. When second-order change (discontinuous, paradigm-shifting, transformational change) is required the change-resistant power of mindsets increases exponentially.
Changing mindsets can be particularly challenging for educators and policymakers who are successful within the old paradigm. These people, I believe, are some of the most resistant to discontinuous transformational change because that kind of change threatens to undermine and displace everything they know, believe, and do. This level of fierce resistance to change is captured in an observation by Yasuo (1993) who said,
When the rise of a new theory suggests a change of direction in scholarship, history attests to a common pattern of reaction among the established intellectual community. There is often a flat dismissal or at best vehement attack in order to kill and bury that theory, especially if it signals and imminent as well as immanent possibility of shaking the secure and comfortable foundation upon which the existing paradigm of thinking rests (p. ix-x).
Starbuck (1996) also observed that professionals are among the most resistant to new ideas and to evidence that contradicts their current mental models. This kind of resistance has several sources. Professionals must specialize and their specialized niches can lock people in place (Beyer, 1981). Because professionals accrue social status in organizations and, in some cases, earn high incomes, they have much to lose if there are significant changes in their fields of expertise. This state of being "blinds" them from seeing opportunities to create change in their mental models (Armstrong, 1985).
Creating Conditions That Can Shift Mindsets
Gardner (2004) described seven "levers" for changing mindsets (see Figure 2). These levers can be used to create communication strategies for persuading educators to open their minds to consider the four new paradigms for creating and sustaining breakthrough performance for their school system. The four paradigms, which were described earlier, are:
Core work (from group-based teaching and learning to personalized teaching and learning) and support work (from a command and control orientation to a service orientation) (Paradigm Shift 1);
Internal social infrastructure (from a bureaucratic organization design to a democratic organization design and related shifts in organization culture, reward systems, job descriptions, and so on (Paradigm Shift 2);
Relationships with external stakeholders (from a reactive, crisis oriented paradigm to a proactive, opportunity-seizing paradigm) (Paradigm Shift 3); and,
Approach to creating and sustaining change (from piecemeal change to whole-system change (Paradigm Shift 4).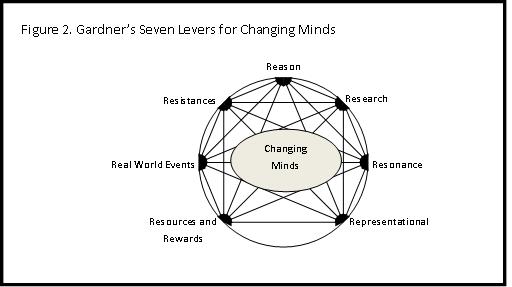 Here's a summary of each of Gardner's seven levers. He advises change agents to use all seven levers in concert because none of them can be effective in isolation.