,
,
,
[We have made use of an important formula for the summation of a geometric series which we will prove shortly.] Hence, the solution is
The solution
is shown plotted below for = 0.25.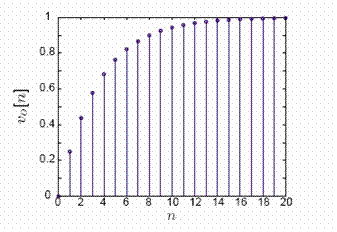 4/ Important side issue — the summation of finite geometric series
Suppose
Then
Hence,
and
Conclusion
Difference equations arise in a variety of interesting contexts.
Simple difference equations can be solved iteratively.
We will develop more systematic and efficient methods to solve arbitrary difference equations.
X. GENERAL LINEAR DIFFERENCE EQUATION
For a DT system, such as the ones shown previously, we can write the relation between an input variable x[n] and an output variable y[n]by a general difference equation of the form
We seek a solution of this system for an input that is of the form
where X and z are in general complex quantities and u[n] is the unit step function. We will also assume that the system is at rest for n<0, so that y[n] = 0 for n<0.
We will seek the solution for n>0 by finding the homogeneous (unforced solution) and then a particular solution (forced solution).
1/ Homogeneous solution
a/ Geometric (exponential) solution
Let the homogeneous solution be , then the homogeneous equation is
To solve this equation we assume a solution of the form
Since
we have
b/ Characteristic polynomial
The equation can be factored to yield
We are not interested in the trivial solution
Therefore, we can divide by to obtain the characteristic polynomial
This polynomial of order K has K roots which can be exposed by writing the polynomial in factored form
c/ Natural frequencies
The roots of the characteristic polynomial are called natural frequencies. These are frequencies for which there is an output in the absence of an input.
If the natural frequencies are distinct, i.e., if for the most general homogeneous solution has the form
Two-minute miniquiz problem
Problem 10-1 — Natural frequencies of the ladder network
The electric ladder network shown below has the following difference equation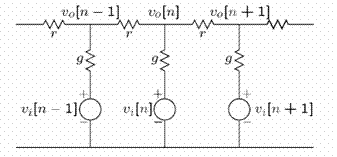 Find the natural frequencies.
Solution
The natural frequencies are determined by the homogeneous solution
Substituting a solution of the form results in
which yields the characteristic polynomial
whose roots are the characteristic frequencies
d/ Natural frequencies of the ladder network
The electric ladder network shown below has the following difference equation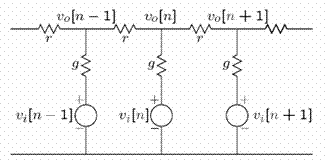 The natural frequencies are:
The natural frequencies depend on rg,