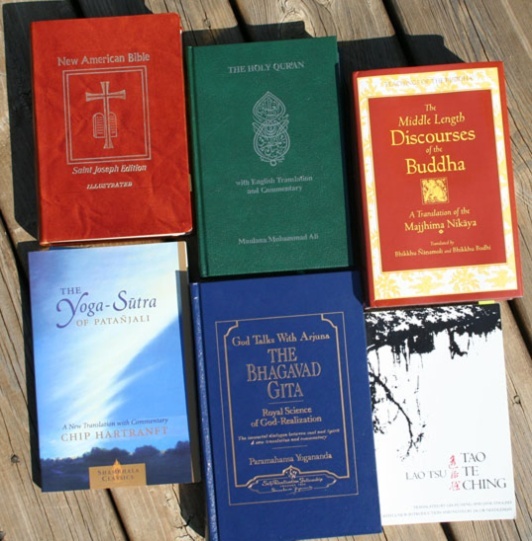 Religion/spirituality appear to be the most significant cultural factors affecting people's lives and personal development. Islam, Buddhism, Taoism, Yoga, Christianity, and Judaism, taken together, represent the religious or spiritual traditions of some 5 to 6 billion people, most of the world's population. Shown are some of the author's copies of the Holy Bible, Holy Quran, Discourses of the Buddha, Yoga-Sūtra, Bhagavad Gita, and the Tao Te Ching.
The Question of Race and Ethnicity as Cultural Influences
At the very outset we must face three possible alternatives as we consider the concept of race: 1) there is such a thing as race in mankind; 2) there is not such a thing as race in mankind; 3) even if race in mankind exists, it can have no significance save as people think of it and react to their conception of it. (pg. 38; Krogman, 1945)
Although religion may be the most significant cultural factor, the concept of race has probably existed even longer, and it is certainly the most visually obvious factor. But is it really? The fact is that there is no clear answer to the question of what actually constitutes race (Krogman, 1945; Linton, 1936, 1955; Sorokin, 1947). Although most people quickly think of three major races (White, Black, and Asian), and many of us would add a fourth category (Latino), studies have suggested that there may actually be as many as thirty-seven distinct races (see Matsumoto&Juang, 2004). In addition, genetic studies have suggested that there is more inter-group variation than there is between-group variation, further suggesting that race is nothing more than a social construction. As an alternative to race, some people use the term ethnicity , which identifies groups according to commonalities such as nationality, culture, or language. This fails to solve our problem, however, since the concept of ethnicity suffers from the same problems as the concept of race (Brislin, 2000; Matsumoto&Juang, 2004; Miller&Garran, 2008; Whitley&Kite, 2006).
Although the terms race and ethnicity are often used interchangeably with culture, they are quite different. The United States, for example, has large populations of people from different races, ethnic groups, religions, and nationalities, but they all contribute to the greater cultural identity of "American." Indeed, the very concept of America as a "melting pot" defies the use of racial or ethnic characterizations of the American people. This argument goes both ways, of course. We cannot simply refer to people who live within the boundaries of the United States as American, and expect that they are similar in every other cultural respect. Although this may seem rather confusing, that is exactly the point. Critical thinking must always be applied to personality theories and their application in broad ways. This does not mean they are not useful, just that we must be careful in our interpretations of people's behavior and personality if they are from another culture.
Although ethnicity and race may be of questionable value as cultural factors, there are two critically important issues that arise from them. A common problem in cross-cultural research is that of ethnocentrism , the belief that one's own culture has the right beliefs and practices, whereas other cultures have wrong beliefs and practices (Matsumoto&Juang, 2004; Whitley&Kite, 2006). Such value judgments interfere with the objectivity of cross-cultural research, and can have negative effects on intercultural communication. The other, very serious problem is that of racism . As noted in the quote above, race is very real if people believe in it and act according to their perception of it. We will examine racism later in the textbook. For now, consider the following quote from a recently published book entitled Racism in the United States: Implications for the Helping Professions :