Nano applications and technology
Growth and development of nanotechnology has exploded over recent years, though as shown in [link] , below this trend was lead by the United States with a massive increase in patenting activity starting in the mid 1990s (Huang et al. 2004).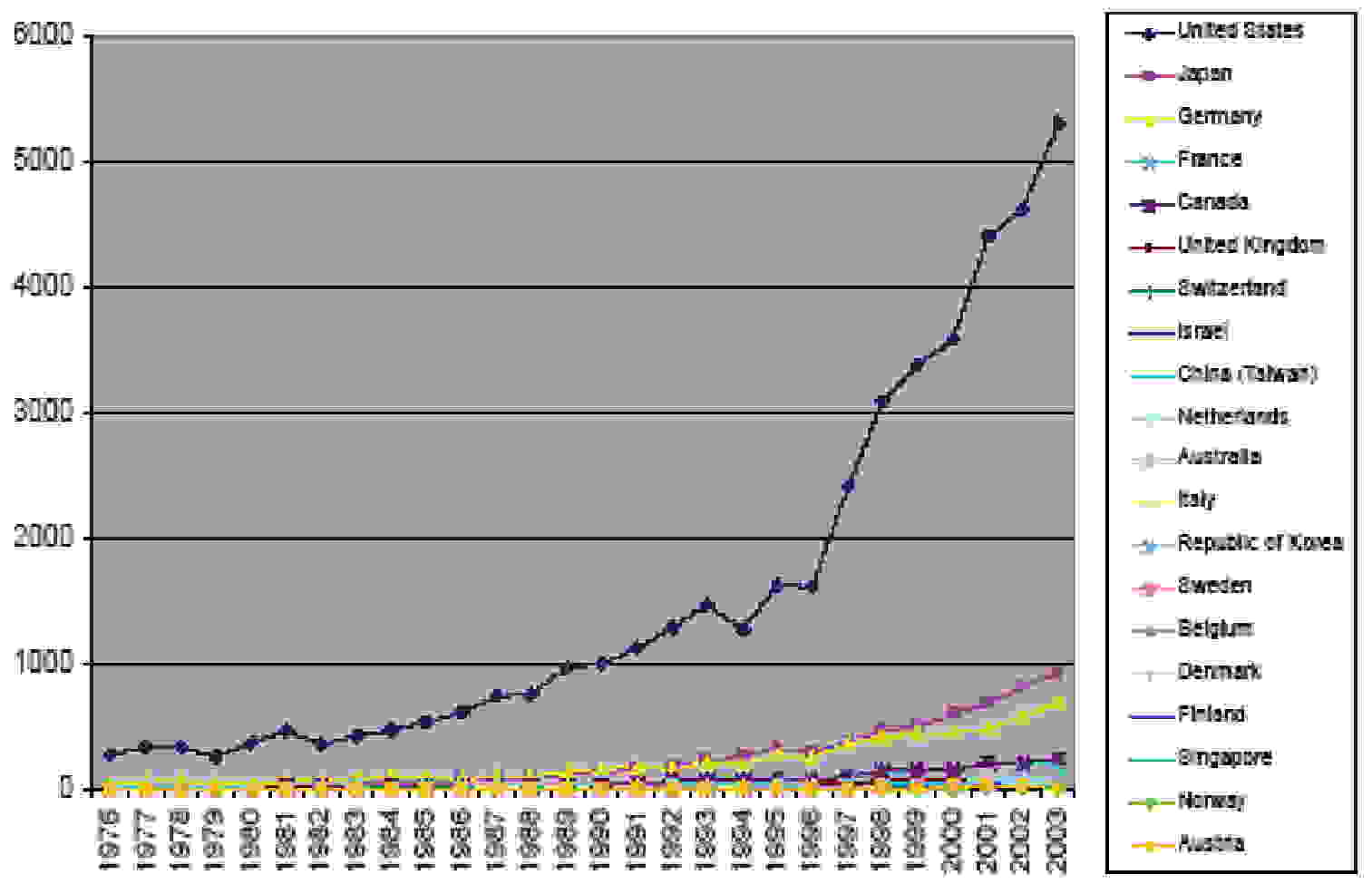 To date, nanotechnology has seen selective application in high-end products, most of which is within high-performance applications for the automotive and aerospace sectors.
Having established this presence in performance engineering applications, nanotechnology is now becoming embedded within IT applications such as microprocessors and memory chips built using new nanoscale processes (Lux Research, 2004). By 2014 it is projected that 50% of electronics and IT will incorporate nanotechnology (Lux Research 2004).
Although Bio-Life Science is currently the leading sector in nanotechnology development, the rate of innovation across all sectors is significant. Other technological fields that experienced rapid growth in patenting activity in 2003 were those relating to transistors and other solid-state devices, semiconductor device manufacturing, optical waveguides, and electric lamp and discharge (Huang et al. 2004). [link] shows an overview of sectoral breakdown of nanotechnology. It is worth noting that sectors such as Materials and Chemicals are in effect enablers for broader sectors, and integrate into the supply and value chains of other sectors. (OSTP 2005). Examples of such materials are carbon nanotubes and quantum dots, which have applications in all sectors.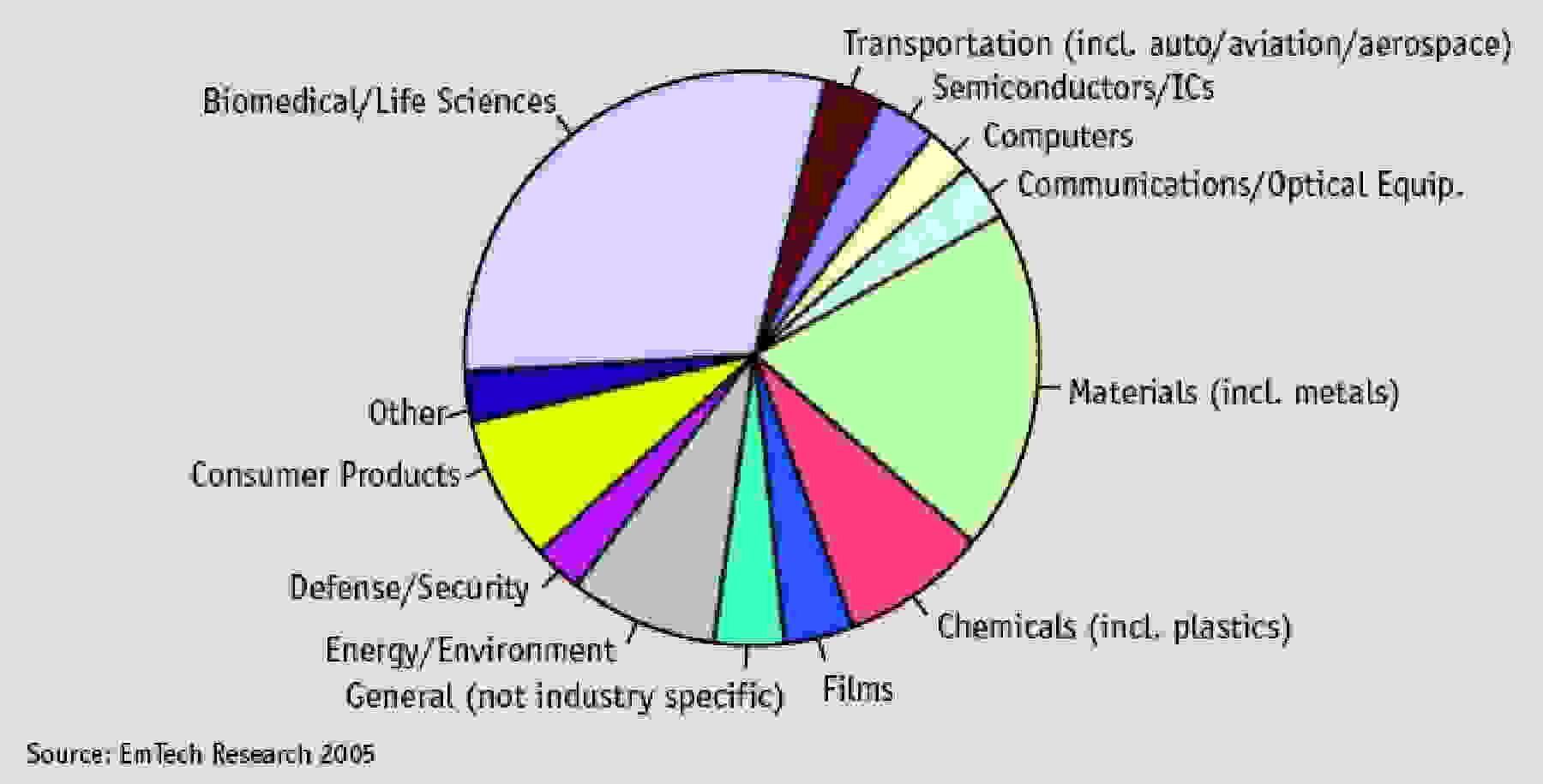 Industrially it has been shown that the leading participants in nanotechnology development are the large-scale industrial actors such as IBM, Intel, and L'Oreal, reflecting the complex and expensive nature of development (EmTech 2005).
In terms of economic impact it is projected that 11% of total manufacturing jobs worldwide will involve manufacture of products incorporating nanotechnology. This will have a result in a paradigm shift in requirements upon supply chains and shift the nature of competition by introducing radical new entrants. This shift is set to accelerate as mass production processes are developed and the cost of materials is driven down, making product opportunities more viable.
Nano market growth
Although the most ambitious, potentially world-changing nanotechnology applications are still in development, marketplaces associated with nanotechnologies are already forecasted to be worth billions and are projected to exceed $2.6 trillion within 15 years (Texas Nanotechnology Report, 2008).
Global
Due to the potential impacts of nanotechnology, there has been, and is, a strong global interest across governments, business, venture capitalists, and academic researchers. From the period of 1997 to 2005, approximately $18 billion were invested globally in nanotechnology by national and local governments (Cientifica 2006). Governments in the United State, Japan, and Western Europe are among top global nano technology spenders, with global collective governmental spending annually some ~$4.6 billion. This represents just under 50% of total expenditure with the remainder coming from major corporations including a minor proportion from venture capitalists (Lux Research, 2008). However, despite the initial lead of the United States in nanotechnology investment it is now been overtaken by Europe for government expenditure and by Asia for corporate investment (Nano Report, 2006).