Eric drexler: molecular manufacturing
"The revolutionary Feynman vision launched the global nanotechnology race."-Eric Drexler
In 1979, Eric Drexler ( [link] ) encountered Feynman's talk on atomic manipulation and "nano-factories." The Caltechphysicist's ideas inspired Drexler to put these concepts into motion by expanding Feynman's vision of molecular manufacturing withcontemporary developments in understanding protein function. From this moment, Drexler's primary goal was to build upon the physicist's revolutionary foundation. As a result, though the term was yet to becoined, the field of nanotechnology was created.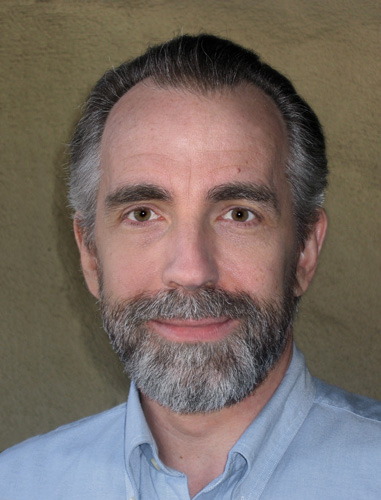 In 1981, Drexler published his first article on the subject in the prestigious scientific journal, Proceedings of the National Academy of Sciences . Titled "Molecular engineering: An approach to the development of general capabilitiesfor molecular manipulation," Drexler's publication essentially expanded the idea of molecular manufacturing by integrating modernscientific ideas with Feynman's concepts. Hence, he established his own vision of molecular manufacturing in this paper. Specifically, inhis abstract, he discusses the possibility of molecular manufacturing as a process of fabricating objects with specific atomicspecifications using designed protein molecules. He suggests that this would inevitably lead to the design of molecular machinery that wouldbe able to position reactive groups with atomic precision. Thus, Drexler states that molecular manufacturing and the construction of"nano-machines" is a product of an analogous relationship "between features of natural macromolecules and components of existingmachines." In addition, Drexler includes a table that outlines by function the molecular equivalents to macroscopic technologies. Forexample, he believed that bearings, which provide support for moving parts, are analogous to Sigma bonds. Overall, generating some interestin the scientific community, this publication presented Drexler's initial vision of molecular manufacturing, which was ultimatelyinfluenced by Feynman's talk. As a result, the field of nanotechnology continued to evolve, for Drexler took these conceptsand expanded their potential in an accessible format through his now infamous book, Engines of Creation: The Coming Era of Nanotechnology ( [link] ).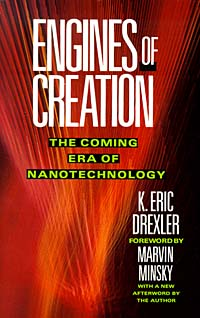 Eric drexler: engines of creation
"Molecular Assemblers will bring a revolution without parallel since the development of ribosomes, theprimitive assemblers in the cell. The resulting nanotechnology can help life spread beyond Earth - a step without parallel since lifespread beyond the seas; it can let our minds renew and remake our bodies - a step without any parallel at all." - Eric Drexler in Engines of Creation .
In this book, Drexler is credited as being the first person to use the word nanotechnology to describe engineering onthe billionth of a meter scale. Though the term was used by Norio Taniguchi in 1974, Taniguchi's use of the word referred tonanotechnology in a different context. Published in 1986, Engines of Creation served to present Drexler's vision of molecular manufacturing that he outlined in his 1981 paper.Essentially, Drexler presented, albeit simplistically, that if atoms are viewed as small marbles, then molecules are a tight collection ofthese marbles that "snap" together, depending on their chemical properties. When snapped together in the right way, these moleculescould represent normal-scaled tools such as motors and gears. Drexler suggested that these "atomic" tools and machines would operate just astheir larger counterparts do. The moving parts of the nano-machine (e.g., [link] ) would be formed by many atoms that are held together by their own atomic bonds. Ultimately, inEngines of Creation, Drexler envisioned that these would then be used as "assemblers" that could put together atoms into a desired shape.Applying this simplistic vision of molecular manufacturing, Drexler, in theory, presented that coal can be turned into diamond and computerchips can be created from sand. These processes would occur by using these fabricated atomic tools to reorganize the atoms that make upthese materials. Most importantly, from these principles, he sensationally proclaimed in his book that nanotechnology, through themolecular manufacturing of "universal assemblers," would revolutionize everything from biological science to space travel (see quoteabove). Thus, with both his 1981 publication and his 1986 book, Drexler presented nanotechnology as a scientific field that solelyrevolved around his own expanded vision of Feynman's molecular manufacturing.