Single and multiple reflection crystals
Multiple reflection ATR was initially more popular than single reflection ATR because of the weak absorbances associated with single reflection ATR. More reflections increased the evanescent wave interaction with the sample, which was believed to increase the signal to noise ratio of the spectrum. When IR spectrometers developed better spectral contrast, single reflection ATR became more popular. The number of reflections and spectral contrast increases with the length of the crystal and decreases with the angle of incidence as well as thickness. Within multiple reflection crystals some of the light is transmitted and some is reflected as the light exits the crystal, resulting in some of the light going back through the crystal for a round trip. Therefore, light exiting the ATR crystal contains components that experienced different number of reflections at the crystal-sample interface.
Angle of incidence
It was more common in earlier instruments to allow selection of the incident angle, sometimes offering selection between 30°, 45°, and 60°. In all cases for total internal reflection to hold, the angle of incidence must exceed the critical angle and ideally complement the angle of the crystal edge so that the light enters at a normal angle of incidence. These days 45° is the standard angle on most ATR-FTIR setups.
Atr crystal shape
For the most part ATR crystals will have a trapezoidal shape as shown in [link] . This shape facilitates sample preparation and handling on the crystal surface by enabling the optical setup to be placed below the crystal. However, different crystal shapes ( [link] ) may be used for particular purposes, whether it is to achieve multiple reflections or reduce the spot size. For example, a hemispherical crystal may be used in a microsampling experiment in which the beam diameter can be reduced at no expense to the light intensity. This allows appropriate measurement of a small sample without compromising the quality of the resulting spectral features.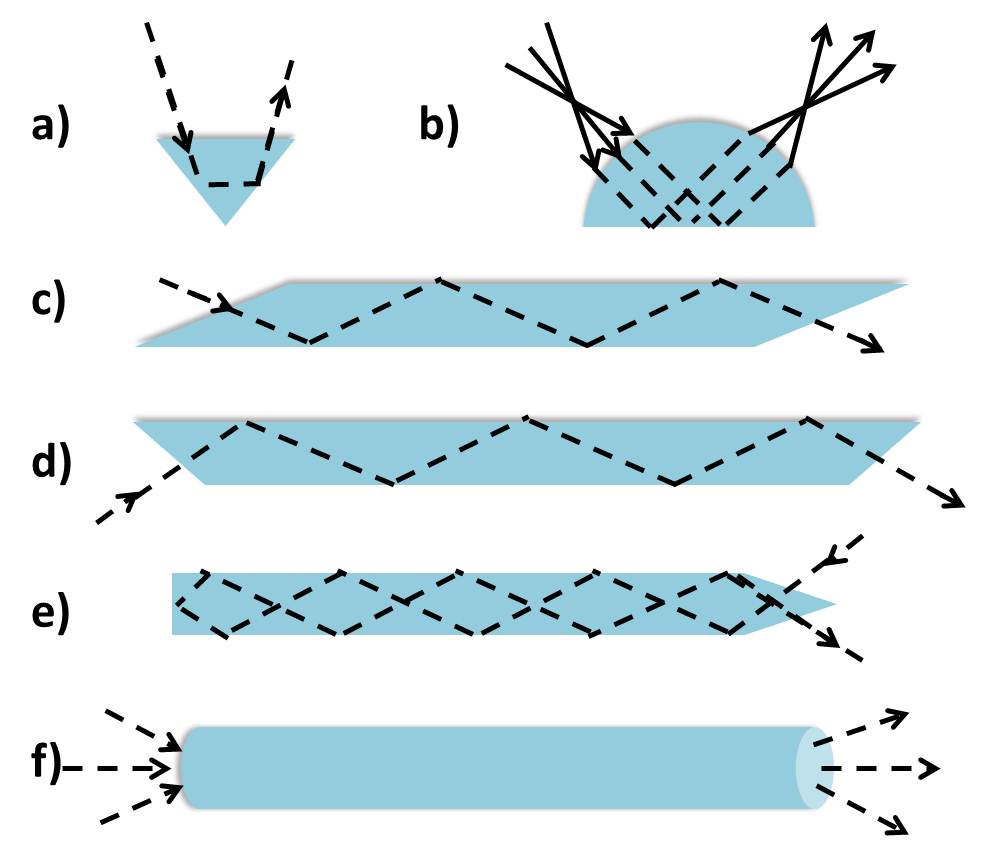 Because the path length of the evanescent wave is confined to the interface between the ATR crystal and sample, the sample should make firm contact with the ATR crystal ( [link] ). The sample sits atop the crystal and intimate contact can be ensured by applying pressure above the sample. However, one must be mindful of the ATR crystal hardness. Too much pressure may distort the crystal and affect the reproducibility of the resulting spectrum.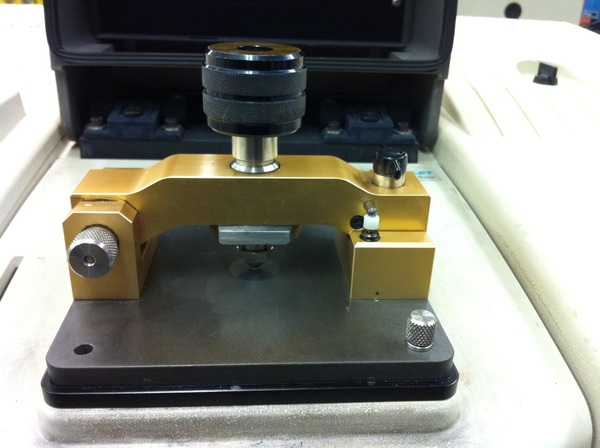 Wavelength dependency
The wavelength effect expressed in [link] shows an increase in penetration depth at increased wavelength. In terms of wavenumbers the relationship becomes inverse. At 4000 cm -1 penetration of the sample is 10x less than penetration at 400 cm -1 meaning the intensity of the peaks may appear higher at lower wavenumbers in the absorbance spectrum compared to the spectral features in a transmission FTIR spectrum (if an automated correction to the ATR setup is not already in place).