Introduction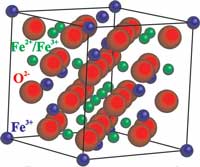 Both iron oxide nanocrystals: Fe 3 O 4 (magnetite) and Fe 2 O 3 (maghemite, as it is a cross between MAGnetite and HEMatite) are ferrimagnetic materials which means they can behave as permanent magnets. Additionally, those oxides below 10 nanometers in diameter, exhibit superparamagnetic properties and are used as MRI contrast agents.
Remember that last semester, you prepared a solution of magnetite ferrofluid by mixing iron(II) chloride and iron(III) chloride in the presence of tetramethylammonium hydroxide.
Magnetite is the most magnetic of all the naturally occurring minerals on Earth and has shown a lot of promise in environmental remediation as it efficiently removes As(III) and As(V) from water, this efficiency of the removal increases ~200 times when the magnetite particle size decreases from 300 to 12 nm. Since arsenic contaminated drinking water is a major problem around the world, using magnetite as a sorbent shows a great deal of promise.
Additionally, Fe(II) compounds have been used to oxidize organic contaminants such as trichloroethylene (TCE), while inorganic contaminants such as arsenic, lead and uranium are separated out of solution. Between 10 and 20 nanometers, the contaminants can be removed from water via handheld magnets, which is an important consideration in purifying water in the Third World, where power is not a standard commodity.
We will produce nanocrystalline and functional iron oxides following a green approach by using everyday items and equipment found in kitchens worldwide. The nanocrystalline and functional oxides are produced by thermal decomposition of the iron-precursors in order to form highly uniform, isolatable nanocrystals of tunable size. The iron precursors will decompose into iron oxides in organic solvents (thermally stable non-polar solvents, aka fatty acids such as oleic acid) at temperatures in excess of 200ºC; the presence of amphiphilic stabilizers, in this case fatty acids derived from soap, limits the growth of crystalline products which are either magnetite, maghemite, or mixtures of both phases.
The beauty of this method lies in the ability to use inexpensive iron sources, such as rust, to form iron carboxylate intermediates, that when scaled to the gram level effectively produces a relatively low cost method for removal of arsenic from contaminated water (see Table 1).
Rust is a mixture of iron hydroxides, oxides, and in some cases even zero-valent iron, but is as effective as FeOOH used in any laboratory method. The fatty acid used in conventional methods is oleic acid, an unsaturated 18 carbon fatty acid. It can be replaced by many cooking oils that can be processed to create a homemade soap through saponification, by the addition of a base such as lye. The soap is allowed to cure for a few days and then dissolved in a weak acid, such as vinegar. The organic layer of the liquid can be collected and used without further processing. The "fatty acid mixture" or FAM is an impure fatty acid whose exact composition depends on the starting edible oil. Olive oil contains the most oleic acid; coconut oils contain more lineolic acid. For this lab, the FAM is derived from vegetable oil, a standard starting reactant.