By the end of this section, you will be able to:
Explain the poverty trap, noting how it is impacted by government programs
Identify potential issues in government programs that seek to reduce poverty
Calculate a budget constraint line that represents the poverty trap
Can you give people too much help, or the wrong kind of help? When people are provided with food, shelter, healthcare, income, and other necessities, assistance may reduce their incentive to work. Consider a program to fight poverty that works in this reasonable-sounding manner: the government provides assistance to the poor, but as the poor earn income to support themselves, the government reduces the level of assistance it provides. With such a program, every time a poor person earns $100, the person loses $100 in government support. As a result, the person experiences no net gain for working. Economists call this problem the poverty trap .
Consider the situation faced by a single-parent family. A single mother (earning $8 an hour) with two children, as illustrated in [link] . First, consider the labor-leisure budget constraint faced by this family in a situation without government assistance. On the horizontal axis is hours of leisure (or time spent with family responsibilities) increasing in quantity from right to left. Also on the horizontal axis is the number of hours at paid work, going from zero hours on the right to the maximum of 2,500 hours on the left. On the vertical axis is the amount of income per year rising from low to higher amounts of income. The budget constraint line shows that at zero hours of leisure and 2,500 hours of work, the maximum amount of income is $20,000 ($8 × 2,500 hours). At the other extreme of the budget constraint line, an individual would work zero hours, earn zero income, but enjoy 2,500 hours of leisure. At point A on the budget constraint line , by working 40 hours a week, 50 weeks a year, the utility-maximizing choice is to work a total of 2,000 hours per year and earn $16,000.
Now suppose that a government antipoverty program guarantees every family with a single mother and two children $18,000 in income. This is represented on the graph by a horizontal line at $18,000. With this program, each time the mother earns $1,000, the government will deduct $1,000 of its support. [link] shows what will happen at each combination of work and government support.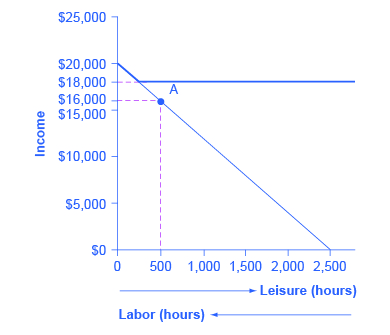 Total income at various combinations of work and support

| Amount Worked (hours) | Total Earnings | Government Support | Total Income |
| --- | --- | --- | --- |
| 0 | 0 | $18,000 | $18,000 |
| 500 | $4,000 | $14,000 | $18,000 |
| 1,000 | $8,000 | $10,000 | $18,000 |
| 1,500 | $12,000 | $6,000 | $18,000 |
| 2,000 | $16,000 | $2,000 | $18,000 |
| 2,500 | $20,000 | 0 | $20,000 |