Membrane filters
Filtration can also be used to remove microbes from liquid samples using membrane filtration . Membrane filters for liquids function similarly to HEPA filters for air. Typically, membrane filters that are used to remove bacteria have an effective pore size of 0.2 µm, smaller than the average size of a bacterium (1 µm), but filters with smaller pore sizes are available for more specific needs. Membrane filtration is useful for removing bacteria from various types of heat-sensitive solutions used in the laboratory, such as antibiotic solutions and vitamin solutions. Large volumes of culture media may also be filter sterilized rather than autoclaved to protect heat-sensitive components. Often when filtering small volumes, syringe filter s are used, but vacuum filter s are typically used for filtering larger volumes ( [link] ).
Would membrane filtration with a 0.2-µm filter likely remove viruses from a solution? Explain.
Name at least two common uses of HEPA filtration in clinical or laboratory settings.
[link] and [link] summarize the physical methods of control discussed in this section.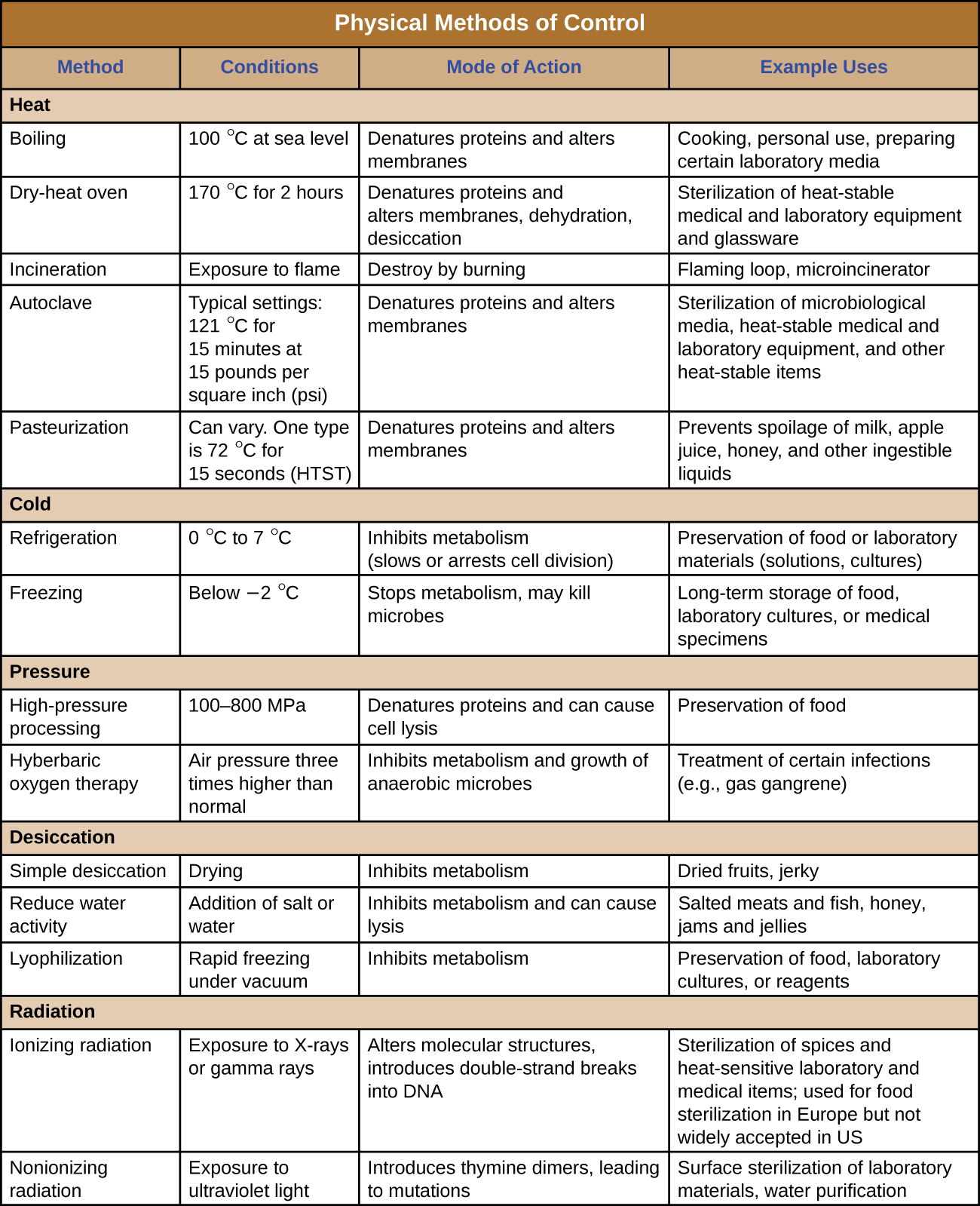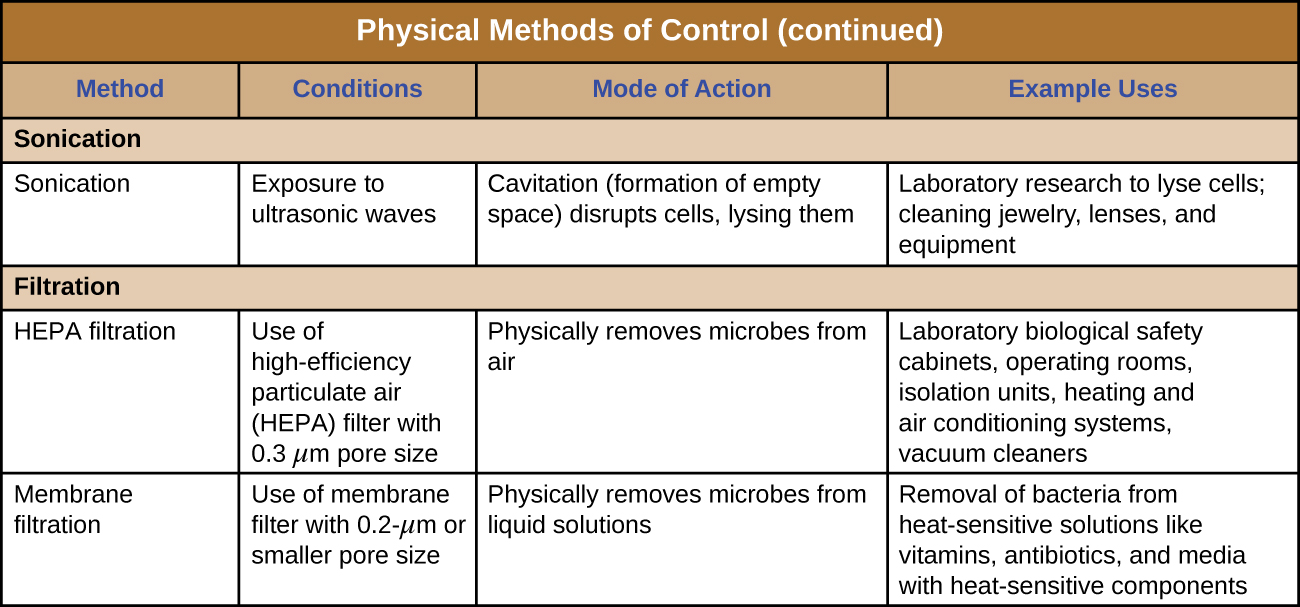 Key concepts and summary
Heat is a widely used and highly effective method for controlling microbial growth.
Dry-heat sterilization protocols are used commonly in aseptic techniques in the laboratory. However, moist-heat sterilization is typically the more effective protocol because it penetrates cells better than dry heat does.
Pasteurization is used to kill pathogens and reduce the number of microbes that cause food spoilage. High-temperature, short-time pasteurization is commonly used to pasteurize milk that will be refrigerated; ultra-high temperature pasteurization can be used to pasteurize milk for long-term storage without refrigeration.
Refrigeration slows microbial growth; freezing stops growth, killing some organisms. Laboratory and medical specimens may be frozen on dry ice or at ultra-low temperatures for storage and transport.
High-pressure processing can be used to kill microbes in food. Hyperbaric oxygen therapy to increase oxygen saturation has also been used to treat certain infections.
Desiccation has long been used to preserve foods and is accelerated through the addition of salt or sugar, which decrease water activity in foods.
Lyophilization combines cold exposure and desiccation for the long-term storage of foods and laboratory materials, but microbes remain and can be rehydrated.
Ionizing radiation , including gamma irradiation, is an effective way to sterilize heat-sensitive and packaged materials. Nonionizing radiation , like ultraviolet light, is unable to penetrate surfaces but is useful for surface sterilization.
HEPA filtration is commonly used in hospital ventilation systems and biological safety cabinets in laboratories to prevent transmission of airborne microbes. Membrane filtration is commonly used to remove bacteria from heat-sensitive solutions.
Fill in the blank
True/false
Short answer
Questions & Answers
Receive real-time job alerts and never miss the right job again
Source:  OpenStax, Microbiology. OpenStax CNX. Nov 01, 2016 Download for free at http://cnx.org/content/col12087/1.4
Google Play and the Google Play logo are trademarks of Google Inc.
Notification Switch
Would you like to follow the 'Microbiology' conversation and receive update notifications?