Trimethoprim is a synthetic antimicrobial compound that serves as an antimetabolite within the same folic acid synthesis pathway as sulfonamides. However, trimethoprim is a structural analogue of dihydrofolic acid and inhibits a later step in the metabolic pathway ( [link] ). Trimethoprim is used in combination with the sulfa drug sulfamethoxazole to treat urinary tract infection s, ear infection s, and bronchitis . As discussed, the combination of trimethoprim and sulfamethoxazole is an example of antibacterial synergy. When used alone, each antimetabolite only decreases production of folic acid to a level where bacteriostatic inhibition of growth occurs. However, when used in combination, inhibition of both steps in the metabolic pathway decreases folic acid synthesis to a level that is lethal to the bacterial cell. Because of the importance of folic acid during fetal development, sulfa drugs and trimethoprim use should be carefully considered during early pregnancy.
The drug isoniazid is an antimetabolite with specific toxicity for mycobacteria and has long been used in combination with rifampin or streptomycin in the treatment of tuberculosis . It is administered as a prodrug, requiring activation through the action of an intracellular bacterial peroxidase enzyme, forming isoniazid-nicotinamide adenine dinucleotide (NAD) and isoniazid-nicotinamide adenine dinucleotide phosphate (NADP), ultimately preventing the synthesis of mycolic acid, which is essential for mycobacterial cell walls. Possible side effects of isoniazid use include hepatotoxicity , neurotoxicity , and hematologic toxicity ( anemia ).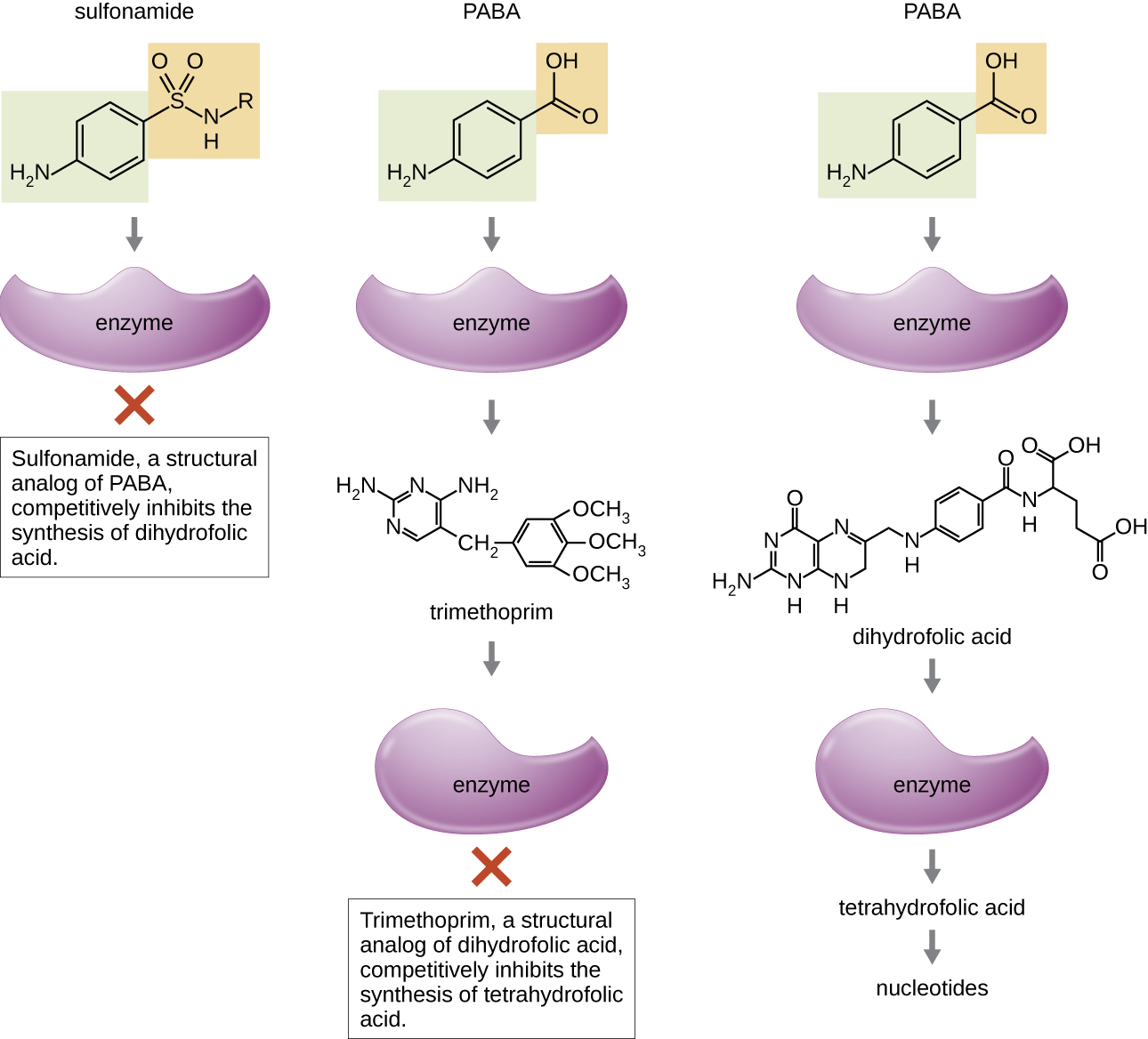 Antimetabolite Drugs
Metabolic Pathway Target
Mechanism of Action
Drug Class
Specific Drugs
Spectrum of Activity
Folic acid synthesis
Inhibits the enzyme involved in production of dihydrofolic acid
Sulfonamides
Sulfamethoxazole
Broad spectrum against gram-positive and gram-negative bacteria
Sulfones
Dapsone
Inhibits the enzyme involved in the production of tetrahydrofolic acid
Not applicable
Trimethoprim
Broad spectrum against gram-positive and gram-negative bacteria
Mycolic acid synthesis
Interferes with the synthesis of mycolic acid
Not applicable
Isoniazid
Narrow spectrum against Mycobacterium spp., including M. tuberculosis
How do sulfonamides and trimethoprim selectively target bacteria?
Inhibitor of atp synthase
Bedaquiline, representing the synthetic antibacterial class of compounds called the diarylquinolones , uses a novel mode of action that specifically inhibits mycobacterial growth. Although the specific mechanism has yet to be elucidated, this compound appears to interfere with the function of ATP synthases, perhaps by interfering with the use of the hydrogen ion gradient for ATP synthesis by oxidative phosphorylation , leading to reduced ATP production. Due to its side effects , including hepatotoxicity and potentially lethal heart arrhythmia, its use is reserved for serious, otherwise untreatable cases of tuberculosis .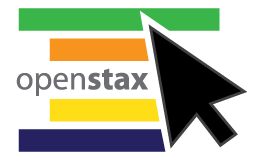 To learn more about the general principles of antimicrobial therapy and bacterial modes of action, visit Michigan State University's Antimicrobial Resistance Learning Site , particularly pages 6 through 9.
Part 2
Reading thorough Marisa's health history, the doctor noticed that during her hospitalization in Vietnam, she was catheterized and received the antimicrobial drugs ceftazidime and metronidazole . Upon learning this, the doctor ordered a CT scan of Marisa's abdomen to rule out appendicitis; the doctor also requested blood work to see if she had an elevated white blood cell count, and ordered a urine analysis test and urine culture to look for the presence of white blood cells, red blood cells, and bacteria.
Marisa's urine sample came back positive for the presence of bacteria, indicating a urinary tract infection (UTI). The doctor prescribed ciprofloxacin. In the meantime, her urine was cultured to grow the bacterium for further testing.
What types of antimicrobials are typically prescribed for UTIs?
Based upon the antimicrobial drugs she was given in Vietnam, which of the antimicrobials for treatment of a UTI would you predict to be ineffective?
Jump to the next Clinical Focus box. Go back to the previous Clinical Focus box.
Key concepts and summary
Antibacterial compounds exhibit selective toxicity , largely due to differences between prokaryotic and eukaryotic cell structure.
Cell wall synthesis inhibitors, including the β-lactams , the glycopeptides , and bacitracin , interfere with peptidoglycan synthesis, making bacterial cells more prone to osmotic lysis.
There are a variety of broad-spectrum, bacterial protein synthesis inhibitors that selectively target the prokaryotic 70S ribosome, including those that bind to the 30S subunit ( aminoglycosides and tetracyclines ) and others that bind to the 50S subunit ( macrolides , lincosamides , chloramphenicol , and oxazolidinones ).
Polymyxins are lipophilic polypeptide antibiotics that target the lipopolysaccharide component of gram-negative bacteria and ultimately disrupt the integrity of the outer and inner membranes of these bacteria.
The nucleic acid synthesis inhibitors rifamycins and fluoroquinolones target bacterial RNA transcription and DNA replication, respectively.
Some antibacterial drugs are antimetabolites , acting as competitive inhibitors for bacterial metabolic enzymes. Sulfonamides and trimethoprim are antimetabolites that interfere with bacterial folic acid synthesis. Isoniazid is an antimetabolite that interferes with mycolic acid synthesis in mycobacteria.
Fill in the blank
True/false
Short answer
What bacterial structural target would make an antibacterial drug selective for gram-negative bacteria? Provide one example of an antimicrobial compound that targets this structure.
Got questions? Get instant answers now!