Bioremediation processes can be categorized as in situ or ex situ. Bioremediation conducted at the site of contamination is called in situ bioremediation and does not involve movement of contaminated material. In contrast, ex situ bioremediation involves the removal of contaminated material from the original site so that it can be treated elsewhere, typically in a large, lined pit where conditions are optimized for degradation of the contaminant.
Some bioremediation processes rely on microorganisms that are indigenous to the contaminated site or material. Enhanced bioremediation techniques, which may be applied to either in situ or ex situ processing, involve the addition of nutrients and/or air to encourage the growth of pollution-degrading microbes; they may also involve the addition of non-native microbes known for their ability to degrade contaminants. For example, certain bacteria of the genera Rhodococcus and Pseudomonas are known for their ability to degrade many environmental contaminants, including aromatic compounds like those found in oil, down to CO 2 . The genes encoding their degradatory enzymes are commonly found on plasmids. Others, like Alcanivorax borkumensis , produce surfactants that are useful in the solubilization of the hydrophobic molecules found in oil, making them more accessible to other microbes for degradation.
Resolution
Although there is a DNA test specific for Neisseria meningitidis , it is not practical for use in some developing countries because it requires expensive equipment and a high level of expertise to perform. The hospital in Banjul was not equipped to perform DNA testing. Biochemical testing, however, is much less expensive and is still effective for microbial identification.
Fortunately for Hannah, her symptoms began to resolve with antibiotic therapy. Patients who survive bacterial meningitis often suffer from long-term complications such as brain damage, hearing loss, and seizures, but after several weeks of recovery, Hannah did not seem to be exhibiting any long-term effects and her behavior returned to normal. Because of her age, her parents were advised to monitor her closely for any signs of developmental issues and have her regularly evaluated by her pediatrician.
N. meningitidis is found in the normal respiratory microbiota in 10%–20% of the human population. In most cases, it does not cause disease, but for reasons not fully understood, the bacterium can sometimes invade the bloodstream and cause infections in other areas of the body, including the brain. The disease is more common in infants and children, like Hannah.
The prevalence of meningitis caused by N. meningitidis is particularly high in the so-called meningitis belt , a region of sub-Saharan African that includes 26 countries stretching from Senegal to Ethiopia ( [link] ). The reasons for this high prevalence are not clear, but several factors may contribute to higher rates of transmission, such as the dry, dusty climate; overcrowding and low standards of living; and the relatively low immunocompetence and nutritional status of the population. A vaccine against four bacterial strains of N. meningitidis is available. Vaccination is recommended for 11- and 12-year-old children, with a booster at age 16 years. Vaccination is also recommended for young people who live in close quarters with others (e.g., college dormitories, military barracks), where the disease is more easily transmitted. Travelers visiting the "meningitis belt" should also be vaccinated, especially during the dry season (December through June) when the prevalence is highest.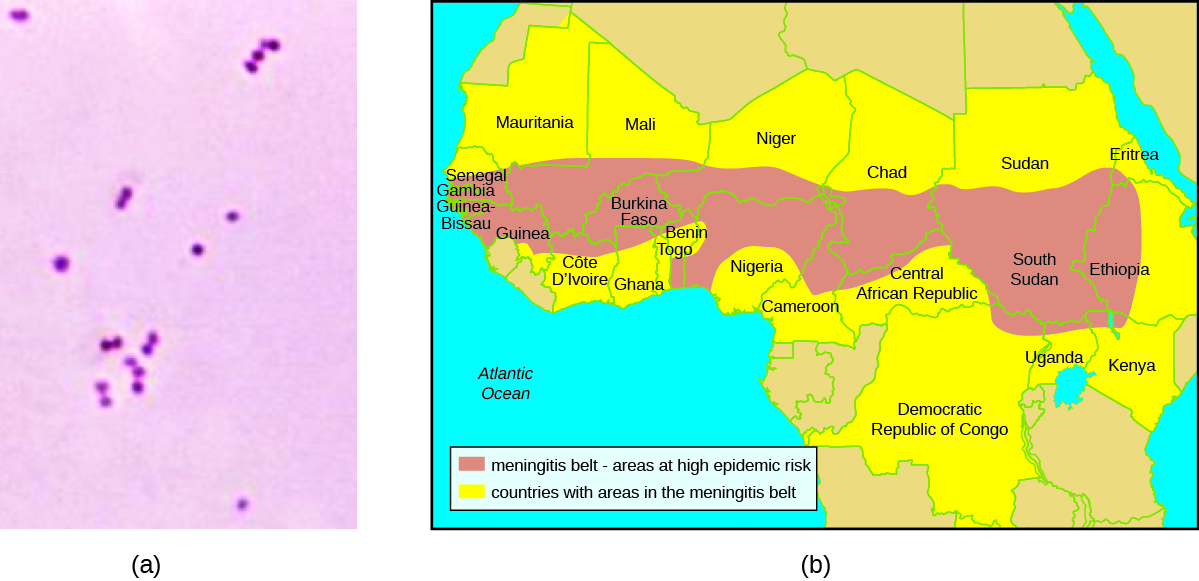 Go back to the previous Clinical Focus box.