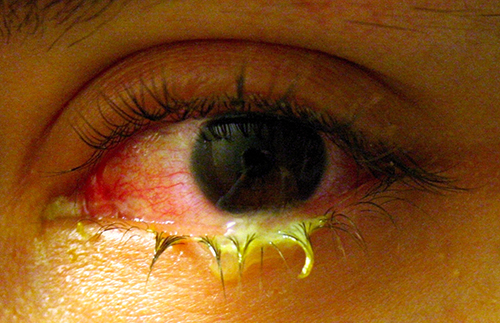 Neonatal conjunctivitis
Newborns whose mothers have certain sexually transmitted infections are at risk of contracting ophthalmia neonatorum or inclusion conjunctivitis , which are two forms of neonatal conjunctivitis contracted through exposure to pathogens during passage through the birth canal. Gonococcal ophthalmia neonatorum is caused by Neisseria gonorrhoeae , the bacterium that causes the STD gonorrhea ( [link] ). Inclusion (chlamydial) conjunctivitis is caused by Chlamydia trachomatis , the anaerobic, obligate, intracellular parasite that causes the STD chlamydia .
To prevent gonoccocal ophthalmia neonatorum, silver nitrate ointments were once routinely applied to all infants' eyes shortly after birth; however, it is now more common to apply antibacterial creams or drops, such as erythromycin . Most hospitals are required by law to provide this preventative treatment to all infants, because conjunctivitis caused by N. gonorrhoeae , C. trachomatis, or other bacteria acquired during a vaginal delivery can have serious complications. If untreated, the infection can spread to the cornea, resulting in ulceration or perforation that can cause vision loss or even permanent blindness. As such, neonatal conjunctivitis is treated aggressively with oral or intravenous antibiotics to stop the spread of the infection. Causative agents of inclusion conjunctivitis may be identified using bacterial cultures, Gram stain, and diagnostic biochemical, antigenic, or nucleic acid profile tests.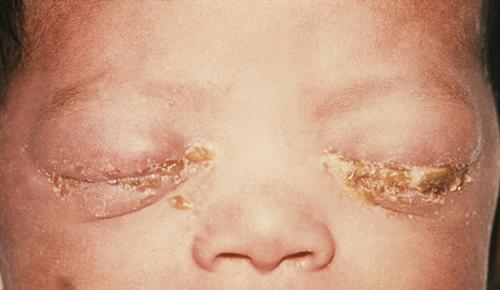 Compare and contrast bacterial conjunctivitis with neonatal conjunctivitis.
Trachoma
Trachoma , or granular conjunctivitis , is a common cause of preventable blindness that is rare in the United States but widespread in developing countries, especially in Africa and Asia. The condition is caused by the same species that causes neonatal inclusion conjunctivitis in infants, Chlamydia trachomatis . C. trachomatis can be transmitted easily through fomites such as contaminated towels, bed linens, and clothing and also by direct contact with infected individuals. C. trachomatis can also be spread by flies that transfer infected mucous containing C. trachomatis from one human to another.
Infection by C. trachomatis causes chronic conjunctivitis , which leads to the formation of necrotic follicles and scarring in the upper eyelid. The scars turn the eyelashes inward (a condition known as trichiasis ) and mechanical abrasion of the cornea leads to blindness ( [link] ). Antibiotics such as azithromycin are effective in treating trachoma, and outcomes are good when the disease is treated promptly. In areas where this disease is common, large public health efforts are focused on reducing transmission by teaching people how to avoid the risks of the infection.