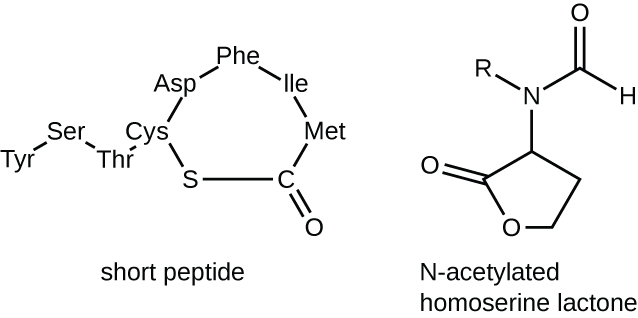 Biofilms and human health
The human body harbors many types of biofilms, some beneficial and some harmful. For example, the layers of normal microbiota lining the intestinal and respiratory mucosa play a role in warding off infections by pathogens. However, other biofilms in the body can have a detrimental effect on health. For example, the plaque that forms on teeth is a biofilm that can contribute to dental and periodontal disease. Biofilms can also form in wounds, sometimes causing serious infections that can spread. The bacterium Pseudomonas aeruginosa often colonizes biofilms in the airways of patients with cystic fibrosis , causing chronic and sometimes fatal infections of the lungs. Biofilms can also form on medical devices used in or on the body, causing infections in patients with in-dwelling catheters , artificial joints, or contact lenses .
Pathogens embedded within biofilms exhibit a higher resistance to antibiotics than their free-floating counterparts. Several hypotheses have been proposed to explain why. Cells in the deep layers of a biofilm are metabolically inactive and may be less susceptible to the action of antibiotics that disrupt metabolic activities. The EPS may also slow the diffusion of antibiotics and antiseptics, preventing them from reaching cells in the deeper layers of the biofilm. Phenotypic changes may also contribute to the increased resistance exhibited by bacterial cells in biofilms. For example, the increased production of efflux pumps , membrane-embedded proteins that actively extrude antibiotics out of bacterial cells, have been shown to be an important mechanism of antibiotic resistance among biofilm-associated bacteria. Finally, biofilms provide an ideal environment for the exchange of extrachromosomal DNA , which often includes genes that confer antibiotic resistance.
What is the matrix of a biofilm composed of?
What is the role of quorum sensing in a biofilm?
Key concepts and summary
Most bacterial cells divide by binary fission . Generation time in bacterial growth is defined as the doubling time of the population.
Cells in a closed system follow a pattern of growth with four phases: lag , logarithmic (exponential) , stationary , and death .
Cells can be counted by direct viable cell count . The pour plate and spread plate methods are used to plate serial dilutions into or onto, respectively, agar to allow counting of viable cells that give rise to colony-forming units . Membrane filtration is used to count live cells in dilute solutions. The most probable cell number (MPN) method allows estimation of cell numbers in cultures without using solid media.
Indirect methods can be used to estimate culture density by measuring turbidity of a culture or live cell density by measuring metabolic activity.
Other patterns of cell division include multiple nucleoid formation in cells; asymmetric division, as in budding ; and the formation of hyphae and terminal spores.
Biofilms are communities of microorganisms enmeshed in a matrix of extracellular polymeric substance . The formation of a biofilm occurs when planktonic cells attach to a substrate and become sessile . Cells in biofilms coordinate their activity by communicating through quorum sensing .
Biofilms are commonly found on surfaces in nature and in the human body, where they may be beneficial or cause severe infections. Pathogens associated with biofilms are often more resistant to antibiotics and disinfectants.
Fill in the blank
Active growth of a culture may be estimated indirectly by measuring the following products of cell metabolism: ________ or ________.
ATP, acid from fermentation
Got questions? Get instant answers now!
Matching
Match the definition with the name of the growth phase in the growth curve.
| | |
| --- | --- |
| ___Number of dying cells is higher than the number of cells dividing | A. Lag phase |
| ___Number of new cells equal to number of dying cells | B. Log phase |
| ___New enzymes to use available nutrients are induced | C. Stationary phase |
| ___Binary fission is occurring at maximum rate | D. Death phase |
Got questions? Get instant answers now!
Short answer
Why is it important to measure the transmission of light through a control tube with only broth in it when making turbidity measures of bacterial cultures?
Got questions? Get instant answers now!
Order the following stages of the development of a biofilm from the earliest to the last step.
secretion of EPS
reversible attachment
dispersal
formation of water channels
irreversible attachment
Got questions? Get instant answers now!
Infections among hospitalized patients are often related to the presence of a medical device in the patient. Which conditions favor the formation of biofilms on in-dwelling catheters and prostheses?
Got questions? Get instant answers now!