Currently, there is no universally accepted vaccine for Hansen's disease. India and Brazil use a tuberculosis vaccine against Hansen's disease because both diseases are caused by species of Mycobacterium . The effectiveness of this method is questionable, however, since it appears that the vaccine works in some populations but not in others.

What prevents the progression from tuberculoid to lepromatus leprosy?
Why does Hansen's disease typically affect the nerves of the extremities?
Leper colonies
Disfiguring, deadly diseases like leprosy have historically been stigmatized in many cultures. Before leprosy was understood, victims were often isolated in leper colonies, a practice mentioned frequently in ancient texts, including the Bible. But leper colonies are not just an artifact of the ancient world. In Hawaii, a leper colony established in the late nineteenth century persisted until the mid-twentieth century, its residents forced to live in deplorable conditions. Although leprosy is a communicable disease, it is not considered contagious (easily communicable), and it certainly does not pose enough of a threat to justify the permanent isolation of its victims. Today, we reserve the practices of isolation and quarantine to patients with more dangerous diseases, such as Ebola or multiple-drug-resistant bacteria like Mycobacterium tuberculosis and Staphylococcus aureus . The ethical argument for this practice is that isolating infected patients is necessary to prevent the transmission and spread of highly contagious diseases—even when it goes against the wishes of the patient.
Of course, it is much easier to justify the practice of temporary, clinical quarantining than permanent social segregation, as occurred in leper colonies. In the 1980s, there were calls by some groups to establish camps for people infected with AIDS. Although this idea was never actually implemented, it begs the question—where do we draw the line? Are permanent isolation camps or colonies ever medically or socially justifiable? Suppose there were an outbreak of a fatal, contagious disease for which there is no treatment. Would it be justifiable to impose social isolation on those afflicted with the disease? How would we balance the rights of the infected with the risk they pose to others? To what extent should society expect individuals to put their own health at risk for the sake of treating others humanely?
Bacterial infections of the nervous system
Despite the formidable defenses protecting the nervous system, a number of bacterial pathogens are known to cause serious infections of the CNS or PNS. Unfortunately, these infections are often serious and life threatening. [link] summarizes some important infections of the nervous system.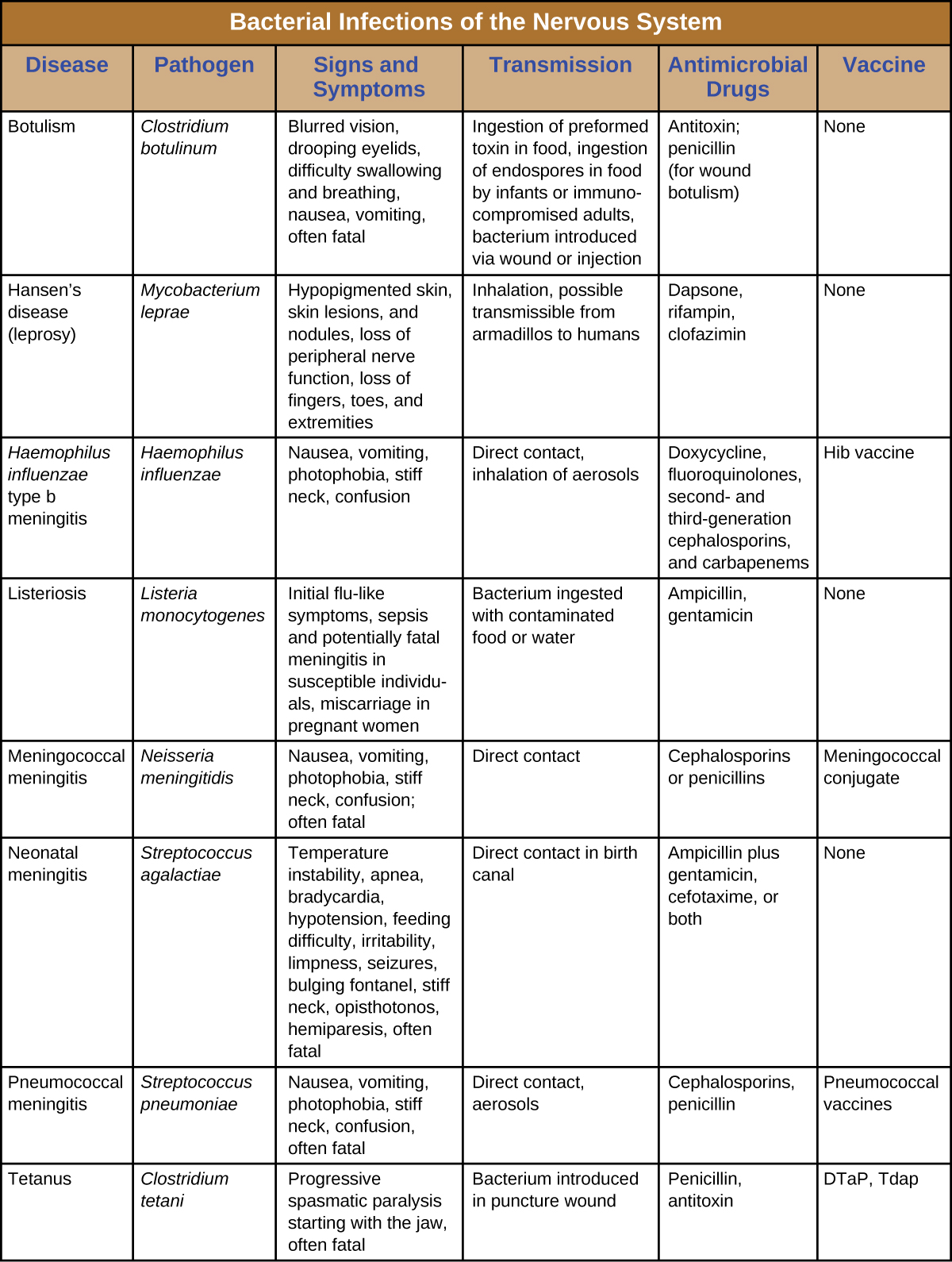 Key concepts and summary
Bacterial meningitis can be caused by several species of encapsulated bacteria, including Haemophilus influenzae , Neisseria meningitidis , Streptococcus pneumoniae , and Streptococcus agalactiae (group B streptococci). H. influenzae affects primarily young children and neonates, N. meningitidis is the only communicable pathogen and mostly affects children and young adults, S. pneumoniae affects mostly young children, and S. agalactiae affects newborns during or shortly after birth.
Symptoms of bacterial meningitis include fever, neck stiffness, headache, confusion, convulsions, coma, and death.
Diagnosis of bacterial meningitis is made through observations and culture of organisms in CSF. Bacterial meningitis is treated with antibiotics. H. influenzae and N. meningitidis have vaccines available.
Clostridium species cause neurological diseases, including botulism and tetanus , by producing potent neurotoxins that interfere with neurotransmitter release. The PNS is typically affected. Treatment of Clostridium infection is effective only through early diagnosis with administration of antibiotics to control the infection and antitoxins to neutralize the endotoxin before they enter cells.
Listeria monocytogenes is a foodborne pathogen that can infect the CNS, causing meningitis. The infection can be spread through the placenta to a fetus. Diagnosis is through culture of blood or CSF. Treatment is with antibiotics and there is no vaccine.
Hansen's disease ( leprosy ) is caused by the intracellular parasite Mycobacterium leprae . Infections cause demylenation of neurons, resulting in decreased sensation in peripheral appendages and body sites. Treatment is with multi-drug antibiotic therapy, and there is no universally recognized vaccine.
Fill in the blank
Short answer
A physician suspects the lesion and pustule pictured here are indicative of tuberculoid leprosy. If the diagnosis is correct, what microorganism would be found in a skin biopsy?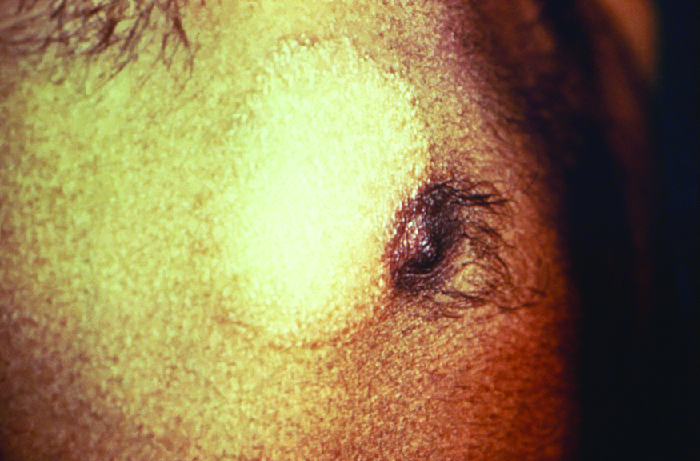 Got questions? Get instant answers now!
Questions & Answers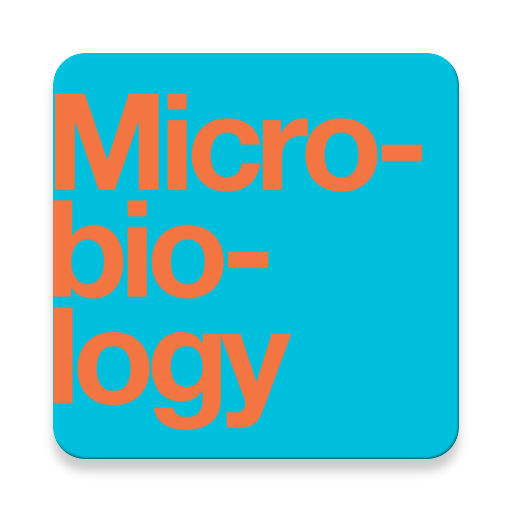 Complete Textbook by OpenStax
Multiple Choices Questions (MCQ)
Essay Questions Flash Cards
Key-Terms Flash Cards
Source:  OpenStax, Microbiology. OpenStax CNX. Nov 01, 2016 Download for free at http://cnx.org/content/col12087/1.4
Google Play and the Google Play logo are trademarks of Google Inc.
Notification Switch
Would you like to follow the 'Microbiology' conversation and receive update notifications?