Diagnosing mucormycosis can be challenging. Currently, there are no serological or PCR-based tests available to identify these infections. Tissue biopsy specimens must be examined for the presence of the fungal pathogens. The causative agents, however, are often difficult to distinguish from other filamentous fungi. Infections are typically treated by the intravenous administration of amphotericin B , and superficial infections are removed by surgical debridement. Since the patients are often immunocompromised, viral and bacterial secondary infections commonly develop. Mortality rates vary depending on the site of the infection, the causative fungus, and other factors, but a recent study found an overall mortality rate of 54%.
Compare the modes of transmission for coccidioidomycosis, blastomycosis, and mucormycosis.
In general, which are more serious: the pulmonary or disseminated forms of these infections?
Aspergillosis
Aspergillus is a common filamentous fungus found in soils and organic debris. Nearly everyone has been exposed to this mold, yet very few people become sick. In immunocompromised patients, however, Aspergillus may become established and cause aspergillosis . Inhalation of spores can lead to asthma-like allergic reactions. The symptoms commonly include shortness of breath, wheezing, coughing, runny nose, and headaches. Fungal balls, or aspergilloma, can form when hyphal colonies collect in the lungs ( [link] ). The fungal hyphae can invade the host tissues, leading to pulmonary hemorrhage and a bloody cough. In severe cases, the disease may progress to a disseminated form that is often fatal. Death most often results from pneumonia or brain hemorrhages.
Laboratory diagnosis typically requires chest radiographs and a microscopic examination of tissue and respiratory fluid samples. Serological tests are available to identify Aspergillus antigens. In addition, a skin test can be performed to determine if the patient has been exposed to the fungus. This test is similar to the Mantoux tuberculin skin test used for tuberculosis. Aspergillosis is treated with intravenous antifungal agents, including itraconazole and voriconazole . Allergic symptoms can be managed with corticosteroids because these drugs suppress the immune system and reduce inflammation. However, in disseminated infections, corticosteroids must be discontinued to allow a protective immune response to occur.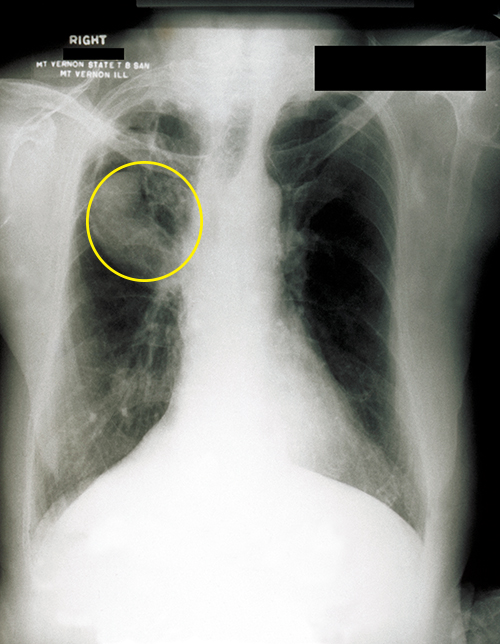 Pneumocystis Pneumonia
A type of pneumonia called Pneumocystis pneumonia (PCP) is caused by Pneumocystis jirovecii . Once thought to be a protozoan, this organism was formerly named P. carinii but it has been reclassified as a fungus and renamed based on biochemical and genetic analyses. Pneumocystis is a leading cause of pneumonia in patients with acquired immunodeficiency syndrome (AIDS) and can be seen in other compromised patients and premature infants. Respiratory infection leads to fever, cough, and shortness of breath. Diagnosis of these infections can be difficult. The organism is typically identified by microscopic examination of tissue and fluid samples from the lungs ( [link] ). A PCR-based test is available to detect P. jirovecii in asymptomatic patients with AIDS. The best treatment for these infections is the combination drug trimethoprim-sulfamethoxazole (TMP/SMZ). These sulfa drugs often have adverse effects, but the benefits outweigh these risks. Left untreated, PCP infections are often fatal.